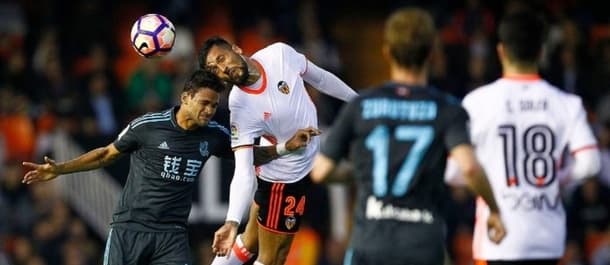 Valencia is staking its claim for one of the Spanish Primera Division's UEFA Champions League spots and the Bats rate as the best bet in the seventh round of championship fixtures.
Atletico Madrid, Barcelona and Valencia are the Spanish Primera Division's three unbeaten teams, with the Bats fourth on the ladder with three wins and three draws. Valencia's next Spanish Primera Division foe is Athletic, which will be backing up from a UEFA Europa League home match against Zorya on Thursday when it runs out to face the Bats on Sunday. Valencia's uninterrupted week is just one of the reasons why one is tipping the Bats to beat Athletic.
Another good reason that Valencia warrants support versus Athletic is the Bats hold a 2-0-0 Spanish Primera Division collateral form advantage over the Lions. That is because Valencia has outperformed Athletic in their respective Spanish Primera Division games against Atletico Madrid and Malaga, with the difference being especially stark in those matches featuring the bottom-but-one Anchovies.
Last season's corresponding Spanish Primera Division fixture resulted in a comprehensive 2-0 home victory for Valencia in which the Bats led by that score at half time. Valencia is available at odds of 1.91Bet €100 to win €19191/100Bet £100 to win £191-110Bet $100 to win $1910.91Bet HK$100 to win HK$191-1.10Bet Rp100 to win Rp1910.9100Bet RM100 to win RM191 with several bookmakers, including BetVictor, Coral and Ladbrokes and those offers stand out.
Levante is positioned on the top half of the Spanish Primera Division ladder after six rounds and one thinks that the Frogs can maintain their spot above the fold with a home defeat of cellar dweller Alaves on Saturday.
Alaves is the only Spanish Primera Division yet to record a point and the Babazorros have scored just one goal in their first six league games. Levante and Alaves have encountered three identical Spanish Primera Division foes – Deportivo, Real Madrid and Villarreal – and, according to one's collateral form analysis, the Frogs boast a 2-1-0 lead over the Babazorros. That statistic along with Levante enjoying home advantage and Alaves being goal shy leads one to nominate the Frogs at odds of 1.88Bet €100 to win €18822/25Bet £100 to win £188-114Bet $100 to win $1880.88Bet HK$100 to win HK$188-1.14Bet Rp100 to win Rp1880.8800Bet RM100 to win RM188 with Marathonbet.
There is no recent head-to-head form to supplement one's argument for Levante because the Frogs have not been in the same section as Alaves since the 2008-2009 Spanish Segunda Division competition. Levante and Alaves did drew 1-1 in a pre-season friendly played in August but one does not get carried away by the results of non-competitive matches.
Atletico Madrid has a midweek UEFA Champions League home date with Chelsea but one cannot escape the Mattressers at odds of 1.61Bet €100 to win €16161/100Bet £100 to win £161-164Bet $100 to win $1610.61Bet HK$100 to win HK$161-1.64Bet Rp100 to win Rp1610.6100Bet RM100 to win RM161 with Marathonbet to accrue three Spanish Primera Division points from their visit to Leganes.
Ahead of Saturday's Spanish Primera Division game between Leganes and Atletico Madrid, the Cucumber Growers and the Mattressers have had two common opponents – Girona and Las Palmas. Atletico has performed much better than Leganes in their respective Spanish Primera Division matches versus Girona and Las Palmas so, even though the Cucumber Growers are coming off a 2-0 away victory over the aforementioned Yellows, they are worth opposing against the Mattressers.
Atletico Madrid did not concede a goal in its two Spanish Primera Division games versus Leganes last term and, while does not read too much into preliminary matches, it is of some interest that the Mattressers edged out the Cucumber Growers 1-0 in a August clash outside official competition.
Tips Summary
Valencia to beat Athletic Bilbao
Sunday 1st October, 17:30 GMT
Odds: 1.91Bet €100 to win €19191/100Bet £100 to win £191-110Bet $100 to win $1910.91Bet HK$100 to win HK$191-1.10Bet Rp100 to win Rp1910.9100Bet RM100 to win RM191
Levante to beat Alaves
Saturday 30th September, 17:30 GMT
Odds: 1.88Bet €100 to win €18822/25Bet £100 to win £188-114Bet $100 to win $1880.88Bet HK$100 to win HK$188-1.14Bet Rp100 to win Rp1880.8800Bet RM100 to win RM188
Atletico Madrid to beat Leganes
Saturday 30th September, 19:45 GMT
Odds: 1.61Bet €100 to win €16161/100Bet £100 to win £161-164Bet $100 to win $1610.61Bet HK$100 to win HK$161-1.64Bet Rp100 to win Rp1610.6100Bet RM100 to win RM161
Atletico Madrid
La Liga
Levante
valencia