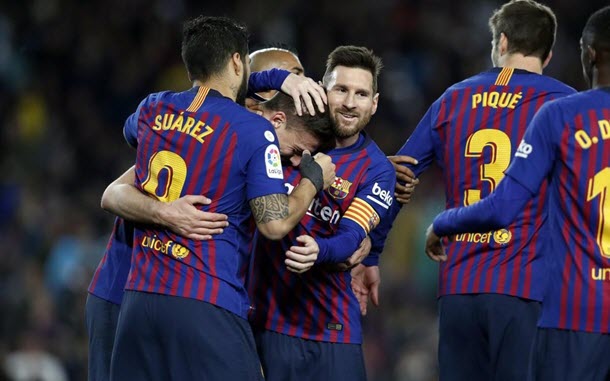 Barcelona v Alaves – 23rd April – 20:30 BST
Barcelona's depth chart means it handles midweek games better than most Spanish Primera Division and one thinks whoever takes to the field for Barca against Alaves on Tuesday will contribute to a win for the visitors.
The Spanish Primera Division trophy is within touching distance for Barcelona, which leads Atletico Madrid by nine points with five rounds to go and owns a head-to-head lead over the Mattressmen in the event the teams end the season on the same number of points. Barcelona's participation in the UEFA Champions League semi-finals means it would love to wrap up its domestic championship as soon as possible so it can focus on the holy grail of international success so one expects Barca boss Ernesto Valverde not to ease up just yet.
Alaves is eighth on the Spanish Primera Division ladder and it has lost only two of its 16 league home matches but the Babazorros have accrued just two points from their last five top-flight games and most of their results versus Spain's big guns have been mediocre, including losing their three fixtures against either Atletico Madrid or Barcelona by a 10-0 aggregate score. Alaves has netted only two goals in its seven Spanish Primera Division matches versus the four teams that occupy the UEFA Champions League spots currently and Barcelona has scored in 31 of its 33 league games.
According to one's Spanish Primera Division collateral form analysis, Barcelona boasts a 16-1-2 advantage over Alaves, including a progressive counts of 4-0-0, 7-0-1 and 8-0-1, plus a 3-0 victory in August's Round One reverse fixture.
TOP TIP! – Barcelona to beat Alaves @ 1.60 with Black Type
Get the best odds in La Liga with our selected bookmakers below.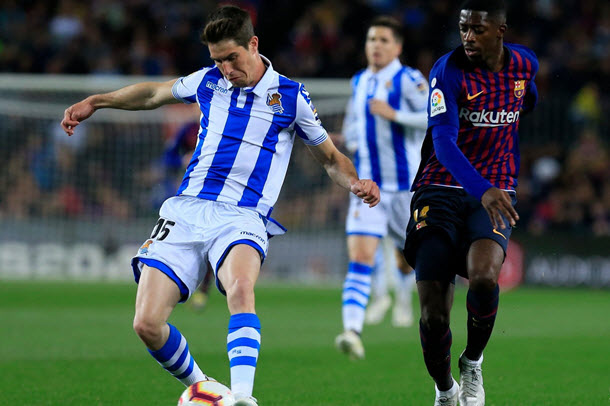 Sociedad v Villarreal – 25th April – 19:30 BST
TOP TIP! – Sociedad and Villarreal to draw @ 3.50
Villarreal is inching its way to Spanish Primera Division safety and the Yellow Submarine can earn another valuable point when they line up against Sociedad on Thursday at 3.50 with Betway.
Sociedad and Villarreal are very evenly matched, according to one's Spanish Primera Division collateral form numbers. Sociedad came from behind to beat Villarreal 2-1 in the Spanish Primera Division opening round and, overall, La Real's edge over the Yellow Submarine stands at 7-7-5. Villarreal's need for Spanish Primera Division points is greater than that of Sociedad, though, and the Yellow Submarine enter Round 34 with a bit more confidence.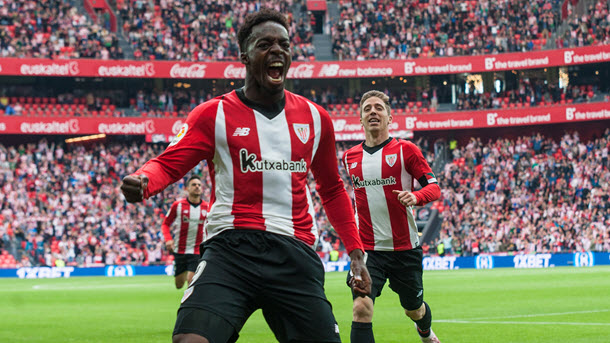 Leganes v Athletic – 24th April – 19:30 BST
TOP TIP! – Leganes and Athletic to draw @ 3.10 with BetVictor
Another Spanish Primera Division game that one thinks is a good bet to end all square is Wednesday's match between Leganes and Athletic at 3.10 with BetVictor, neither of which has a great deal for which to play given their rankings of 12th and seventh respectively – the Cucumber Growers are nine points clear of the relegation zone and the Lions are six points adrift of sixth-placed Sevilla and the UEFA Europa League berths.
According to one's Spanish Primera Division collateral form analysis, Leganes and Athletic are tied on 7-5-7. Athletic enjoys Spanish Primera Division collateral form progressive count leads over Leganes of 2-1-0, 4-2-2, 5-4-3 and 7-4-4 but the Lions are Wednesday's visitors so, even if they are marginally superior to the Cucumber Growers, they have to face their lower ranked opponents in enemy territory.
COLLATERAL FORM FIGURES
Huesca 5-5-9
Valladolid 9-3-7
Alaves 2-1-16
Atletico Madrid 10-2-7
Espanyol 9-2-8
Leganes 7-5-7
Levante 8-1-10
Sevilla 11-2-6
Sociedad 7-7-5
Getafe 7-2-10
Feel free to us know what you think of our tips. Click the button below and Share on Facebook or Twitter and tell us if you agree or disagree with our selections!
Alaves
Athletic Bilbao
Barcelona
Leganes
Real Sociedad
Spanish Primera Division
Villarreal