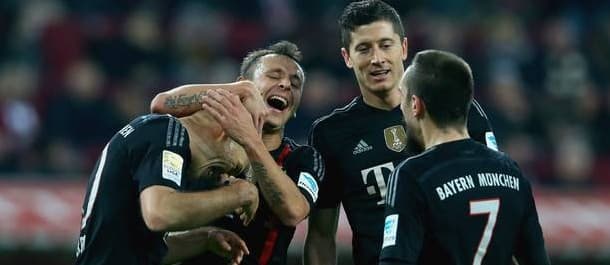 Bayern Munchen has conceded just three goals in the first 15 German Bundesliga rounds and, therefore, the best bet on the midweek coupon is Bayern to win to nil at home to Freiburg.
The German Bundesliga leader beat Augsburg 4-0 on the road to make its five consecutive wins to nil in the league and one was expecting to see shorter odds than Paddy Power's offer of 1.83Bet €100 to win €18383/100Bet £100 to win £183-120Bet $100 to win $1830.83Bet HK$100 to win HK$183-1.20Bet Rp100 to win Rp1830.8300Bet RM100 to win RM183 about Bayern Munchen making it six in a row when Freiburg rocks up at the Allianz Arena in Munich.
Only Dortmund, Schalke and Wolfsburg has scored a German Bundesliga goal versus Bayern Munchen so one does not fancy the chance of Freiburg getting on to the scoresheet given that just Hamburg has scored fewer league goals than the Christian Streich-coached Brazilians of Breisgau.
Winless in its last four German Bundesliga games, none of which were against teams positioned higher than 10th on the ladder, Freiburg faces mission impossible away to a Bayern Munchen side that does not show mercy. For example, Bayern Munchen beat up CSKA Moskva in the UEFA Champions League last week when it could have assisted the Russian Premier League team in eliminating Manchester City and Roma.
Wolfsburg has become the second favourite German Bundesliga side of everyone except Bayern Munchen and Hannover fans as the Wolves are the only team within 14 points of the title holder at the top of the ladder. Wolfsburg is playing the role that one expected Dortmund to play before a ball was kicked and Wolfsburg's away match versus Dortmund is the most interesting game on the German Bundesliga program.
One thinks that Dortmund will get out of trouble towards the foot of the German Bundesliga ladder but one cannot see why BVB are trading at odds on to beat Wolfsburg at Signal Iduna Park. The value lies in supporting Wolfsburg at odds of 2.00Bet €100 to win €2001/1Bet £100 to win £200+100Bet $100 to win $2001.00Bet HK$100 to win HK$2001.00Bet Rp100 to win Rp2001.0000Bet RM100 to win RM200 with Boylesports to either win or draw in the Ruhr Valley.
Scoring goals is proving difficult for Dortmund, with BVB's German Bundesliga tally standing at 15 goals in 15 matches. Usually one can rely on Wolfsburg to score at least once – the Wolves have hit the back of the net in all bar one of its 15 league games – so the fact that Dortmund has scored two or more goals just four times is hugely significant.
Collateral form lines are worth their weight in gold at this point of football seasons and one thinks that Hoffenheim is well over the odds to get something out of its German Bundesliga home match against false favourite Leverkusen.
Hoffenheim and Leverkusen have played 14 of the same German Bundesliga sides and one impartial view is that seven of those collateral form lines favour the former, six of them favour the latter and one of them is a dead heat. That is why one thinks that Leverkusen is not entitled to be as short as 2.00Bet €100 to win €2001/1Bet £100 to win £200+100Bet $100 to win $2001.00Bet HK$100 to win HK$2001.00Bet Rp100 to win Rp2001.0000Bet RM100 to win RM200 with Betfred. Win, lose or draw, Leverkusen represents terrible value at even money to beat Hoffenheim.
There are several ways to attack the German Bundesliga game between Hoffenheim and Leverkusen but one thinks that the best way is to back the home team not to lose at odds of 1.75Bet €100 to win €1753/4Bet £100 to win £175-133Bet $100 to win $1750.75Bet HK$100 to win HK$175-1.33Bet Rp100 to win Rp1750.7500Bet RM100 to win RM175 with Bet365. Hoffenheim has lost just one of its last 12 German Bundesliga home matches and that was its recent crazy 3-4 loss to Koln in which it conceded a late goal.
With regards to German Bundesliga exotics, punters should be looking to get short of corner kicks in two games – Koln versus Mainz, and Paderborn against Schalke – once bookmakers post their markets (see updated prices in 'Tips Summary' below). German Bundesliga data point to both matches having fewer than the usual number of corner kicks, with most games trading at 10 and a half corner kicks.
Tips Summary
Bayern to beat Freiburg to nil
16th December 19:00 GMT
Odds: 1.83Bet €100 to win €18383/100Bet £100 to win £183-120Bet $100 to win $1830.83Bet HK$100 to win HK$183-1.20Bet Rp100 to win Rp1830.8300Bet RM100 to win RM183
Where to Bet: Paddy Power
Wolfsburg to beat Dortmund
17th December 19:00 GMT
Odds: 2.00Bet €100 to win €2001/1Bet £100 to win £200+100Bet $100 to win $2001.00Bet HK$100 to win HK$2001.00Bet Rp100 to win Rp2001.0000Bet RM100 to win RM200
Where to Bet: Boylesports
Hoffenheim win/draw v Leverkusen
17th December 19:00 GMT
Odds: 1.75Bet €100 to win €1753/4Bet £100 to win £175-133Bet $100 to win $1750.75Bet HK$100 to win HK$175-1.33Bet Rp100 to win Rp1750.7500Bet RM100 to win RM175
Where to Bet: Bet365
Koln v Mainz Under 9.5 Corners
16th December 19:00 GMT
Odds: 1.80Bet €100 to win €1804/5Bet £100 to win £180-125Bet $100 to win $1800.80Bet HK$100 to win HK$180-1.25Bet Rp100 to win Rp1800.8000Bet RM100 to win RM180
Where to Bet: Bet365
Paderborn v Schalke Under 8.5 Corners
17th December 19:00 GMT
Odds: 2.10Bet €100 to win €21011/10Bet £100 to win £210+110Bet $100 to win $2101.10Bet HK$100 to win HK$2101.10Bet Rp100 to win Rp210-0.9091Bet RM100 to win RM210
Where to Bet: Bet365
Bet365
Boylesports
Bundesliga
dortmund
Freiburg
midweek games
Wolfsburg