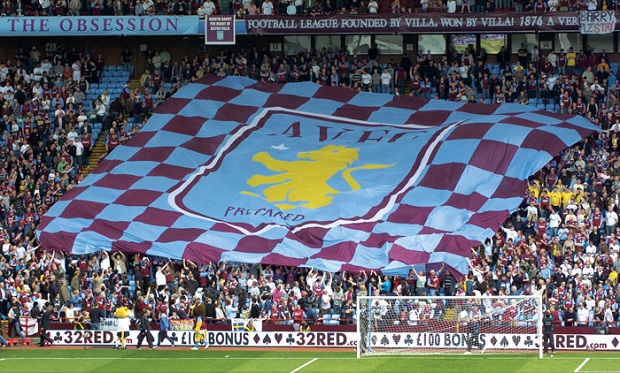 The Premier League already looks like a two-horse race, with Chelsea establishing a commanding lead and Man City looking like the only club with the ability to catch them. If you didn't get on Chelsea before the start of the season, the odds are too prohibitive now, but there is another market that gives a chance to back some of the lesser lights of the Premier League against their closest rivals.
Several bookies are offering odds on the highest finishing regional team, and Aston Villa stand out as a great bet to be the best of the Midlands sides. The regions are split (for betting purposes) as follows:
Top London Club
Chelsea are trading as short as 1.02Bet €100 to win €1021/50Bet £100 to win £102-5000Bet $100 to win $1020.02Bet HK$100 to win HK$102-50.00Bet Rp100 to win Rp1020.0200Bet RM100 to win RM102 to be the highest finishing London side, and look to have this market well and truly wrapped up already.
Top North East Club
This is a straight fight between Newcastle, Sunderland and Hull. The Magpies are 1.50Bet €100 to win €1501/2Bet £100 to win £150-200Bet $100 to win $1500.50Bet HK$100 to win HK$150-2.00Bet Rp100 to win Rp1500.5000Bet RM100 to win RM150 with Skybet, which looks a little bit skinny despite the fact that they will probably finish above both of their close neighbours.
Top North West Club
Man City are 1.18Bet €100 to win €1189/50Bet £100 to win £118-556Bet $100 to win $1180.18Bet HK$100 to win HK$118-5.56Bet Rp100 to win Rp1180.1800Bet RM100 to win RM118 with Skybet to finish highest of the North West clubs, and it's hard to see Man Utd, Liverpool, Everton, or Burnley finishing higher. Like Chelsea, they seem to have their particular region wrapped up as far as betting goes.
Top Midlands Club
This market is much more open, and features Stoke, Villa, Leicester and West Brom. Let's take a closer look at each of those teams:
Stoke – 2.10Bet €100 to win €21011/10Bet £100 to win £210+110Bet $100 to win $2101.10Bet HK$100 to win HK$2101.10Bet Rp100 to win Rp210-0.9091Bet RM100 to win RM210 with Ladbrokes
Mark Hughes has had a tough assignment at Stoke. They played to their strengths under Tony Pulis, but he was a victim of his own success in many respects. Several comfortable mid-table finishes led the Stoke hierarchy to believe that a change in style was needed, and that Hughes was the man to do it. There has been a significant change in the way the Potters play their football, but that hasn't translated into results. At the moment they are in 12th position with 15 points, top of this small group of clubs. Four of their next five games are against Chelsea, Arsenal, Man Utd and Everton though, and by the time they've finished that particular run of fixtures they could be deep in relegation trouble. It's shaping up to be another disappointing year for Stoke, and as the favourites in this market they can be taken on.
Leicester – 8.50Bet €100 to win €85015/2Bet £100 to win £850+750Bet $100 to win $8507.50Bet HK$100 to win HK$8507.50Bet Rp100 to win Rp850-0.1333Bet RM100 to win RM850 with Skybet
I've already tipped Leicester to finish bottom of the Premier League at a whopping 21.00Bet €100 to win €210020/1Bet £100 to win £2100+2000Bet $100 to win $210020.00Bet HK$100 to win HK$210020.00Bet Rp100 to win Rp2100-0.0500Bet RM100 to win RM2100 and now that they've duly sunk to the bottom of the pile, they're a best price of 6.50Bet €100 to win €65011/2Bet £100 to win £650+550Bet $100 to win $6505.50Bet HK$100 to win HK$6505.50Bet Rp100 to win Rp650-0.1818Bet RM100 to win RM650 to take the wooden spoon. I'm happy to let that bet run, and they still look better value to finish last than they do to finish best of this quartet of teams. They've now lost six of their last eight games, and face Liverpool, Villa, West Ham, Man City and Spurs in their next five. The goals have dried up for Ulloa, and it's hard to fancy the Foxes to take many points from that run of difficult games coming up.
West Brom – 5.00Bet €100 to win €5004/1Bet £100 to win £500+400Bet $100 to win $5004.00Bet HK$100 to win HK$5004.00Bet Rp100 to win Rp500-0.2500Bet RM100 to win RM500 with Skybet
The Baggies are another side that are looking down rather than up, and three straight defeats have left them just two points above the relegation zone. They've failed to score in each of their last four games – the 1-0 win at Leicester came courtesy of an own goal – and the fans were calling for Alan Irvine's head after the home loss to Arsenal at the weekend. Berahino has been the one bright spark this season, scoring 8 of West Brom's 13 goals, but after him no-one else in the side has scored more than once. They can't rely on the England U21 international all season, and are slowly being dragged into the relegation battle. They play Hull, West Ham, Villa and QPR in the next four and will need to perform in the games against those around them to steer clear of trouble. They look toothless at present though, and those games will be tough for a team lacking in confidence.
Aston Villa – 4.00Bet €100 to win €4003/1Bet £100 to win £400+300Bet $100 to win $4003.00Bet HK$100 to win HK$4003.00Bet Rp100 to win Rp400-0.3333Bet RM100 to win RM400 with BetVictor, Paddy Power and Ladbrokes
Villa stand out as the best bet in the Midlands section, despite the terrible run of form they've encountered over the last couple of months. After winning three of their first four in the league, they embarked on a run of six straight defeats which saw them plummet down the table. They've arrested the slide over the last few games with successive draws with West Ham, Burnley and Southampton, and things might be a bit more rosy if they'd held on to win against Burnley or Southampton, who both equalized late in the game. They've clearly missed star striker Christian Benteke, and had looked as though they would beat Spurs a few weeks back before his rash sending off. He's back for the trip to Palace on Tuesday night, and Villa will need his goals to win them games – they've only found the net 7 times this season.
The big Belgian brings so much to the Villa side, not just in terms of goals, but by providing a focal point and allowing other players to run off him. If they can keep him fit and firing, their season could be set to change again. The fact that they are only 2 points behind Stoke after such a disastrous run bodes well if they can turn their form around now the big man is back. After the Palace game, they face Leicester and West Brom, and with good results in those matches they could put some daylight between themselves and the others in this little market. At the prices, Villa look much too big at 4.00Bet €100 to win €4003/1Bet £100 to win £400+300Bet $100 to win $4003.00Bet HK$100 to win HK$4003.00Bet Rp100 to win Rp400-0.3333Bet RM100 to win RM400 and are worth backing to finish above Stoke, West Brom, and Leicester.
Tips Summary
Aston Villa to finish as Top Midlands Club – 4.00Bet €100 to win €4003/1Bet £100 to win £400+300Bet $100 to win $4003.00Bet HK$100 to win HK$4003.00Bet Rp100 to win Rp400-0.3333Bet RM100 to win RM400 with BetVictor, Paddy Power and Ladbrokes
aston villa
English Premier League
leicester
Midlands
Premier League
Stoke
West Brom