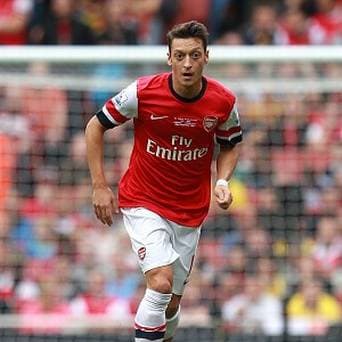 Mid-table Montpellier on the draw-no-bet market for its French Ligue Un home match against Lyon is best bet on the football program scheduled for Sunday 6 October 2013.
Montpellier is playing better, at least until it reaches the penalty area, than its French Ligue Un record of one win, six draws and one losses reflects. For example, Montpellier dominated its last home game versus Rennes, racking up 14 shots on target, but it ran into an inspired goalkeeper.
What is pleasing about Montpellier's French Ligue Un record is that it is unbeaten apart from its 1-4 away loss to title contender Monaco and it has only suffered one defeat despite ending no fewer than five of its nine matches with 10 men. Clearly Montpellier is a tough team to beat and, with a bit of luck in the final third, it would be sitting several rungs higher on the ladder than its current 11th.
Lyon will arrive in Montpellier having played a UEFA Europa League home game versus Guimaraes three days earlier. That may not be a negative but it is unlikely to be a positive, either. Lyon has made a disappointing start to the season, bowing out of the UEFA Champions League 4-0 on aggregate to Sociedad and it has not been pulling up any trees in Spain or Europe's top club competition. Lyon has failed to score in six of its last nine matches and its last four away games have resulted in three losses – 0-2 at Sociedad, 1-2 at Evian and 1-2 at Ajaccio – and a 0-0 draw at Betis. Both Evian and Ajaccio are below Montpellier on the French Ligue Un ladder, occupying 13th and 16th positions respectively.
It is difficult to be confident about a side that has won only once in eight attempts this season and that is why Montpellier makes more appeal on the draw-no-bet market than the match one. Montpellier is trading at odds of 1.67 with Boylesports with one getting one's stake back in the event of a draw. That seems like a very rational value play.
Many odds-on away favourites are poisonous but Arsenal is playing so well that the Gunners are worth backing at odds of 1.80 with Coral, to win its English Premier League road game against West Bromwich at The Hawthorns. The only match of Arsenal's last 10 that it did not win in normal time was its English Capital One Cup tie versus the same opponent at the same venue, with the Gunners winning on penalties. Arsenal fielded pretty much a youth team late last month and, while West Bromwich rested some of its headliners as well, it was the Gunners that were the furthest from being full strength.
Arsenal has not won a major piece of silverware since taking out the 2005 English FA Cup but the arrival of Mesut Ozil may change that this term. Ozil scored Arsenal's first goal in its UEFA Champions League home defeat of Napoli and set up Olivier Giroud's simple finish that put the game beyond the Italian Serie A high flier inside the first 15 minutes. Ozil looks like the game-changing signing that Manchester United did not make before the summer transfer window closed. With three English Premier League points on the line, Arsenal ought to be too strong for West Bromwich.
Lazio and Fiorentina meet in one of two Italian Serie A blockbusters, shortly after Juventus and Milan end their tussle. It is one of those matches in which it is hard to construct a decent case for either side and, when that is the situation, often the value lies in backing the draw. One can bet on Lazio and Fiorentina sharing the spoils at odds of 3.40 with Bet365. Both Lazio and Fiorentina have tough UEFA Europa League assignments three days before their Italian Serie A clash, something that could dull the edge of both teams.