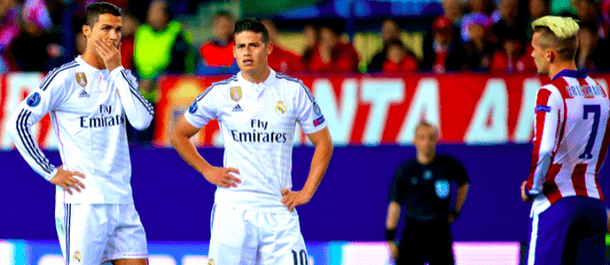 There are many big games across Europe this weekend but, arguably, none bigger than the Spanish Primera Division match between Atletico Madrid and Real Madrid on Saturday.
Atletico Madrid and Real Madrid met three times last term, their most recent clash being the UEFA Champions League final that went to extra time and penalties after the Spanish Primera Division sides drew 1-1 after 90 and 120 minutes. Cristiano Ronaldo scored Real's winning penalty kick after Juanfran missed from 12 yards for Atletico.
Real Madrid may have won the UEFA Champions League for the 11th time last season but, in recent times, the Meringues have flopped against Atletico Madrid. Real has won only one of its last 13 games versus Atletico across all competitions if one bases one's calculations on results at the end of normal time. So straight away one is thinking of opposing Real in betting markets on Saturday's massive match.
Two bets stand out from the crowd – under one and a half Real Madrid goals at odds of 1.51 with Marathonbet and the Spanish Primera Division game to be a draw at odds of 3.45 with the same bookmaker that likes to take a bold view.
Atletico Madrid coach Diego Simeone knows what it takes to restrict Real Madrid – the Mattressers have allowed the Meringues to score over one and a half goals just once in the last 12 meetings of the city rivals. Also, Atletico has conceded over one and a half goals in only one of its last 19 home matches across all tournaments and, if history is any guide, Simeone will send out the Mattressers to shut down Real's attacking superstars for the first whistle.
Real Madrid has scored over one and a half goals in 20 of its last 23 Spanish Primera Division games but the league does not have strength in depth and Atletico Madrid has proven that it can limit Real's scoring opportunities.
Bookmakers know that most punters want to back positive outcomes, which is why the draw tends to run around at generous odds even in evenly matched contests. One cannot split Atletico Madrid and Real Madrid at the former's home ground and, therefore, supporting the draw at outsider odds makes a great deal of sense. Four of the last seven games between Atletico and Real have resulted in draws.
For one's third and final Spanish Primera Division wager of the 12th round of action one has settled on Sevilla at odds of 2.30 with BetVictor to win at Deportivo on Saturday.
Sevilla's travelling blues are a thing of the past because the Red and Whites have lost only one of their last seven road matches, including a UEFA Chamoions League away win over Dinamo Zagreb and a deserved draw at Juventus.
According to one's Spanish Primera Division collateral form analysis, Sevilla enjoys a 3-5-0 lead over Deportivo based on the results of their respective games versus identical opponents. Sevilla's two Spanish Primera Division defeats have occurred at home to Barcelona and away to Athletic, neither of which was a huge surprise. Deportivo has lost each of its four Spanish Primera Division matches against teams positioned on the top half of the ladder – Sevilla is ranked fourth, level with Atletico Madrid on 21 points.
Tips Summary
Real Madrid – Under 1.5 Goals
Saturday 19th November, 19:45 GMT
Odds: 1.51
Atletico and Real to Draw
Saturday 19th November, 19:45 GMT
Odds: 3.45
Sevilla to beat Deportivo
Saturday 19th November, 12:00 GMT
Odds: 2.3
Atletico Madrid
La Liga
Primera Division
Real Madrid
Sevilla