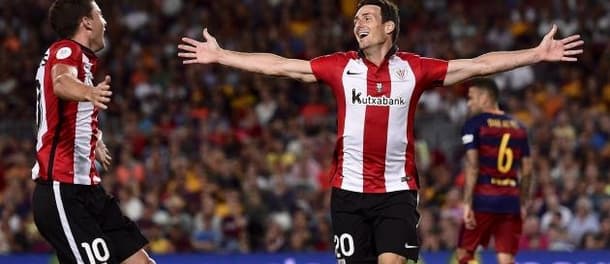 Athletic is bottom of the Spanish Primera Division ladder but one rates it as the most attractive bet in the third round of matches at odds of 1.63Bet €100 to win €16363/100Bet £100 to win £163-159Bet $100 to win $1630.63Bet HK$100 to win HK$163-1.59Bet Rp100 to win Rp1630.6300Bet RM100 to win RM163 with Marathonbet to beat the league's only other pointless team, Getafe, on Sunday.
One is willing to make excuses for Athletic kicking off its Spanish Primera Division campaign with back-to-back losses, whereas one is unwilling to go easy on Getafe's two defeats.
Athletic has been up and about since the end of July because of its involvement in the UEFA Europa League and the Spanish Supercopa de Espana and, while it has reached the former's group stage following aggregate victories over Inter Baku and Zilina, its workload appears to have come at a cost, including a 0-2 Spanish Primera Division loss at Eibar in a match that took place three days after its Zilina tie ended.
The UEFA Europa League may continue to inhibit Athletic's Spanish Primera Division performances but the Bilbao-based side will have had two full weeks off before it plays host to Getafe on Sunday and any half-decent team should be on the lookout for three home points from such a fixture.
Getafe's first two Spanish Primera Division games have seen it lose 0-1 at Espanyol and crash 1-2 at home to Granada and it did not the excuse of being worn out from competing on three fronts. Factor in Getafe's poor road numbers – it has lost 10 of its last 12 Spanish Primera Division away matches and the exceptions were wins over relegated sides Cordoba and Elche – and there is a good case for backing Athletic.
Spanish Segunda Division champion Betis will have a target list of games from which it will be looking to derive three points and one would be one's house that Saturday's home match versus Sociedad will be on it because the David Moyes-coached team struggles away from San Sebastian.
According to reports, Sociedad had not one but two cracks at luring Moyes to San Sebastian when most sides thought that he was damaged goods following his disastrous spell in charge of Manchester United. One thinks that there was a reason why teams were not beating a path to the door of Moyes and the Spanish Primera Division form of Sociedad – two wins from its last 13 games and zero goals so far this term – is justifying their reluctance to get in touch with him.
Sociedad's pre-season results were disappointing to say the least and its chief problem is its inability to hit the back of the net regularly. Marathonbet is quoting Betis at odds of 2.46Bet €100 to win €24673/50Bet £100 to win £246+146Bet $100 to win $2461.46Bet HK$100 to win HK$2461.46Bet Rp100 to win Rp246-0.6849Bet RM100 to win RM246 to beat Sociedad in Seville and that strikes one as a value investment. One would not argue with Betis trading at odds of around 2.25Bet €100 to win €2255/4Bet £100 to win £225+125Bet $100 to win $2251.25Bet HK$100 to win HK$2251.25Bet Rp100 to win Rp225-0.8000Bet RM100 to win RM225 for what appears to be a winnable match.
The same bookmaker is offering odds of 1.72Bet €100 to win €17218/25Bet £100 to win £172-139Bet $100 to win $1720.72Bet HK$100 to win HK$172-1.39Bet Rp100 to win Rp1720.7200Bet RM100 to win RM172 that Saturday's Spanish Primera Division game between Gijon and Valencia goes under two and a half goals and that completes one's portfolio.
Gijon was a favourite of under-two-and-a-half-goals punters in its Spanish Segunda Division promotion campaign, with 27 of its 42 matches rewarding gamblers – that is a very high percentage for a side that finished second on the ladder. Perhaps unsurprisingly, Gijon's first two Spanish Primera Division games have gone under two and a half goals – 0-0 at home to Real Madrid and 0-0 away to Sociedad – and the same goes for Valencia's opening two championship matches.
Finally, a word of caution regard Spanish Primera Division leader Celta. It is trading at short odds to get the better of Las Palmas on Sunday but it is coming off back-to-back victories over mediocre teams that had players sent off inside the first nine minutes of their respective games.
Tips Summary
Athletic to beat Getafe
13th September 15:00 GMT
Odds: 1.63Bet €100 to win €16363/100Bet £100 to win £163-159Bet $100 to win $1630.63Bet HK$100 to win HK$163-1.59Bet Rp100 to win Rp1630.6300Bet RM100 to win RM163
Betis to beat Sociedad
12th September 21:00 GMT
Odds: 2.46Bet €100 to win €24673/50Bet £100 to win £246+146Bet $100 to win $2461.46Bet HK$100 to win HK$2461.46Bet Rp100 to win Rp246-0.6849Bet RM100 to win RM246
Gijon v Valencia Under 2.5 goals
12th September 17:15 GMT
Odds: 1.72Bet €100 to win €17218/25Bet £100 to win £172-139Bet $100 to win $1720.72Bet HK$100 to win HK$172-1.39Bet Rp100 to win Rp1720.7200Bet RM100 to win RM172
Athletic
David Moyes
Gijon
San Sebastian
Sociedad
Spanish Primera Division
Spanish Segunda Division
Spanish Supercopa de Espana
valencia