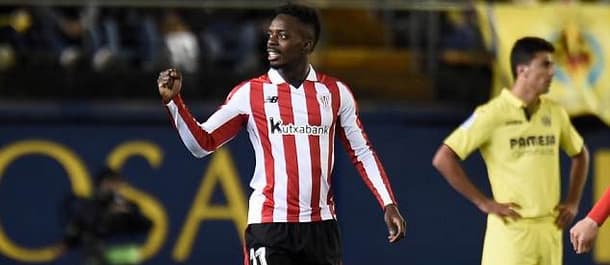 Athletic leaps off the Spanish Primera Division coupon as being the best bet of the 32nd round of championship games even though its guest is fighting for its top-flight life.
On Saturday, Deportivo will tackle Athletic in Bilbao with its Spanish Primera Division membership card in danger of being torn to shreds – Super Depor are eight points adrift of safety with just seven rounds to go. Athletic has, on the face of it, little for which to play other than pride but the Lions have plenty of that and they are unlikely to lie down without a fight in front of their San Mames supporters, which is one of the reasons they warrant your interest.
Athletic is 12th on the Spanish Primera Division ladder with 16 points more than Deportivo and one's collateral form data more than backs up the league standings. According to one's Spanish Primera Division collateral form analysis, Athletic enjoys a 16-1-2 advantage over Deportivo – that is a bigger lead than the one that Barcelona boasts over its weekend foe, Valencia. Athletic is odds-on at 1.67Bet €100 to win €16767/100Bet £100 to win £167-149Bet $100 to win $1670.67Bet HK$100 to win HK$167-1.49Bet Rp100 to win Rp1670.6700Bet RM100 to win RM167 with BetVictor but not ridiculously short to get the better of Deportivo and, while both the Lions and Super Depor will take to the San Mames pitch without suspended players, the former's absentees are certainly no greater than those impacting the latter.
Twice Athletic led Deportivo in November's reverse Spanish Primera Division fixture before the sides settled for a 2-2 draw. Only first-ranked Barcelona and second-ranked Atletico Madrid have defeated Athletic in Bilbao during this Spanish Primera Division season, whereas 19th-ranked Las Palmas is the only team to suffer the indignity of losing at home to Deportivo. Bookmakers are offering not far off even money about an Athletic home win and that is simply incorrect. Athletic is 3-1-0 in its last four meetings with Deportivo.
Getafe is the next Spanish Primera Division side on one's weekend short list because the Deep Blues are overpriced at 2.15Bet €100 to win €21523/20Bet £100 to win £215+115Bet $100 to win $2151.15Bet HK$100 to win HK$2151.15Bet Rp100 to win Rp215-0.8696Bet RM100 to win RM215 with Betway to earn three points from their Sunday match versus Espanyol.
November's reverse Spanish Primera Division fixture ended 1-0 in favour of Espanyol but the bulk of this term's games point to 11th-ranked Getafe being quite a fair bit superior to the 14th-ranked Parakeets. According to one's Spanish Primera Division collateral form analysis, Getafe's edge over Espanyol stands at 13-0-6 overall, while two of the progressive counts place it at 8-0-3 and 12-0-4. What all that means in straightforward language is that Getafe has fared better than Espanyol against most of the Spanish Primera Division's leading sides and it is the collateral form numbers from matches versus the top teams that carries the most significance when one is assessing markets. Getafe has won each of its last two Spanish Primera Division home games against Espanyol, including last season's match 3-1.
Eibar rounds out one's Spanish Primera Division selections because the Gunners, which beat Alaves 2-1 on the road in November, are attractively priced at 1.83Bet €100 to win €18383/100Bet £100 to win £183-120Bet $100 to win $1830.83Bet HK$100 to win HK$183-1.20Bet Rp100 to win Rp1830.8300Bet RM100 to win RM183 with BetVictor to complete the double with a home victory over the Babazorros on Sunday.
Tenth on the Spanish Primera Division ladder, Eibar enjoys a 10-5-4 collateral form advantage of 16th-ranked Alaves and that includes a progressive count of 10-2-3. Alaves took until the 91st minute to notch its consolation goal at home to Eibar and the visit of the Babazorros presents the Gunners with a good opportunity to end their winless run.
Tips Summary
Athletic Bilbao to beat Deportivo
Saturday 14th April, 19:45 GMT
Odds: 1.67Bet €100 to win €16767/100Bet £100 to win £167-149Bet $100 to win $1670.67Bet HK$100 to win HK$167-1.49Bet Rp100 to win Rp1670.6700Bet RM100 to win RM167
Getafe to beat Espanyol
Sunday 15th April, 17:30 GMT
Odds: 2.15Bet €100 to win €21523/20Bet £100 to win £215+115Bet $100 to win $2151.15Bet HK$100 to win HK$2151.15Bet Rp100 to win Rp215-0.8696Bet RM100 to win RM215
Eibar to beat Alaves
Sunday 15th April, 11:00 GMT
Odds: 1.83Bet €100 to win €18383/100Bet £100 to win £183-120Bet $100 to win $1830.83Bet HK$100 to win HK$183-1.20Bet Rp100 to win Rp1830.8300Bet RM100 to win RM183
Athletic
Eibar
Getafe
La Liga
Spanish Primera Division