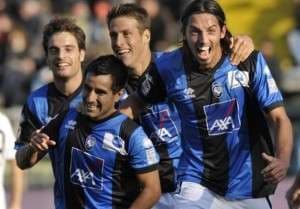 Italian Serie A's form team, Atalanta, is surprisingly big at odds of 1.85 to beat one of the division's out-of-form sides, Sassuolo, in the 32nd round of championship games.
One highlighted Atalanta as representing decent value away to Bologna last weekend and it took the Italian Serie A match by the scruff of its neck, scoring twice in the first 26 minutes and keeping its struggling opponent at bay. That was Atalanta's sixth Italian Serie A victory in a row and, apart from an incredible 0-4 loss to Parma, it has won all of its divisional home games since the turn of the year.
Sassuolo can only dream of Atalanta's recent Italian Serie A statistics. Sassuolo has lost three Italian Serie A matches on the spin and, since Domenico Berardi scored all four of its goal in its shock 4-3 home win over Milan, it has picked up four points out of a possible 36 and three of them were virtue of 3-1 home defeat of bottom-of-the-ladder Catania.
Of course, one could point to the reverse Italian Serie A fixture between Sassuolo and Atalanta that the latter won 2-0 in November and that was in spite of it playing with one fewer man for the final 14 minutes. But November was a long time ago, Sassuolo's Italian Serie A form has deteriorated and Atalanta's league results have improved out of sight.
One was expecting to see Atalanta trading at odds of around 1.60 so BetVictor's quote of 1.85 about the home team making its seven Italian Serie A victories in a row is generous.
Cagliari and Roma played out a 0-0 Italian Serie A draw in the capital five months ago and there is a strong case for betting on under two and a half goals when they meet again, this time on the picturesque island of Sardinia.
Cagliari and Roma are in the bottom five on the Italian Serie A goals-per-game chart. Cagliari is anchored in 20th position because its 31 Italian Serie A matches have had a division-low average of 2.26 goals and 17 of those games have gone under two and a half goals. It is unusual for a high-flying team to feature in so many low-scoring matches but Roma is the exception to the rule. Roma's 30 Italian Serie A games have had a mean of 2.43 goals and 16 of them have gone under two and a half goals. And that is in spite of Roma being Italian Serie A's third highest scorer.
BetVictor is offering odds of 1.75 that the Italian Serie A match between Cagliari and Roma goes under two and a half goals. That looks like a pretty damn fine investment.
Finally, Bologna is so bad that Internazionale really ought to win the Italian Serie A match between the sides at the San Siro without conceding a goal, an option that is available at odds of 2.10 with BetVictor and Ladbrokes.
The only way that Bologna is going to maintain its Italian Serie A membership is if Catania, Livorno and Sassuolo do not help themselves between now and the middle of May. The world started to fall in on Bologna when its star player, Alessandro Diamanti, walked out on it to join Chinese Super League powerhouse Guangzhou Evergrande. Obviously, the big bucks and the opportunity to play under Marcello Lippi was too much for the Italy midfielder to turn down. Since then, Bologna has won two, drawn two and lost five of its nine Italian Serie A games and its performances have slid in quality with every match. Bologna is in a lot of trouble.
Internazionale has been cut adrift from the Italian Serie A top four, primarily because of its inability to turn home draws into home wins. Internazionale has drawn seven of its 16 Italian Serie A home games and, even though it has kept clean sheets in four of its last six San Siro matches, it has accrued only nine points out of a possible 18.
This is an Italian Serie A game in which it may be worth dutching some correct-score bets. Internazionale is trading at odds of 6.50 with Ladbrokes to beat Bologna 1-0 and it is available at odds of 6.75 with 888sport and Unibet to win the Italian Serie A match by a 2-0 margin. Dutching those options produces a bet with odds higher than 3.31.