Arizona Cardinals at St. Louis Rams +1 OvUn 38.5 8:20 EST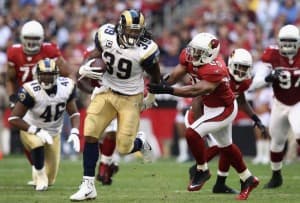 The Cardinals head into the Edward Jones Dome to face the Rams in a critical NFC West matchup. Few bettors and fans would have marked this game on the calendar before the season started, but both teams have been impressive so far this season.
The Cardinals are 4-0 after an overtime victory at Miami last week and have wins against the Patriots and Eagles. The jury is still out this season if the Cardinals are the "real deal", but they are clearly much improved from a season ago. Their undefeated record has the franchise off to its best start since the 1974 season, in which they started in season 7-0. The Cardinals have impressed defensively, only giving up four touchdowns in four weeks of football. QB Kevin Kolb has filled in great for the injured Skellton and has thrown seven touchdowns to go with just two picks.
The Rams are 2-2 after evening their record last week against Seattle. The team seems much improved under Coach Jeff Fisher and have already matched their win total from last season. The Rams haven't excelled mightily in any area so far, but have not been plagued by the penalties and lack of effort that has plagued the team in the past. Wide out Danny Amendola is producing at a Pro Bowl level, already with 31 receptions and 350 yards, and two touchdowns.
The Line
The line opened at St. Louis +1.5, which is still available at some shops, but most have moved to +1. The total hasn't changed much and is available at either 39 or 38.5 at most shops.
The Play
This is a tough one to call, as both teams are clearly decidedly different from last season. However, the Rams would be dealt a serious blow with a Thursday loss. The team would fall to 2-3, and would be in a deep hole in a division that already has a 4-0 Cardinals and 3-1 49ers. This game means much more than them to the Cardinals, who also have travelled from Miami, back to Arizona and then to St. Louis, all in a span of four days. We think this one will be close, but we like the Rams to give the Cardinals their first loss of the season.
Rams +1
For all NFL betting we urge our readers to go to TopBet.eu