The Cleveland Browns, Washington Redskins, Green Bay Packers and Arizona Cardinals all have bye weeks in Week 10.
New York Giants at Cincinnati Bengals +3.5 OvUn 48.5 1:00 EST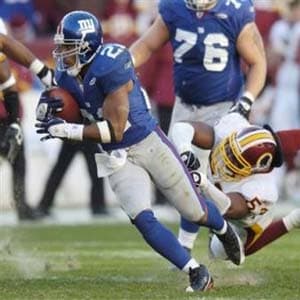 The Giants head into Cincinnati to take on the Bengals before their bye in Week 11. In Week 9, they faced off against the Steelers in a tough inter conference matchup, which ultimately ended their four game win streak. The Giants blew a four quarter lead to fall 24-20 to Pittsburgh and looked out of sorts in the loss. Eli Manning threw for a season low 125 yards in the loss, and the defense blew a late lead to Pittsburgh. The Giants 6-3 on the season, have a 2.5 game lead in the NFC East.
The Bengals are in desperate need of a win to stay in the hunt for the playoffs. Starting the season off with a 3-1 record, Cincinnati has dropped four straight games to fall 3-5 on the season. They again fell last week, losing to the Broncos 31-10. After holding a 20-17 heading into the fourth quarter, the Bengals turned the ball over and were outscored in the fourth.
The Line
This one opened at Cincinnati +6 and was quickly bet down to +3.5. The total has not moved from 48.5.
The Play
Both of these teams are reeling right now, but the Bengals could be in real trouble with another loss. A sixth loss would put that at a severe disadvantage to make the playoffs, and would basically eliminate them from any chance at the divisional crown.
Though, we would probably lean Cincy in this matchup, we're more interested in total. Both of these teams have given up monster numbers defensively over the past few weeks, and we do not see that changing. Neither can rely on their running game, and we see this one shaping out to be a shootout.
Over 48.5

Atlanta Falcons at New Orleans Saints +1 OvUn 53.5 1:00 EST
The Falcons head into New Orleans still undefeated. At 8-0, they been far and away the best team in the NFL as the season reaches its halfway point. Still, the jury seems to be out how talented Atlanta is. They have not faced the toughest schedule so far, as the majority of opponents they have faced has had under a .400 winning percentage. They have also played many close games and have come from behind late to win a few nail biters. Last week, they pulled off another close victory a 19-13 win against Dallas at home.
The Saints have rebounded from their poor start. After starting the season in an 0-4 hole, New Orleans has won three out of their last four games. The latest victory was a dominate Monday Night Football beating of the Eagles 28-13. New Orleans is in must win mode every week as they will likely not be able to win a divisional crown due to the Falcons being atop the AFC South. Also, gaining a wild card spot with six losses may be unattainable in a tough NFC.
The Line
This one opened as a pk. It is New Orleans +1 at most places, but NO +2.5 is also available. The total hasn't moved from the opening number of and is available at 53.5 or 53.
The Play
Even though, this is a divisional game it means less because of the massive gap between the two teams in the standings. With that said, we think the Falcons may be vulnerable for their first loss of the season against the Saints. Perhaps NO finally has gotten on to the right track with their win against Philly. As home dogs, it's hard not love the Saints in this spot. Brees has also played Atlanta well, winning 6 out of the last 8 matchups against Matt Ryan.
Saints +1 at www.bovada.lv
Oakland Raiders at Baltimore Ravens -7.5 OvUn 46 1:00 EST
Oakland is another team reeling from an up and down season. The 2-5 Raiders have won two out of their last four games, but both wins came against lowly Kansas City and Jacksonville. Last week, they faced off against a high scoring Tampa Bay team that handled them at home 42-32. On top of that, the Raiders lost their two top running backs in Darren McFadden and Michael Goodson.
The Ravens are 6-2 on the season, but are going to have to improve their play if they want to be taken serious as contenders. Though, they pulled off a victory last week in Cleveland; Baltimore is giving up over 386 yards per game defensively, bad enough for 26th in the NFL. Things may not get any better without Ray Lewis or top corner Ladarius Webb, who were lost for the season three weeks ago.
The Line
This one opened at Ravens –6 and has since moved -9 and back down to -7.5. The total has gone slightly from the opener of 47 to 46.
The Play
Baltimore hasn't looked their best this season, but we like this spot. The Raiders are without their top two running backs, and are traveling cross country to face the Ravens at home. They were involved in a tough loss last week, and they are particularly susceptible to the run. Carried by Ray Rice the Ravens ran the ball 36 times last week and will have a similar plan of attack this week against Oakland. The Raiders may abandon the run early, but Baltimore should be able to adjust and control the clock with their running game.
Ravens -7.5
Detroit Lions at Minnesota Vikings +1 OvUn 46 1:00 EST
The 4-4 Lions finally are starting to become the offensive powerhouse that most experts suspected in the preseason. After a 1-3 start, the Lions have won two straight and three out of their last four contests. After a 31-14 drubbing of the Jaguars last week, they look to hand the Vikings their third straight loss. The first meeting of these two rivals was in September a 20-13 loss at Ford Field to the Vikings.
Minnesota has fallen quite a bit after opening the season at 5-2. After back to back losses, a loss at home Tampa and last week's 30-20 loss at Seattle, things in Minnesota may be coming to unravel. Though, Peterson has been fantastic, over 150 rushing in his past three games – Minnesota as a whole has not. The defense has been porous, allowing over 30 points in the last three out of four games and QB Christian Ponder has not effective either. He has throw for less than 70 yards in two out of his last three starts. It will not get any easier for him this Sunday as top WR Percy Harvin may not be able to play to due injury.
The Line
This one has moved drastically because of early money on Detroit. It opened at Minnesota -2.5 and moved to Minnesota +1 or +2. The total opened at 45.5 and is at 46 or 46.5
The Play
It is hard not to like Detroit in this matchup. Finally clicking they face a defense that has been absolutely abysmal the past few weeks. They have improved in all facets of the game, and should be able to outscore the Vikings with ease. We're with Joe Public on this matchup and will go with Detroit.
Back the Lions -1 at TopBet.eu

Denver Broncos at Carolina Panthers +4 OvUn 47 1:00 EST
Denver heads to Carolina with a 5-3 record and an offseason acquisition that has clearly paid dividends. Peyton Manning has thrown three touchdowns in his last three games, including a 31-23 win in Cincinnati last week. The former MVP has completed an NFL best 69.5 percent of his passes and has a 108.6 QB rating, through the first half of the season.
Carolina, though 2-6 on the year, are starting to pick up where they left off at the end of last season. Cam Newton has been solid over the past few weeks, including a 21-13 win at Washington last week, where he threw 201 yards, threw for a touchdown and rushed for a touchdown in the win. The Broncos may have trouble with Carolina's pass defense as the Panthers have surrendered an average of just 213 yards through the air in their past four games.
The Line
Opened at Carolina +3 and has moved off the magic number to +4 at all shops. The total opened at 47.5 and has not moved much.
The Play
We'll go against the grain on this one, as strong as Peyton Manning has looked over the past few weeks – this is one of his toughest defensive matchups yet. The Broncos had to come from behind against a terrible Cincy defense last week, and though they did win it was too close for comfort. The Panthers simply cannot lose even one more game if they wish to have a chance at the playoffs. This one probably will not be a popular pick with most bettors, but we like the Panthers, plus the points.
Panthers +4
San Diego Charges at Tampa Bay Buccaneers -3 OvUn 47 1:00 EST
The Chargers head into Tampa Bay with a 4-4 record, but the tales of each of these teams has been decidedly different the past several weeks. San Diego has not impressed lately, losing three out of their last four games, but they did win last Thursday night at lowly Kansas City. Rivers had one of his best games of the season, completing 18 out of 20 passes and throwing two touchdowns in the win at home, 31-13.
Tampa Bay was counted out after their rough 1-3 start to the season, but after winning four out their last five, the Bucs look like legit playoff contenders. Rookie running back Doug Martin has also made history, rushing for 251 yards and four touchdowns in a win last week in Oakland. Freeman also played a large role in the turnaround. The third year QB is averaging just over 300 yards passing his past four games and has thrown 11 touchdowns.
The Line
Tampa Bay opened at a -2.5 favorite but has moved to -3. The total opened at 47 and has not moved much the opening number.
The Play
Here's another one that most bettors may think of as a slam dunk, but we are going the other way on. Yes, Tampa has certainly looked like the better team, but let's look at the matchups. Rivers has struggled this year but has faced a tough schedule and a suspect running game. This is a dream matchup for him against one of the NFL's worst pass defenses. Doug Martin won't be able to run wild against a 4th ranked chargers run defense, either. Norv Turner's ass is on the line, and we the Chargers come out with a solid game plan this week and pull the upset.
Best price for Chargers +3 is available with www.bovada.lv
Buffalo Bills at New England Patriots -11 OvUn 52 1:00 EST
As per usual, the Bills started off the season strong but have lost four out of their last five games. They fell to 3-5 last week after a 21-9 loss at Houston, in which they abandoned their run game. Buffalo needs to get their run game going as QB Ryan Fitzpatrick has been highly unreliable this year and has failed to throw a touchdown pass in his past three games.
The Patriots are coming off a bye sporting a 5-3 record. Their last game was a win in London; a 45-7 beat down of the St. Louis Rams. If history is any indicator, the Bills could be in for the same treatment. QB Tom Brady is 19-2 against Buffalo in his career and has thrown for over 5,000 yards and 49 touchdowns against the Bills in his career with a 103.4 QB rating.
The Patriots took the first meeting between these two teams in September, 52-28.
The Line
One of the larger spreads this week, this one opened at New England -9.5 and has moved to NE -11. The total is the highest on the board this week 52.
The Play
It's hard to imagine a scenario where the Bills win this game against the Pats, but that is not something we should concern ourselves with. While, a garbage time cover might be possible, we think this one is over by halftime. The Bills have serious trouble moving the ball when behind, and we do not trust Fitzpatrick to be the guy his team needs in the clutch. The Bills are bottom five in the league in rush defense, and the Pats have run the ball effectively this season. Once they have a lead, it should be easy to pound the clock with Ridley and company to keep the ball away from Spiller and Jackson, and into Fitzpatrick's hands.
Get on The Patriots -11 at TopBet.eu.
Tennessee Titans at Miami Dolphins -6 OvUn 44 1:00 EST
The Titans seemed to be in the midst of a turnaround the past several weeks, but had one of their worst losses in franchise history against the Bears. Tennessee committed five turnovers which led to 51-20 at home loss to Chicago. Owner Bud Adams put the front office and players on notice after the loss, stating that everyone would be evaluated on their performance the rest of the season. The Titans will return QB Jake Locker this week. He'll be making his first start since a Week 3 concussion and shoulder injury.
The Dolphins look to overcome a 23-20 loss at Indianapolis last week, and stay within one game of divisional leader New England. Though, they fell to Indy last week – the Fins have plenty to be happy about. Rookie QB Ryan Tannenhill has had an impressive rookie campaign so far and has not thrown an interception since Week 3. He had another outstanding game against the Colts throwing for 290 yards and a touchdown. Reggie Bush also seems back at full strength and faces a Titans defense that ranks 30th in the league against the run.
The Line
The Miami -4.5 opener has moved a good bit and is at -6. The total has not moved off the 44.
The Play
Tennessee was embarrassed last week, and though that might crush the spirit of some teams, we think this Titans team is resilient. Jake Locker will also be back and has one of the strongest arms in the NFL, and looked solid before getting injured all the back in Week 3. He will be able to open up the passing game for the Titans, who face a Dolphins pass defense that is one of the worst in the league. The Titans should be able to keep this one close, or pull the outright upset.
Titans +6
New York Jets at Seattle Seahawks -6 OvUn 38.5 4:05 EST
The Jets are looking to perform better in the 2nd half of the season after a 3-5 first half. Coming off a bye, New York lost 30-9 against Miami in Week 8. In a last place tie with the Bills, the Jets may already be in must win mode, every week. Ranking poorly on both offense and defense, the Jets are ranked 27th in total offense and are giving up 25 points per game to opponents.
The Hawks defeated the Vikings last Sunday, 30-20 to go to 5-4 on the season. Seattle has been consistent defensively all year and is undefeated at home this season. Russell Wilson is a much better QB at home than he is on the road, where he has the best passing rating in the NFL at 120.2 in four home starts. The Jets will also need to watch out for Marshawn Lynch, who has rushed for 100 plus yards in his past three games and is only second in rushing yards to Adrian Peterson.
The Line
Slight move from Seattle -5.5 to -6 on this one. The total opened at 38 and has moved slightly to 38.5.
The Play
It's hard to make a case for the Jets in this matchup, and we not going to try. Seattle has been downright unstoppable at home and winning 12 of their last 14 games and covering the oddsmakers' number seven straight times. Lynch and Wilson are both excellent playmakers, while the Jets do not seem to have anyone who can take over a game or provide a big play.
We are beting on Seahawks -6 with TopBet.eu.
St. Louis Rams at San Francisco 49ers -11 OvUn 38.5 4:25 EST
After a 45-7 beating two weeks ago at the hands of the Patriots in London, the Rams got a bye in Week 9. At 3-5, they need a big turnaround to be relevant in a tough NFC playoff picture. They have struggled defensively, but the Rams have looked better on offense as of late. Bradford has completed 67 percent of his passes the last three games, and will now benefit from having his top target back in the offense. Wide out Danny Amendola leads St. Louis in catches, 32 and yards 395.
The 49ers are also coming off a bye last week. A Week 9 victory saw them dispatch Arizona 24-3 on October 29th. Defense has been the Niners calling card all season as the unit allows an NFL leading 12.9 points per game to opposing offense. Offensively, they have been impressive, as well. Alex Smith ranks fourth in NFL passing rating and San Francisco leads the NFL in rushing yards per game.
The Line
San Francisco opened at -11, and that is still the consensus at almost all sportsbooks. The total opened at 38 and is at 38.5 pretty much everywhere.
The Play
While, the Niners are undoubtedly the more talented team, 11 points are a tough sell for a divisional game. As we mentioned above, the Rams have moved the ball better and have actually defended adequately against the run. Both teams are coming off byes and are well rested. We see this one closer and look for it to be a low scoring affair, with plenty of running and short passes in a battle for field position.
Rams +11
Under 38.5
Bet now!

Dallas Cowboys at Philadelphia Eagles +1 OvUn 44.5 4:25 EST
In a game of two overhyped disappointments so far, Dallas travels to Philadelphia in a critical NFC clash for both teams. The Cowboys are coming off a 19-13 loss to Atlanta, where they gave up a season high 453 yards of offense. Dallas will need to get their running game going to be more effective in the red zone, where they've stumbled this season. They also average just 89 yards rushing per game, this year, ranking themselves in the bottom five in the NFL.
The Eagles have looked like one of the worst teams in football the past few weeks. Marred by injuries on the offensive line, Vick has scrambled for his life on nearly every play and has been a turnover prone machine. In a 28-13 loss to New Orleans Monday Night, Vick was sacked seven times and threw an interception that was returned for a touchdown.
The Line
Opened at pk but heavy action on Dallas forced the Eagles into being home underdogs. The total has trended downward from 45.5 to 44.5.
The Play
Both of these teams are in must win mode, as a sixth loss would firmly plant them on the outside of the playoff picture. We'll make this simple, games will often be won in the trenches, and the Eagles looked about inept as any offensive line in history last week. Dallas is excellent at getting after the quarterback and has a decent enough defense to limit McCoy's rushing attack. This could get seriously ugly for the Eagles.
Dallas -1
Houston Texans at Chicago Bears -1.5 OvUn 41.5 8:20 EST
In the marquee matchup of the week, the Texans take on the Bears in what will be a battle of the conferences.
Houston improved to 7-1 last week with a win over the Buffalo Bills 20-9. The Texans limit their mistakes and have committed the fewest turnovers in the NFL this season, with just six on the year. They also rank near the top of the league defensively, allowing just over 285 yards per game and 17.1 points.
The Bears, one of the best defenses in the league thrashed the Titans last week 51-20 last week and forced another of their league leading 28 turnovers. Offensively, they are not as impressive, but that has only cost them one game this season. Jay Cutler has still played and has unquestionably meshed with Bears wide out Brandon Marshall, who caught three touchdowns last week in the victory against the Titans.
The Line
Opened at Chicago -1 and is available at pk and -1.5 currently. The total moved a few points from an opener of 44 to 41.
The Play
The Bears defense is getting all the ink lately, and rightfully so. However, people seem to forget how talented Houston is. They have a top tier defense, an excellent pass rush and a better offense than the Bears. With such similar make ups, the Texans seem to be a better version of the Bears. If the Texans can limit Marshall, they should be able to curtail the effectiveness of the Bears offense, especially if they don't turn the ball over and give Cutler a short field. Schaub has also been reliable lately, throwing for four touchdowns and no interceptions in his past four games.
Texans +1.5