Tampa Bay Buccaneers at Minnesota Vikings -6.5 OvUn 42 Thursday, October 25th, 2012
TV: NFL Network 8:20 EST
Week 8 kicks off with an NFC showdown on Thursday Night as the Buccaneers head to Minnesota to take on the Vikings.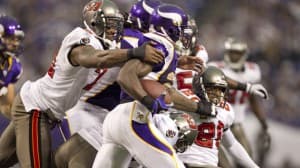 Tampa Bay has improved week by week, but that hasn't directly translated into wins. Even though quarterback Josh Freeman threw for a career-high 420 against the Saints last Sunday – 748 yards and six touchdowns in the past two games – the Buccaneers still fell to the Saints 35-28. That has a lot to do with Tampa Bay's pass defense, which is ranked 31st in the NFL, giving up 323 yards per game to opposing passers.
The Vikings has one of their least impressive performances last week, but still managed to salvage a 21-14 victory at Arizona. 2nd year QB Christian Ponder, who started off the season strong, has been in a rut as of late. He threw for just 58 yards in the win and threw two interceptions for the second consecutive week. Adrian Peterson and the defense helped propel the Vikings to a win. The All-Pro running back ran for 153 yards and a score and the defense sacked a clearly unprepared John Skelton seven times in the victory.
The Line
This one opened at Minnesota -5.5 and is now at -6.5 and is trending towards -7. The total opened at 41.5 and has had a slight move to 42.
The Play
We like two plays in this Thursday night affair. Tampa has played increasingly well lately, and are a clearly a different team than they were weeks ago. If you look at the QBs Minnesota has faced, it is mostly struggling or lower tiered NFL quarterbacks. Freeman is one of the better QBs the Vikings have faced, and he is on a roll right now. Tampa won't let the Vikings win this one without showing up on offense like Arizona did, and should put up some points of their own. We see this one in the mid twenties scoring wise, and look for Tampa to keep this one close or pull the upset.
Tampa +6.5
Over 42

Bet on the NFL at Topbet.eu