San Francisco Giants +111 (Matt Cain R) at Cincinnati Reds -121 (Mat Latos R) Total: OvUn 7.0
Game 5 Series Tied at 2-2 – First Pitch: Thursday, October 11, 2012 4:07 EST TV: TBS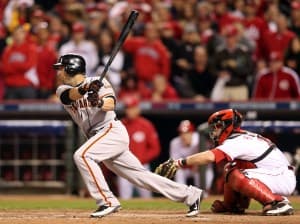 A few days ago Reds' fans would have been excitedly waiting for Reds to grab their spot in the NLCS, after two wins against the San Francisco Giants.
Well, things have changed.
The Reds still have another chance tomorrow night, but missed two opportunities to vanquish the Giants, and win their first playoff series in 17 seasons. After losing two straight at home, the Giants won both Game 3 and 4 in Cincinnati.
The Giants hammered Reds' pitching in Game 4 and uncharacteristically hit three home runs in the game. Blanco, Sandoval and Pagan all hit home runs for the Giants – the team last in baseball in home runs – in the 8-3 win over the Reds. San Francisco's Barry Zito was shaky in 2.2 innings, and was lifted for a platoon of relievers before Tim Lincecum took the mound for the majority of the game. He was sparkling, giving up just two hits over four innings and striking out six batters.
The Reds' managed little offense other than bases loaded walk and a home run by Ryan Ludwick in the bottom of the 3rd. Starter Mike Leake was chased after 4.1 innings, after giving up five runs and two home runs.
Cain vs. Reds
Matt Cain looks for redemption after a Game 1 loss to the Reds in this series. He is 0-3 with a 5.50 ERA against the Reds this year, including the Game 1 loss.
Many of the Reds have some solid numbers against Cain, including Ryan Ludwick who has 8 hits in 22 at bats off Cain, and three home runs. Jay Bruce is also hitting .462 in 13 career at bats against Cain, and Joey Votto is hitting .304 in 23 at bats with a home run and two doubles.
Latos vs. Giants
Mat Latos has had excellent numbers against the Giants in his young career. He has a 2.19 ERA over 11 starts against the Giants, most of those coming when he pitched for San Diego. Latos started two games against the Giants this season and got victories in both.
Our Play
The Giants have become the comeback kids of the Divisional Series, and while any team would love Cain on the mound for a Game 5 – we're not sure it will be enough.
Latos has been impressive against the Giants this season and is underrated by fans and oddsmakers alike. He has swing and miss stuff, and we bet the Reds regret not pitching him yesterday, instead of Leake.
A number of the Reds have great numbers against Cain, as well. Cincinnati can score runs anywhere, and especially at home. We think Cain's and San Franciscos's chance for redemption falls short.
Also, the under 7 may be a compelling play. Cain and Latos could have both teams swinging and missing keeping this one under the 7.0 total.
While this should be a close game, we see value on the Cincinnati Reds at -121 available at the most popular legal US sportsbook www.topbet.eu