San Francisco Giants +145 (Zito L) at St. Louis Cardinals -160 (Lynn R) Total: OvUn 7.5
St. Louis Leads Series 3-1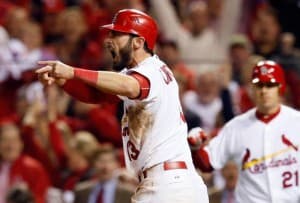 The Giants head to St. Louis down three games to one. However, it wouldn't be wise to count them out yet, as they came back from a 2-0 deficit in the Divisional Series against the Reds, winning three straight games to advance.
Game 4 was a one sided affair, as the Cardinals took it to the Giants. Wainwright pitched seven innings of shutout, four-hit baseball, and the Cardinals beat up Tim Lincecum and the Giants bullpen. The Cardinals won 8-3.
Game 5 pits the Giants Barry Zito against Lance Lynn of the Cardinals.
Zito vs. Cardinals
Barry Zito had one of his better seasons this year as Giant, going 15-8 with a 4.15 ERA. Zito was impressive towards the end of the regular season, winning his last seven starts in the regular season. Zito won his lone outing against the Cardinals this season, an August 7th 4-2 victory at St. Louis.
Many of the Cardinals have great numbers against the former Cy Young winner. Allen Craig is an unbelievable 4 for 10 with three homers against Zito. David Freese and Yadier Molina have also hit him well, going 3 for 8 with a double and 6 for 16, respectively.
Lance Lynn vs. Giants
Lynn has been outstanding for the Cardinals this season, going 18-7 with a 3.78 ERA. At home, he was 8-3 with a 3.33 ERA in twelve home starts. Lynn pitched in Sunday's Game 1 matinee, and gave up four runs in just 3 2-3 innings, but the Cardinals won the game 6-4.
Not many Giants have faced Lynn for more than a few at bats, but they have had some success off him. Buster Posey is 1 for 3 off him with a home run. Pagan and Pence both have two hits in four at bats, and Belt and Arias are both 2 for 3 off him.
Our Play
St. Louis has ruled the series so far, and have been unbelievable at home during the postseason. Still, we think this one is a close matchup, and both teams should put some numbers up on the board. Each team has recent and in the Cardinals case long term success against the opposing starters. SF bats have been stagnant but should be able to get their fair share of offense as well.
Over 7.5