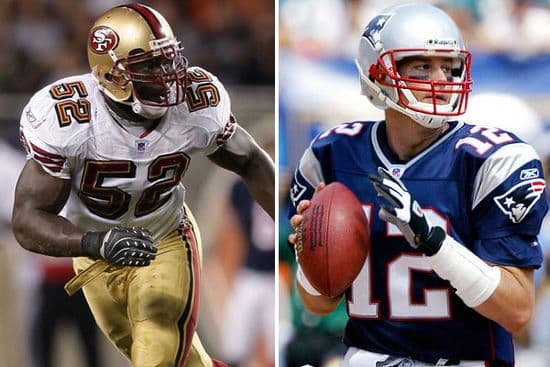 This Sunday nights game sees arguably the NFL's top 2 sides faceoff
Sunday Night Football December 16, 2012 TV: NBC 8:30 EST
San Francisco 49ers at New England Patriots -4.5 OvUn 46.5
In this week's prime time matchup, perhaps the two best teams in the NFL battle for conference supremacy.
San Francisco heads to Foxboro with a 9-3-1 record and a young quarterback eager to prove himself on the big stage. Colin Kaepernick took over for Alex Smith three weeks ago when he went down with injury and has been impressive ever since. Last Sunday, in a win over Miami, "Kap" was 18 for 23 for 185 yards in a 27-13 victory. He also rushed for a 50 yard touchdown late in the game to seal the win. Kaepernick has proven himself a threat with his legs, despite starting just a few weeks he is already third among NFL QBs in rushing yards.
New England has been playing better than any team in the NFL over their recent seven game win streak. Last Monday Night, the Patriots dismantled the Texans on national television, 42-14. Tom Brady was spectacular as usual, throwing for 296 and four touchdowns against Houston. Over the past seven games, the MVP candidate has thrown 19 touchdowns and just one interception.
The Patriots have had an effective ground game to go with their aerial attack as Steven Ridley has scored in six straight. However, it may be difficult for them to get their ground game going against one of the league's toughest rush defenses. San Francisco has allowed just three rushing touchdowns this season.
If the 49ers are to have success against New England, they will need to get pressure on Brady. New England has done an effective job protecting Brady the past several weeks, including limiting Houston's tough defensive line to just one sack last week. The Pats will have their hands full again this week as they face Aldon Smith, the NFL leader in sacks at 19.5.
The Line
The line opened at New England -3.5 and has moved to -4.5 across the board. The total opened at 48 but has dropped to 46.5.
The Play
In a battle of the NFL's best teams, there are a number of matchups that bettors need to look at.
Brady has been the NFL's best quarterback this season, and no one would be shocked if the Patriots put up 30+ points on even one of the best defenses in the NFL. Though, San Francisco should stifle their running game and perhaps remove a bit of the deep threat; New England is at heart a short to medium range passing offense. With Brady's precision passing and Welker's ability in the slot, we have no doubt the Patriots will be able to move the ball against San Francisco.
We doubt Harbaugh thinks his team can stop the Patriots altogether so he may adjust his game plan from a power running offense to taking some shots downfield. This could be a big game for Kaepernick.
Overall, we see the Patriots handling the Niners at home. Brady has simply been unstoppable and the Pats defense has improved over the past two weeks, holding opponents to just over 300 yards versus their season average of 390 yards per game. This one may be close through three quarters, but the New England offense may force the San Francisco offense to become one dimensional late in the game as they try to match them in scoring.
We like the Patriots at home, laying the chalk. New England -4.5
Get the best odds now at #1 NFL betting site – www.gtbets.eu