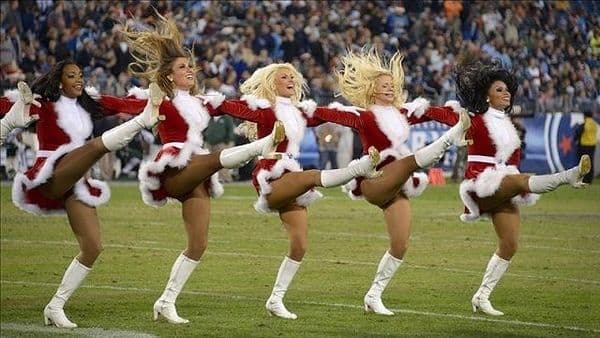 The holiday season sees a number of mouthwatering clashes in the NFL
As we head into the second to last week of the regular season, many teams have clinched playoff spots and are fighting for seeding while others are fighting for a chance for the postseason. There is a slate of must-win games for many teams across the NFL as they fight to play meaningful football in Week 16.
Washington Redskins at Philadelphia Eagles +7 OvUn 45 1:00 EST
The Redskins probably never could have envisioned their season playing out the way it has. They are currently 8-6 and leaders in the NFC East. Though, they have identical records with the Giants and Cowboys, Washington owns head to head tiebreakers with these teams.
Best of all, Robert Griffin III should be back under center for the Redskins. After missing two games due to injury, he looks poised to resume his starting job after practicing this week. During his absence, fellow rookie Kirk Cousins led Washington to a 38-21 win over the Browns last week, giving the Redskins their fifth straight win.
Philadelphia snapped their eight game losing streak two weeks ago at Tampa Bay but were back to their usual losing ways last week against the Bengals. They rushed for just 42 yards and turned the ball over five times, including losing four fumbles.
While, the Eagles have nothing to play for with a 4-10 record they will still want to play for pride against their division rivals. Philadelphia could face a lot of changes in the offseason as they will likely cut QB Michael Vick and perhaps make a change at head coach firing Andy Reid.
LeSean McCoy will make his return this week after sitting the past four games with a concussion; he will start and split running back duties with Bryce Brown. Michael Vick is active but will be the third string quarterback on the depth chart.
The Line
Big movement on this one. The game opened at Philadelphia -3 and is now all the way at +7 for the Eagles. The total opened at 44 and is now at 45.5 or 45.
The Play
Unlike our last home dog, we like the Eagles in this spot. Though, Washington will come in extremely focused their offensive line is beaten up, and RG3 is coming back from injury. He performed well in his comeback from previous injuries, but we still have to remember he is a rookie and can be prone to mistakes, especially if he is not 100%. It is easy to beat up on the Eagles, but I think they will match the Redskins focus, despite having nothing to play for.
This could very well be Andy Reid's last home game as Eagles head coach, and we doubt he wants his performance in front of Philly's home crowd to be a beating from a rookie QB. Nick Foles is also auditioning for next season and should be focused, as well. He has a plus matchup against a suspect Washington pass defense. McCoy's return is not making many headlines, but he is still a premier back, and a big asset when healthy – as he looks to be right now.
We'll take Philadelphia at home. Eagles +7
Wanna bet on this weeks games? Head to www.topbet.eu and make your picks now!

St. Louis Rams at Tampa Bay Buccaneers -3 OvUn 44 1:00 EST
The Rams head to Tampa Bay in must-win mode at 7-6-1, and even if they should win out their playoff hopes at this point are slim. Still, they have a chance if things fall their way.
Riding a three game win streak into last week's game against Minnesota, the Rams found themselves in a deep hole early on and could not muster enough offense to come back, despite Sam Bradford's 377 yards and three touchdowns – his best mark the season. Bradford could be in for another monster game Sunday as he faces Tampa Bay's 2nd to last pass defense.
The Rams lost a key contributor on the offensive line, guard Harvey Dahl. This could make things harder for Bradford and running back Steven Jackson who has played well the last few games and is on pace for his eighth straight hundred yard season. It will be an especially hard matchup for Jackson as he faces Tampa Bay's top rush defense.
Tampa Bay was eliminated from playoff contention last week after getting demolished by New Orleans 41-0. They have lost four straight including last week's loss, their worst performance of the season.
Offensively, Tampa Bay has struggled as of late. Josh Freeman was on fire throughout November, but has tailed off in his last three games, completing fewer than fifty percent of his passes and has a passer rating just over 60. Doug Martin also looks to bounce back against St. Louis as he was held to a season low 16 yards against New Orleans' last ranked run defense. He figures to have a better game this week against the Rams, who have given up over 130 yards per game in their last seven contests.
The Line
The oddsmakers have not moved this one from the opening number of -3. The total opened at 43 and is now at 44 across the board.
The Play
Tampa has had the edge in the series, beating the Rams in the last five matchups, but we see this one going differently. Though, Tampa is much improved we cannot bank on them getting up for a game after the dusting they took last week and the fact that they are out of the playoffs. Schiano has the Bucs headed in the right direction, but he can't seem to improve that horrid pass defense. Bradford actually has an exceptionally underrated set of receivers and with Amendola fully healthy and Chris Givens as a legit deep threat, we see the Rams taking it to the Buccaneers on Sunday
Rams +3
New Orleans Saints at Dallas Cowboys -1 OvUn 52 1:00 EST
New Orleans is not technically out of the playoff hunt, but with eight teams ahead of them in the standings they would need a miracle at this point to reach the postseason. Still, that has not stopped them from playing at a high level.
Last week, they rocked the still in contention Buccaneers 41-0. Brees busted out of his recent slump, throwing for four touchdowns and 307 yards. Despite some mishaps this season, Brees still leads the league in touchdown passes and passing yards.
Dallas is tied for 1st in the NFC East at 8-6 but would currently miss the playoffs via head-to-head matchup with the 8-6 Washington Redskins. Riding a four game winning streak, Dallas has trailed in the fourth quarter in all four of their wins.
Last week, Dallas won a tough game against Pittsburgh in overtime. On just the second play in the extra period, cornerback Brandon Carr intercepted Ben Roethlisberger and set up Dan Bailey's game winning field goal. Dallas also got an excellent game from Romo, who has thrown for over 900 yards in his past four games and six touchdowns.
Demarco Murray was limited in practice this week but expects to play Sunday against the Saints last ranked rush defense. The Cowboys have been just .500 without him this season going 3-3 in games he has missed due to injury.
The Line
Opened at Dallas -3, which may still be available at some books but most books have it listed at -1. The total opened at 51.5 and has moved just slightly to 52.
The Play
It is hard to trust Tony Romo in December, but we love the Cowboys in this matchup. The Saints continue to get too much credit from the oddsmakers, and their win over Tampa makes it even easier to take Dallas. The play of Dallas secondary has been excellent lately and should give a somewhat inconsistent Brees trouble.
We like Dallas at home. Cowboys -1

San Diego Chargers at New York Jets -3 OvUn 37.5 1:00 EST
San Diego and New York have disappointed their fans and their owners and both teams could face substantial changes by the start of next season.
San Diego will finish with its first losing season under Norv Turner, a season that will likely be his last. At 5-9, the Chargers were out of the playoff picture while ago, and the writing is on the wall that Turner will be out at San Diego.
After winning a big game in Pittsburgh two weeks ago, San Diego was blown out at home last week by the visiting Carolina Panthers, 30-7. It was another rough outing for QB Phillip Rivers – whose future is also uncertain – as the quarterback threw for just 121 yards and fumbled the ball four times. He was also sacked a season high six times.
San Diego's top running back Ryan Mathews is out for the season with a torn clavicle suffered last week in the game against the Panthers.
The Jets, at 6-8 are not out the playoff picture mathematically but will need a miracle to reach the postseason at this point. Like San Diego, they could see big changes to their franchise, starting with the head coach.
Rex Ryan's future is uncertain, along with both quarterback Tim Tebow and Mark Sanchez. Both could likely be on their way out in New York. Sanchez, a former number five overall pick for New York is in his fifth season and has one year remaining on his deal. He is last among active quarterbacks in completion percentage and quarterback rating and has finally lost his starting job after a terrible performance against Tennessee on Monday Night.
The Jets lost the game 14-10, in large part to Sanchez's four interceptions and a lost fumble late in the fourth quarter of a close game. Instead of going to Tebow, the Jets are now starting Craig McElroy over both Sanchez and Tebow.
The Line
The line has stayed on the opener of Jets -3, but the total has moved down several points from the opening number of 41 to 37.5.
The Play
Both of these teams are miserable, and it is difficult to find positives for either side in this matchup. But, we're leaning towards the Jets at the Meadowlands. The Jets should be a little more focused and energized with Sanchez under center, and though it may be hard to back McElroy, bettors have to consider him an upgrade over Sanchez.
San Diego is banged up defensively, and Rivers will be without one his top weapons in Malcolm Floyd. The Jets defense has still been quite good against the pass and should force Rivers into more careless decisions – something he has been unable to avoid doing all year. We like the NYJ at home.
Jets -3
Minnesota Vikings at Houston Texans -8 OvUn 45 1:00 EST
The Vikings at 8-6 are right in the thick of the playoff hunt in the NFC. Riding a three game win streak, they will face perhaps their toughest test of the season this Sunday as they visit Houston to take on the Texans.
The Vikings resurgence this season has been led by none other than Adrian Peterson. The back has 1,812 rushing yards and is averaging just over 129 yards per game. He had another standout game last Sunday, rushing for 212 yards and a touchdown in a big win over the St. Louis Rams. He has averaged 164 yards over his last eight games. Making his feat even more impressive, Peterson suffered a torn MCL and ACL less than a year ago. Peterson is closing in on record setting territory. He needs 294 yards over his last two games to break the all time rushing record held by Eric Dickerson.
Peterson will have his hands full against the Houston Texans 5th ranked rush defense. Houston clinched a second consecutive AFC South title last week in a 29-17 win over the Colts last Sunday.
Adrian Foster rushed for 165 yards, and a touchdown in the win and Andre Johnson had 11 catches for 151 yards and a touchdown in the win. Playing well on both sides of the ball, the 12-2 Texans are clearly a force to be reckoned with.
The Line
Houston opened at -9.5 favorites, but that has come down to -8 across the board. The total opened at 45 and is still at the number at most books. A lot of public money is coming on the Vikings, but the line has shifted the opposite way.
The Play
We keep saying if opposing teams take Peterson away Minnesota will not have a chance to win, but AP keeps proving he can beat even the toughest defense. However, we think that stops this week. The Texans ranked 5th against the rush and should easily be able to put up points again Minnesota's beat up defense.
Although the -8 number might seem large, consider if the Vikings get behind in this one early and have to semi-abandon the run in the second half. Ponder has been one of the worst quarterbacks in the NFL's second half, and no Vikings receiver has had more than 50 yards in three weeks of game action. We see the Texans controlling the clock with their running game, reducing Peterson's role and forcing Ponder into turnovers.
Texans -8
Tennessee Titans at Green Bay Packers -12.5 OvUn 44.5 1:00 EST
As the Titans head to Lambeau Field with a 5-9 record, the best they can do is play spoiler against the Packers as they fight for a number two seed in the playoffs.
Tennessee won a sloppy game against the Jets Monday Night, 14-10. It was a pathetic performance from both sides as both teams turned the ball over frequently and the Titans committed 14 penalties in the win. Jake Locker was inconsistent, throwing for just 149 yards on 13 of 22 passing attempts.
The one bright spot was running back Chris Johnson, who rushed for 122 yards including a 94-yard touchdown run.
The Titans ranked near the bottom of the league in total defense for much of the season but have turned it on as of late. Giving up just over 285 yards per game in the last month and a half of the season.
The Packers clinched the NFC North last week in a 21-13 grind it out win against Chicago. Rodgers was stellar as usual, throwing for 291 yards and three touchdowns on 23 for 26 attempts.
Jordy Nelson may sit for the third straight week, but the rest of Rodgers rough receiving core is in tack. James Jones, Randall Cobb, and Greg Jennings will be available for Rodgers this Sunday.
Charles Woodson may be nearing a return, and though he is doubtful to suit up this week, his impact could help stabilize a suspect Packers secondary.
The Line
This game opened with the Pack as -11.5 favorites a number that has moved to -12.5 at most books but has gone up to -13, and even -14 at some. The total opened at 47 and has moved to 44.5 and 45 at most shops.
The Play
Green Bay is rolling on all cylinders right now with three straight wins and have the best quarterback in the game in Aaron Rodgers. Even though they have locked up the division, the Packers still have plenty to play for and will show no mercy to their opponents. Especially deadly at home, Green Bay should be able to limit the Titans offense with Clay Matthews returning to action last week, improving their pass rush.
The Titans "won" the game against the Jets on Monday Night but were pathetic in all phases of the game. We can't see this team doing much against the Packers. Game time temperatures will be around 25 degrees for this one, which should slow both offenses down.
We're taking the Pack and the under. Packers -12.5 and Under 44.5

Oakland Raiders at Carolina Panthers -8.5 OvUn 46.5 1:00 EST
Oakland's season has not gone the way they wanted as the team hoped to build on last season, in which they finished one game away from making the postseason.
At 4-10, the Raiders won a boring 15-0 win against the hapless Chiefs last week. Failing to reach the end zone all game, Oakland settled for five field goals from Sebastian Janikowski. Defensively, they played well holding the Chiefs to zero points and a season low in rushing yards, 10.
The bright spot was Darren McFadden who carried the ball 30 times for 110 yards. The Raiders are 4-1 when the running back has at least 18 attempts per game.
After starting the season losing eight of their first ten games, the Panthers have roared back in the second half the season. Carolina blew out San Diego in Sunny southern California last week, embarrassing the Chargers at home. Cam Newton – who leads the NFL in QB rating the past four weeks – threw for 231 yards and two touchdowns. Fullback Mike Tolbert added two rushing scores against his former team, as well.
The Panthers winning ways could save head coach Ron Rivera's job. After the 1-5 start, owner Jerry Richardson informed Rivera that his team would need to "trend upward" for him to keep his position as head coach. He is hoping the Panthers have done enough for him to keep his job next season.
The Line
A Carolina -9.5 open has moved to -8.5 at most books, but some may still have the original number of -9.5 available. The total opened at 45.5 and has moved to 46.5 across the board.
The Play
While the Panthers have looked impressive over the last few weeks, this line may be inflated based on recent performance. With a 5-9 record, the Panthers still are not an elite team worthy of being almost 10 point favorites. Carolina is just 2-5 at home this season and does not garner this type of respect. Also, though they stifled Jamal Charles and the Chiefs running game last week, they have been poor against the run all year. The Raiders just need to keep this one close and they should be able to do that with a refreshed McFadden. Carson Palmer is likely playing for his job or auditioning for other teams out there, so he should be motivated, as well. Oakland is a terrible football team, but we like them in this spot against an overrated Panthers team.
Raiders +8.5
Buffalo Bills at Miami Dolphins -4.5 OvUn 41.5 1:00 EST
The Bills officially ended their chance at the playoffs last week and will finish with a losing record for the 8th straight season.
Despite the lost season, Coach Chan Gailey whose job security is under question will not make any drastic changes to his starting lineup. QB Ryan Fitzpatrick has been inconsistent all season and has been tagged a bust, even by his own front office. Both Gailey and Fitzpatrick could be out next season depending on the team's finish.
The Bills were beaten badly last week at Seattle, losing 50-17. They are tied for the most points given up per game at just over 28. One positive this season is C.J. Spiller, who leads the NFL averaging 6.5 yards per carry. Even in the blow out loss last week, Spiller rushed for over 100 yards and a score. He has looked dominant, even against the stoutest of defenses.
Miami at 6-8 is still technically in playoff contention but would need a lot of other things to happen for them to reach the postseason. They will also have to win out, defeating the Bills and the Patriots in Week 17.
The Dolphins barely salvaged a win over lowly Jacksonville last week, 24-23. Reggie Bush rushed for 100 yards for the first time since Week 2 and Ryan Tannehill was excellent in the victory, posting his best passer rating of the season, 123.2.
Miami will be without second wide out Devone Bess this week, putting more pressure on Hartline to produce. The Dolphins won the previous meeting in November, 19-14.
The Line
Opened at Miami -3.5 the line has moved to -4.5. The total opened at 43 and has moved to 41.5 across the board.
The Play
Miami is still playing for an outside shot at a playoff spot so they should be motivated to take it to the Bills at home. Buffalo has been utterly terrible defensively this season and ranks near the bottom of the league against the run. Reggie Bush has looked spry in recent weeks and should be able to tear up the Bills terrible rush defense.
Still, this one is tough to call. We'll bank on the fact that it is a must-win game for Miami, and we're not show how motivated the Bills actually are. Though, Gailey and Fitzpatrick will be playing for their jobs, the defense does not look like it wants to play hard. A punching bag for opposing offenses for weeks, this could be Buffalo's Achilles heel in this matchup. We like the Fins at home.
Miami -4.5
Indianapolis Colts at Kansas City Chiefs +7 OvUn 41.5 1:00 EST
The 9-5 Colts can clinch a playoff spot with a win against the lowly Chiefs this Sunday as they head to Arrowhead.
Few could have guessed a 2-14 team from last season could improve so drastically over just one offseason. The main reason for the turnaround has been number one overall pick, Andrew Luck. Though, he's been inconsistent lately the young QB is well on his way to a 4,000 yards passing season in just his first NFL season. He has been a clutch player for the Colts, as well, rallying the team late in the fourth quarter for several comeback wins.
The Colts fell last week to Houston 29-18, a game in which Luck was sacked five times behind a depleted offensive line. Indy will be without starting center Samson Satale and could be without right tackle Winston Justice. Still, they look to bounce back against a Chiefs team that can't seem to do anything right.
At 2-12, the Chiefs have the NFL's worst record as prognosticators are running out of words to describe their ineptitude. Failing to score 10 points in four out of their last five games, Kansas City is a disaster on offense. They lost their top wide out, Dwayne Bowe for the season two weeks ago, another blow to this terrible offense. They have lost their last two games by a 45-7 point margin and gained just 119 yards in a 15-0 loss to Oakland last Sunday.
Brady Quinn has bruised ribs but will still make the start this Sunday. It's scary to think how pathetic Quinn could be when he is injured because when he is healthy he's probably the worst starting quarterback in the NFL.
If KC wants to have any chance of winning this game, they will need to get Jamal Charles back on track. The running back was held to a season low 10 yards on nine carries in last week's loss to Oakland.
The Line
The Chiefs opened as +6 underdogs and have since moved up to +7. The total opened at 43.5 and is now at 41.5.
The Play
Despite KC's terrible play as of late, this one is a tough one to call. The Colts have not been accomplished on the road and neither has Andrew Luck. Indianapolis has played a lot of close games this year, and we could see a backdoor cover for the Chiefs in this game.
Defensively, the Chiefs are probably underrated, but it is hard to tell their true talent as their offense gives them no help. They are constantly on the field and face many short fields due to turnovers and quick three-and-outs from their offense. Still, their pass rush and secondary have been impressive in spurts.
We'll take Kansas City in this matchup, but we're not exactly excited about it.
Chiefs +7

New England Patriots at Jacksonville Jaguars +14.5 OvUn 50.5 1:00 EST
The 10-4 Patriots suffered a hiccup last week in their recent run of excellence. Facing one of the NFC's toughest teams, it was the 49ers who won a shootout with New England's formidable offense.
Though, New England tried to rally late. It was not enough to overcome SF's first half barrage of offense and the game ended with a final score of 41-34. Despite the loss, the Patriots still have the league's most prolific offense, one that averages 36.1 points per game.
The Patriots could also return perhaps their best offensive player besides Tom Brady, tight end Rob Gronkowski. He is questionable, recovering from a broken forearm but may suit up.
Jacksonville's 2-12 record matches Kansas City for worst mark in the league, and there have not been many positives for the Jags all season. They were beaten soundly by Miami on Sunday, losing 24-3. They have scored just 13 points in their last two games.
Chad Henne took the reins at quarterback after the starter Blaine Gabbert was put in on the IR four weeks ago. Originally, he ran with the opportunity and produced but is now mired in a slump. In his last three games, he has completed less than 50% of his passes and thrown just one touchdown to go with three interceptions.
The Jags continue to be without Pro Bowler Maurice Jones-Drew who still has no timetable to return. He has missed eight straight games with a sprained foot.
The Line
New England is one of the largest favorites of the year in this one. The +14.5 opener for Jacksonville has mostly stood for most books, but some have the game at +15 or +15.5. The total, 50.5 moved up a point or so from the opening number of 49.
The Play
The Patriots will be eager to put up gargantuan numbers after a loss but here at Sports Betting Online, we cannot pass up home dog of more than two touchdowns. It is just not possible for us. There is not much analysis to go with this pick, other than the fact that two touchdown underdogs at home in the NFL are worth a play in pretty much every situation.
Jaguars +14.5
Cincinnati Bengals at Pittsburgh Steelers -3 OvUn 42 1:00 EST
As the race for the AFC North heats up, three teams are still in contention. The Bengals will need to beat the Steelers in this game to have any hope of making the playoffs and Pittsburgh would be eliminated from playoff contention with a loss.
Cincinnati are winners of five of their last six games after being stuck in a losing streak earlier in the season. Last Thursday, they handled Philadelphia in prime time 34-14, but it will not be easy against Pittsburgh. The Bengals have lost five straight against Pittsburgh including a previous meeting this season, 24-17. Dalton was less than impressive in that game, going 14 for 28 for 105 yards and a touchdown.
The Steelers head back to Heinz Field after a tough loss at Cowboy Stadium. After leading going into the fourth quarter, the Cowboys forced overtime and picked off Ben Roethlisberger on the second play of the extra period before kicking a field goal to win it.
Pittsburgh's number one ranked defense is also banged up. Injuries to multiple cornerbacks had left a lot to be desired in their pass coverage. Top corner Ike Taylor will be out this week, and Keenan Lewis and Cortez Allen are likely to play but also nursing injuries.
Offense has also been a topic of discussion in Pittsburgh as Big Ben criticized Todd Haley for not getting Heath Miller the ball enough. The two made up earlier in the week, but it remains to be seen how this will affect their game plan come Sunday.
The Line
Pittsburgh opened as -4 favorites, but the line has moved to -3 across the board. The total opened at 44 and is now at 42 or 41.5.
The Play
While the Steelers are reeling, we love them in this spot. Dalton has been terrible against them in his career and has not played well as of late. Despite their problems in the secondary, the Steelers are still the NFL's top defense. Obviously, this is a epic game for both teams, and while the Bengals defense has been good, they may be without starting corner Terrence Newman. Big Ben is clutch in critical games and should still be able to pick apart the Bengals secondary despite their improved play as of late.
We like the Black and Gold at home. Steelers -3