Atlanta Falcons at Carolina Panthers +3.5 OvUn 48 1:00 EST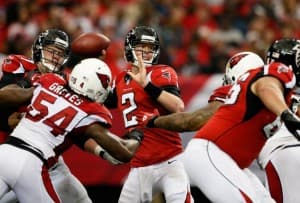 The Falcons face the Panthers one week after clinching the NFC South, but still have a lot to play for as they set their sights on the number one seed in the NFC.
At 11-1, Atlanta has gotten it done with mostly offense this season, but their defense has come up big several times, as well. The Falcons cruised to a 23-13 win over the Saints last week, intercepting possible MVP candidate Drew Brees five times. Atlanta could possibly clinch a first round bye this week with a win and losses from other NFC opponents.
Carolina's season has not gone the way most expected. Sitting at 3-9 on the season, the Panthers are clearly out of the playoff hunt and players are fighting for roster spots next season. Despite losing 27-21 to Kansas City last Sunday, they have had some positives. After an early sophomore slump for Cam Newton, the young QB is finally starting to put it together. He threw for 232 yards last Sunday against the Chiefs and has 8 touchdowns in the past three games.
The Falcons won their Week 4 matchup against Carolina 30-28. Atlanta drove down the field for a last second field goal to win the game.
The Line
Opened at Carolina +3, but has moved off the magic number pretty much everywhere to +3.5. The total has not moved from 48 much, though some books are offering 47.5.
The Play
While Atlanta has been tremendous all season, we like this matchup for the home dog Panthers. Kansas City was especially motivated in the game against the Chiefs last week, but Cam Newton still shredded them. Carolina is a run first offense, one of the only things Atlanta struggles with. Newton was not flying on all cylinders in their previous meeting which was still decided by a last second field goal drive. We see Cam Newton and the Panthers rushing attack keeping this one close or springing the upset.
Get on the Panthers +3.5 at www.topbet.eu

Philadelphia Eagles at Tampa Bay Buccaneers -7.5 OvUn 48 1:00 EST
Philadelphia is mired in their worst losing streak since 1968 and will try to avoid their ninth straight loss this season as they face off in Tampa. Few things have gone right for the Eagles this season, but there have been some positive signs. Rookie QB Nick Foles was impressive in last week's 38-33 loss to Dallas throwing for 251 yards and a touchdown. No one has been more impressive than rookie Bryce Brown though. The young tail back rushed for 169 yards and two touchdowns against the Cowboys last week and had another 178 and two touchdowns against the Carolina the week before.
Still, if Philadelphia wants to improve they will need to shore up their defense. It's been a major issue for much of the season and continues to be a problem; the Eagles have given up 30 points or more in five out of their last six games.
Tampa Bay is 6-6 and sitting on the outside of the playoff picture behind Seattle for the NFC's final wild card spot. The Buccaneers could not muster enough offense to match Peyton Manning in a 31-23 loss last week at Denver. QB Josh Freeman and rookie running backs sensation Dough Martin both had subpar games.
The Bucs will be happy to be back in Raymond James Stadium, they have been particularly good at home, and so has Josh Freeman. He is third in the NFL in passer rating in his home stadium and has thrown 10 TDs to go with just 2 picks in home matchups this season.
The Line
This game has had a lot of line movement, and many books have differing lines. It opened at Tampa -8, but many books have it at -7, -7.5 and -9 with varying vig. The total has moved a lot since the opening number of 45 and is at 48 at most books.
The Play
The Eagles came out of the gates Monday Night against Dallas and looked like world beaters, but then their defense troubles finally started to sink in again. This team simply cannot defend the pass, even with high profile signings such as Asmouha. Last week was their mini-Super Bowl in primetime and was an emotionally draining experience for a team that is already being used to be kicked around.
Tampa Bay is in a desperate spot and has been a good home team all season, their run defense should limit Bryce Brown, and though Foles looked good last week, the rookie could be forced into some mistakes by the Bucs defense. Greg Schiano will have his team motivated and focused as they approach the final stretch before the playoffs. We think this one gets ugly in a hurry.
Buccaneers -7.5
Chicago Bears at Minnesota Vikings +3 OvUn 40 1:00 EST
Chicago heads into Minnesota with an 8-4 record, tied with Green Bay for 1st in the NFC North. However, unfortunately for the Bears they have been ravaged with injuries as they head toward the playoffs. Charles Tillman and Lance Briggs are already hurt, and linebacker Brian Urlacher could miss the rest of the season after hurting his hamstring in last week's overtime home loss to Seattle, 23-17. To make matters worse, other starting cornerback Tim Jennings may also be out this week. He leads the NFL in interceptions with eight.
Despite the Bears recent slide, the Vikings will still have an uphill battle to stay in the playoff hunt. At 6-6, they are sitting just a game back of the last wildcard spot in the NFC. Minnesota squandered many opportunities against Green Bay last week as they fell 23-14 at Lambeau.
Christian Ponder will need to improve if the Vikings want to have any chance of beating the Bears. He has been extremely inefficient in recent weeks and threw for just 119 yards in the loss to the Packers. He also threw two critical interceptions in the end zone last week, costing his team precious points against the Pack.
Handing off the ball to Adrian Peterson may be the best for the Vikings; the NFL's leading rusher is averaging over 150 yards per game in his last six. Including a 210 yard and one touchdown effort in the loss to the Packers last week.
These two teams played just two weeks ago on November 25th. Minnesota was blown out 28-10. Peterson rushed for 108 yards on 18 carries.
The Line
Opened at Minnesota +2 and moved to +2.5 and now +3. Minnesota +2.5 is still available at some shops. The total opened at 40 and has moved to 39 across the board.
The Play
Even though, Chicago is decimated by injuries and on a three gaming losing streak, we still love them in this spot. Peterson may run wild on the Bears, but even a terrific game from him does not spell a victory for Minnesota or necessarily a close game. He ran for 210 yards last week, and the Vikings were still out of it for most of the contest.
Also, we forget about Chicago's weapons and how awful Minnesota's defense has been as of late. Their best pass rusher, defensive end Jared Allen is also doubtful to play this week, but the Vikings have been getting gashed against the run and pass. We'll trust the Cutler to Marshall connection and a Matt Forte lead rushing attack against the Vikings.
Bears -3

Dallas Cowboys at Cincinnati Bengals -3 OvUn 45.5 1:00 EST
Dallas heads into Cincinnati after winning three straight and are now 6-6, tied with record wise, but the Redskins own their tiebreaker. They are both one game behind the giants in the NFC East. Last week, they faced the hapless Eagles who they trailed late, but rallied late in the fourth quarter to win 38-33. Their running game also got a boost as Demarco Murray returned from injury and rushed for 100 yards and a touchdown.
The Bengals have won five straight games, have a 7-5 record and are tied for second in the AFC North with Pittsburgh. After escaping a nail biter last week in San Diego, winning 20-13, Cincy looks to take it to the Cowboys at home. Cincinnati, like Dallas has benefitted from a late surge in their running game. Running back BenJarvus Green-Ellis has exploded in the past several weeks, rushing for 348 yards in the past three games.
The Line
Opened at Cincinnati -2 and has moved to -3 across the board. The total opened at 45 and has moved to 45.5 at most books.
The Play
Both of these teams need wins to stay in the playoff pictures, but Dallas may be slightly more desperate. In the tough NFC, they may already be out of it, but a loss would certainly wipe out any chance they had at making the postseason. Dallas has been great on the road this season and unusually poor at home making them a better bet away from Cowboy Stadium as of late. Demarco Murray should keep this one manageable for Dallas, and we think they will ultimately come away with the victory.
We are recommending betting on The Cowboys +3. Check out www.topbet.eu for the best odds.
St. Louis Rams at Buffalo Bills -3 OvUn 42.5
The Rams head into Buffalo with a 5-6-1 record, still good enough for contend for a playoff spot in the tough NFC. Winning their past two games, including an an overtime win against the 49ers last week, St. Louis seems to be peaking at the right time. Still likely missing wide out Danny Amendola, Chris Givens has stepped up in his absence catching 207 yards in the past two games. Steven Jackson has also become the bell cow back rushing for 187 in his past two games.
The Bills at 5-7 are not out of the playoff picture in the AFC yet, but they will need plenty of help. Their 34-18 win at Jacksonville seemed effortless as the team set a season high in rushing yards with 232.
Still, the win cost them on the injury front. Their offensive line is severely banged up with Center Eric Wood and Christ Hairston out with injuries. Cornerbacks Aaron Williams and Leodis McKelvin are also hurt with knee and back injuries, respectively. The receiving core is also hurt as starting wide outs Stevie Johnson and Donald Jones both have hamstring issues.
The Line
This game opened at Buffalo -3 and has not moved off that number. The total opened at 42 and is at 42.5 at most spots.
The Play
While the Bills have looked like a better team as of late, their list of injuries, especially to the offensive line may seriously hurt them come Sunday. The Rams have an above average defense that can bring pressure on the quarterback and stop the run. Also, the holes may not be so large for Spiller and Jackson with the makeshift offensive line the Bills will be preparing to put out there on Sunday. Without the running game, the Bills may be in big trouble against the Rams. Ryan Fitzpatrick will have a hard time beating an above average St. Louis secondary, especially with his receiving core battling injuries. We love St. Louis on the road.
Rams +3
Baltimore Ravens at Washington Redskins -2.5 OvUn 47.5
The Ravens head into Washington reeling after a tough home loss to the Steelers last Sunday. Baltimore led most of the game, but Pittsburgh rallied late and ultimately won the game on a field goal as time expired. However, at 9-3 the Ravens are two games ahead in the division and will likely win the division and make the playoffs.
The Ravens will face a tough test the next few weeks as they face off against Washington, Denver, New York Giants and Cincinnati as they make a push for the playoffs.
The Redskins seem to be peaking at the right time. In must win mode at 6-6, Washington played a masterful game on Monday Night against the defending Superbowl Champion Giants winning 17-16.
Most of it has been on the back of rookie QB Robert Griffin III; the young QB has been utterly dynamic this season and has completed 73 percent of his passes with nine touchdowns and an interception in his past three games. The reemergence of Pierre Garcon has also helped as the wide out is creating separation in the secondary and giving RG3 and running back Alfred Morris a downfield threat to open even more holes for the league's best rushing attack.
The Line
Opened at pk and after some heavy Washington action the game moved to down to -1.5 and -2.5 which are both available at some books. The total opened at 47 and is now at 47.5 across the board.
The Play
This is a tough one to predict because though the Ravens seem to be on the decline as of late, they are still a 9-3 team who is immensely talented. But, RG3 and company are on a roll. The hype is getting larger than life for the young QB, but we think it is justified. Baltimore's rush defense has been pathetic for the past several weeks, and Joe Flacco's performances on the road have been terrible. The Ravens are obviously angry about their loss to Pittsburgh last week, but we're not sure they have the personnel to stop RG3 and Alfred Morris. Garcon at full strength is another weapon that will be hard to handle for a Baltimore defense that is simply not particularly good this year and could miss Terrell Suggs due to injury on Sunday. We like the Skins at home.
Redskins -2.5
Under 47
Two bets here. Take the Skins at home for sure and get on under 47 if it becomes available. We got our at BetOnline.com
Kansas City Chiefs at Cleveland Browns -6.5 OvUn 38
The Chiefs head to the Dog Pound after just their second win of the season. In an emotional 27-21 win against Carolina at home last week, Kansas City mourned the loss of Jovan Belcher and his girlfriend, but were still able to pull out the victory.
Brady Quinn had his best game of the season – and of the last three seasons on Sunday. He was impressively accurate throwing for 201 yards, going 19 for 23 with two touchdowns. It was his first touchdown pass since December of 2009.
The Browns are at a mark of 4-8 after rattling off two straight victories. They beat the Steelers two weeks ago and won a tough game against a battered Raiders team last week, 20-17. Trent Richardson has been the go to guy for the Browns in their two game win straight, but rookie QB Brandon Weeden has also stepped up. He has thrown for 732 yards in the past three games and threw four touchdowns.
Defensively, the Browns have been super impressive. Holding opponents to under 20 points the past two games and limiting opposing rushing attacks to under 70 yards per game over the past three weeks.
The Line
This game opened at Cleveland -4.5 and has moved a lot. Most books are offering -6.5 or -6. The total has not moved from the opener of 38.
The Play
Emotions were riding high for KC last week as they pulled off the victory, and while the Chiefs are no longer the laughing stock they were weeks ago, we still like the Browns in this matchup despite the high number. Cleveland being an almost 7 point favorite over any team is normally a cause for concern but not against lowly KC.
The Browns have been steadily improving and debatably have one of the best defenses in football. Brady Quinn may be motivated to face his former team, but that does not mean he will play well. Other than last week, Quinn has been abysmal and so has the Chiefs offense. Jamal Charles is their best bet to move the ball up and down the field, but the Browns have been stalwarts against the run as of late. Couple that with Weeden's improved play and Trent Richardson's ability to move the chains as well, we love Cleveland in this game.
Browns -6.5
San Diego Chargers at Pittsburgh Steelers -7.5 39.5 OvUn 39.5 1:00 EST
San Diego heads into Pittsburgh in a free fall in what looks like to be their worst season in a number of years. It was also reported – but not confirmed – that coach Norv Turner and GM A.J. Smith would be let go at season's end.
The Chargers lost to Cincinnati at home last Sunday 20-13 and are now one defeat away from officially being eliminated from the playoffs. The team, at 4-8 will also likely have their first losing season under Norv Turner unless they can win their last four games – an unlikely scenario based on how they have played the past few weeks.
Pittsburgh is feeling good after a huge win against Baltimore last week. With Ben Roethlisberger sidelined, Charlie Batch outplayed Joe Flacco and the Ravens' offense and rallied the Steelers late to a 23-20 victory.
The Steelers will get Big Ben back this week, but will be without top cornerback Ike Taylor who will break his streak of 135 games played with a fractured right ankle. Troy Polamulu will play for the second straight week after returning from injury and wide out Antonio Brown is fully healthy.
The Line
This game has been off the board throughout the week, but the consensus line everywhere seems to be Pittsburgh -7.5. The total has moved a lot, opening at 43 it is now at 39.5.
The Play
This is two teams going in entirely opposite directions. Even with Charlie Batch starting, we still would probably go with the Steelers on this one. The Chargers will likely be starting some guys just picked up off the street on the offensive line, which could have disastrous implications against one of the NFL's best defenses. Rivers is having the worst season of his career, has no running game, turns the ball over way too often and his team has basically stopped trying.
We do not see a letdown spot for Pittsburgh in this one because they still need to win out the rest of the way to improve their playoff position. The race for the division and a wild card spot is still firmly up in the air. We'll roll with the Black and Gold at home.
Get your on the Steelers -7.5 at Bovada.lv (best price).
New York Jets at Jacksonville Jaguars +3 OvUn 38.5 1:00 EST
The Jets head to Jacksonville with their playoffs hopes still alive but highly unlikely. New York pulled out a victory in one of the NFL's lowest scoring games this season winning 7-6 over the Arizona Cardinals. Sanchez was benched in the 2nd quarter of that due to his poor play, but will still start again this week against the Jags. Improvement from Sanchez is a must, but the Jets could be all right if they keep their run game going. They rushed for 177 yards last week led by veteran Shonn Greene's 104 yards.
Jacksonville's offense has been much improved since Chad Henne became the starter, but that has not translated into wins. The Jags were beaten handily by Buffalo last Sunday 34-18 and gave up 232 rushing yards in the loss. They are on their fourth string running back, as Parmelee, Jones-Drew and Jennings are all out with injury. Full back Montell Owens will get most of the carries this week against the Jets 28th ranked rush defense.
The Line
Opened at Jacksonville +2.5 and has moved to +3 at most books. The total opened at 39.5 and has moved down to 38.5 across the board.
The Play
Neither of these teams inspires confidence on either side of the ball, but we like the Jets in this spot. Even though, they barely beat St. Louis last week, they are still in the playoff hunt.
Even with Sanchez getting the start again, he has to know he is not off the hot seat. This may be one of the bigger games of his career, even if it looks insignificant to outsiders. Henne might have a tough time as well; the Jets are terrible against the run, but are still a top ten defense against the pass. We like New York to pull it together on the road and beat the Jags.
Jets -3 at www.topbet.eu

Tennessee Titans at Indianapolis Colts -5.5 OvUn 47 1:00 EST
Tennessee will have a tough task ahead of them if they wish to avoid a third straight loss Sunday. Last week, they faced Houston and though they moved the ball up and down the field, they could not convert in the red zone and had several turnovers. The Titans fell 24-10.
The Titans will again be forced to tinker with their already beat up offensive line as guard David Stewart is now out for the season and left guard Steven Hutchinson will likely be out with a knee injury.
Defensively, Tennessee needs to get better as they are near the bottom of the league in every category and are giving up almost 30 points per game this season.
The Colts have been riding high for weeks on the back of rookie QB Andrew Luck. Luck has been sensational in his first NFL season. Last week, he rallied Indianapolis from 12 points down in the 4th and connected on a touchdown pass to Donnie Avery as time expired to give the Colts the victory against the Lions 35-33.
In a previous matchup this season the Colts defeated the Titans in overtime 19-13.
The Line
Heavy action on the Colts has forced this one from -3.5 to -5.5. The total of 49 has come down quite a bit to 47 and 46.5.
The Play
Luck has drawn the attention of the media and most of the league, deservedly so of course. However, the Titans should be able to put up solid numbers against a Colts defense that is not exceptionally good against the pass or run. Luck is still prone to mistakes as a rookie, and we think this one will be closer than many think. We'll take the Titans on the road.
Titans +5.5
Miami Dolphins at San Francisco 49ers -10 OvUn 39 4:05 EST
Miami's playoffs hopes are dim at 5-7 and a tough matchup against San Francisco this week makes their postseason aspirations even more unlikely. The Dolphins kept it close with the Patriots last week, but ultimately lost 23-16. They also suffered a critical injury to their offensive line as Jake Long was placed on injured reserve. If the Fins want to beat the Niners they will need more efficient play out of Ryan Tannehill. The young rookie is 2nd to last in the league in passer rating at 72.3.
San Francisco lost last week in overtime to St. Louis 16-13. Despite questions if Jim Harbaugh would move back to Alex Smith after the loss, the coach has chosen to stick with Colin Kaepernick. Despite last week's loss, Kaepernick has been excellent for the Niners. He's thrown for three TDs passes and ran for two more touchdowns and has a QB rating of 97.4.
The Line
This one opened at SF -10 and has not moved much from that number. The total opened at 39 and has moved to 38.5 at most books.
The Play
Perhaps we are missing something on this one, but Miami getting 10 points seems to be quite a bargain. Rarely do they get blown out, and they managed to keep it close unusually close with New England last week for much of the game. Kaepernick is only making his third start in his career, and though Miami's pass defense is nothing to write home about, the Niners are primarily a running base offense. Miami has slipped lately against the run, but they are still one of the best in the league at containing opposing rushers. One might wonder what Jim Harbaugh may do if SF loses this one with Kaepernick – could we see Alex Smith next week? Let's hope that we find out.
Dolphins +10 is available at 5Dimes.eu.
Arizona Cardinals at Seattle Seahawks -10 OvUn 36 4:25 EST
The 4-8 Cardinals have been terrible after a 4-0 start and will again switch quarterbacks this week. Rookie Ryan Lindley has lost his job to John Skelton, who Lindley originally replaced three weeks ago – yeah, it's a mess. Arizona has dropped eight straight games and is averaging less than 12 points a game in that stretch.
Seattle has been extremely impressive this season. Russell Wilson might be losing headlines to other impressive rookies, but the young QB is a gigantic part of Seattle's 7-5 season. Wilson had another tremendous game Sunday as he threw for 293 yards and two touchdowns in overtime win against the Bears. In his last four games, he has thrown nine touchdowns and no interceptions.
Seattle will be without top corner Brandon Browner who is suspended under the NFL's substance abuse policy. Richard Sherman is appealing the same type of suspension and will be in action this week.
The Line
This one has had little movement on both fronts. The Seattle -10 opener has not changed at most books. The total has moved slightly to 35.5 and 36 depending on the book.
The Play
The Cardinals have looked like the worst team in the league as of late, but 10 points are a hell of a lot for any NFL team to be favored by. We know the Seahawks are undefeated at home, but they rarely blow anyone out due to their style of play.
Also, Skelton starting isn't a massive upgrade over Lindley but at least he can throw a 20 yard pass with some accuracy – we hope so anyways. With Browner out, maybe the Cardinals can get something going in the passing game and hope their defense holds up. We do not love the Cards in this spot, but 10 points are too many to pass up.
Cardinals +10
New Orleans at New York Giants -5 OvUn 53 4:25 EST
New Orleans heads to New York with their playoff hopes dampened but not fully extinguished. After a loss to San Francisco two weeks ago and a 23-13 loss to Atlanta, last week, the Saints are in desperate need of a win.
Drew Brees has been largely at fault for those two losses, including the loss at Atlanta where he had perhaps the worst game of his career. Brees threw five picks and failed to throw a touchdown. A running game may help take the load off Brees, something New Orleans has done quite well as of late. The NO ground game has rushed for 119 yards in the past three contests and could have another successful day against the Giants.
The Giants are in trouble after losing three out of the last four games and seeing their lead drop in the NFC East to just one game after losing 17-16 to the Redskins on Monday Night. A loss against the Saints could see them lose control of the division and into a fight for a wild card.
Eli has been terribly inconsistent in the season's 2nd half. He has only thrown six touchdown passes in the past seven games, and three of them came in a 38-10 beatdown at Green Bay several weeks ago.
The Line
The opening number of Giants -5 has not changed, along with the total of 53.
The Play
We were all sure the Giants would turn their season around a few weeks ago, and Eli would get passed his struggles – but we may have been wrong. Eli's accuracy and arm strength are becoming a problem for the Giants as they push for the playoffs. Even a big time plus matchup with the Saints does not assure us of a large number of points being scored in this one.
We also think Brees and company will be able to pick apart the Giants with not only Brees' arm, but the run game, as well. The Giants have been horrible against the run as of late, and the Saints are utilizing it as a larger part of their offense. Brees knows he cost his team in the last two losses, and he will be out for revenge. We like Nawlins on the road against the G-Men.
Saints +5
Under 53

The two bets above were got at www.topbet.eu