Minnesota Vikings (10-6) at Green Bay Packers (11-5) -8 OvUn 46 8:00 EST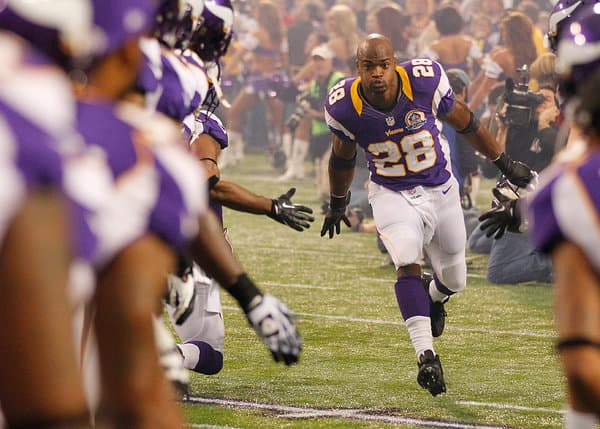 Minnesota star running back, Adrian Peterson will be a problem for The Packers defense.
NFL Playoff's NFC Wild Card, January, 5th 2013
The NFC will kick off the playoffs with a Wild Card matchup at Lambeau Field as the Green Bay Packers take on the Minnesota Vikings for the second straight week.
These two teams met just last week – a game the Vikings needed to reach the postseason. Minnesota prevailed, winning 37-34 and earned themselves the 6th seed in the playoffs. In their other meeting, this season a Week 13 game at Green Bay, the Vikings lost 23-14.
Minnesota has been all Adrian Peterson this season as the star running back ran just 9 yards short of the all time NFL rushing record held by Eric Dickerson. In the win last week, he rushed for 199 yards and two touchdowns on a franchise record 34 carries from scrimmage.
However, even a massive game from 'All Day' Adrian Peterson may not spell victory for the Vikings. They are 0-3 in games at Lambeau when he eclipses 100 yards rushing. Ultimately, it may be up to much maligned 2nd year quarterback Christian Ponder, who is expected to play but is listed as questionable with an elbow injury.
Ponder had his best game of the season last week against the Packers, throwing for three touchdowns and achieving his highest passer rating of the season 95.5. However, that may have been an aberration. In his previous four starts, he has completed just over 45 percent of his passes for three picks and five touchdowns, while losing three starts against the Packers.
Minnesota will not likely be able to limit Rodgers from scoring, but they did sack him five times in the victory last week and have one of the NFL's most effective pass rushes.
Vikings top cornerback Antoine Winfield is expected to play this week despite only playing 18 snaps last week and will be fitted with a larger cast for his broken hand.
The Packers loss last week ended a five game win streak against the Vikings, a trend that Green Bay hopes to restart this Sunday. There is no doubt Green Bay will be able to put up points against the Vikings defense, but can they stop Peterson? As we discussed above, it does not seem to impede their progress of achieving a victory, but he has rushed for 175 yards or more in 12 career games against the Pack.
It is worth noting that Green Bay's receiving core is especially banged up, as well. Randall Cobb, star return man and top wide out is listed as probable, along with receiver Jordy Nelson. However, both practice in full this week and Rodgers should have his full arsenal of weapons available at Green Bay.
The Packers defense has been a weak spot this season and hopes to get a significant boost as they return Pro Bowl cornerback Charles Woodson. He has been cleared after missing nine straight games with a broken collarbone.
The Line
This game opened at Packers -7.5, which is still available at some books with most offering -8. The total opened at 46 and has hovered around that same number with some moving to 46 and others to 45.5.
The Play
A Packers -8 line should scratch some heads throughout the betting world as they did just lose to this team last week. However, that was in Minnesota. This team is practically invincible at Lambeau Field and perhaps the big chalk could be a bit of a tease for prospective Minnesota backers.
Minnesota has not been a good road team, and while Ponder was excellent last week, the re-addition of Charles Woodson may have a substantial impact on Green Bay's secondary. Also, it will be 15 degrees around kickoff and the normally dome bound Vikings may not be able to handle the frozen tundra.
The Vikings may implode early on in this one and will probably have to play mistake free football to match the scoring output of Green Bay. We like the Packers in a route.
Green Bay -8 is available at BetOnline.ag