Le'Veon Bell gambled on himself during free agency after sitting out the 2018 season at the Pittsburgh Steelers.
The running back refused to sign his franchise tender after previously rejecting Pittsburgh's offer a long-term contract. James Conner replaced Bell's production for the Steelers, raising doubts that he would be able to secure the lucrative deal he desired on the free-agent market.
Bell's decision was praised and criticised in equal measure, although given the nature of his position, the choice to sit out a year could extend his career by another few seasons. Bell was a workhorse for the Steelers during the five previous campaigns, carrying the ball over 300 times per term.
The 27-year-old was not content with the Steelers' offer and took the risk on receiving a lesser offer in free agency. Bell was signed by the New York Jets on a four-year contract worth $52.5m, joining Adam Gase's men, who could be on the rise with Sam Darnold at quarterback.
Bell has been one of the best running backs in the NFL since he entered the league in the 2013 season. Whether he can sustain that level of form after missing one season along with leaving a potent Steelers' offense remains to be seen.
New York Jets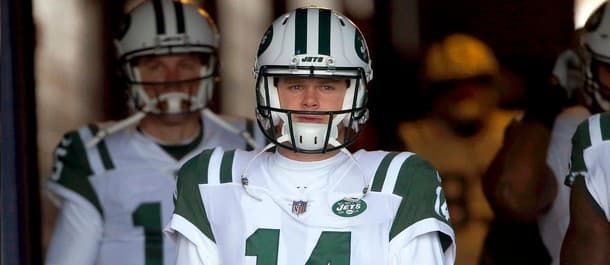 The Jets parted company with Todd Bowles after another underwhelming 4-12 season. They kept their new hire within the AFC East, replacing Bowles with former Miami Dolphins head coach Gase. Whereas Bowles was a defensive-minded coach, Gase's specialty is offensive focused and he has made a splash with a move to add Bell to his offense.
Darnold was overmatched in his first season in the NFL at the quarterback position. The 21-year-old threw for 2,865 yards along with 17 touchdowns to 15 interceptions. He improved towards the end of the term, and having a back of Bell's quality to ease the burden on his arm.
Bell has the ability to be a workhorse out of the backfield. He was dominant during his time with the Steelers, although the AFC North outfit did boast a strong offensive line. The 27-year-old's receiving skills will also be important to provide Darnold with a safety valve. Bell has recorded over 80 receptions twice in his career and could match that figure at MetLife Stadium.
New York are a project team and are unlikely to challenge the defending Super Bowl champion New England Patriots for the AFC East crown. They've added Bell along with CJ Mosley to lucrative deals, which could be enough to lift their win total to seven or over at odds of 1.57Bet €100 to win €15757/100Bet £100 to win £157-175Bet $100 to win $1570.57Bet HK$100 to win HK$157-1.75Bet Rp100 to win Rp1570.5700Bet RM100 to win RM157 with TopBet, especially due to a weak schedule.
Pittsburgh Steelers
The Steelers have been hit hard by the departure of not only Bell, but also Antonio Brown, who was traded away to the Oakland Raiders.
Pittsburgh boasted the Killer B's two seasons ago, but are down to just Ben Roethlisberger from the potent trio. Mike Tomlin's side are one of the few franchises in the NFL that are prepared to allow their stars to leave if they become overbearing. Their replacements are already on the roster as Juju Smith-Schuster slides up to replace Brown as the number one wideout.
Conner was outstanding last season in relief of Brown, recording 973 rushing yards along with another 473 receiving out of the backfield. The 23-year-old scored 13 touchdowns over the course of the campaign, although it was ended prematurely by an ankle injury. Conner's injury will give the club cause for concern. Pittsburgh will need to cultivate depth behind the running back to ease the burden.
It's an important draft for general manager Kevin Colbert to replenish the stock of talent at Heinz Field. On paper the club face a challenge to remain competitive for the AFC North crown, with the Cleveland Browns and the Baltimore Ravens on the rise. There's value at 2.85Bet €100 to win €28537/20Bet £100 to win £285+185Bet $100 to win $2851.85Bet HK$100 to win HK$2851.85Bet Rp100 to win Rp285-0.5405Bet RM100 to win RM285 with TopBet for their experience to shine through to win the division.
Le'Veon Bell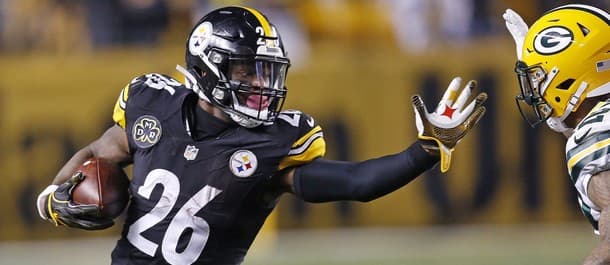 Bell took a huge gamble on himself to miss the 2018 season. Few players are bold enough to make the decision to sit out an entire season. He previously turned down lucrative offers from the Steelers to extend his stay at the club before refusing to sign the franchise tender of $14m to play in the 2018 campaign.
Bell did spare his body from taking numerous hits after carrying the ball over 300 times in the 2017 term along with 85 receptions. In total during his five-year career in Pittsburgh, he touched the ball over 1,500 times. The 27-year-old may be surprised in the difference in quality between the Jets and the Steelers. For all the praise Gase has received over the years as an offensive mind, his teams were not outstanding on his side of the ball in Miami.
Darnold is not a great upgrade for the coach from Ryan Tannehill, and the Jets quarterback is well below the standard of Roethlisberger. Bell would have found that teams were prepared to let him run out of fear of the arm of the Steelers quarterback and Brown in the receiving corps. He did rack up a lot of yards on the ground and through the air along with touchdowns during his career at Heinz Field.
Bell's 2017 term saw him accumulate 1,291 rushing yards, 655 receiving yards and a total of 11 touchdowns. Life will not be so easy at the Jets due to their inferior quality and all the attention will be focused on the running back. Take him to record under 1,200 rushing yards at 1.83Bet €100 to win €18383/100Bet £100 to win £183-120Bet $100 to win $1830.83Bet HK$100 to win HK$183-1.20Bet Rp100 to win Rp1830.8300Bet RM100 to win RM183 , under 600 receiving yards at 1.87Bet €100 to win €18787/100Bet £100 to win £187-115Bet $100 to win $1870.87Bet HK$100 to win HK$187-1.15Bet Rp100 to win Rp1870.8700Bet RM100 to win RM187 and 10 touchdowns or under at 1.87Bet €100 to win €18787/100Bet £100 to win £187-115Bet $100 to win $1870.87Bet HK$100 to win HK$187-1.15Bet Rp100 to win Rp1870.8700Bet RM100 to win RM187 all with BetOnline.
Tips Summary
Le'Veon Bell To Record Under 1,200 Rushing Yards
Odds: 1.83Bet €100 to win €18383/100Bet £100 to win £183-120Bet $100 to win $1830.83Bet HK$100 to win HK$183-1.20Bet Rp100 to win Rp1830.8300Bet RM100 to win RM183
Le'Veon Bell To Record Under 600 Receiving Yards
Odds: 1.87Bet €100 to win €18787/100Bet £100 to win £187-115Bet $100 to win $1870.87Bet HK$100 to win HK$187-1.15Bet Rp100 to win Rp1870.8700Bet RM100 to win RM187
Le'Veon Bell To Score 10 Touchdowns Or Under
Odds: 1.87Bet €100 to win €18787/100Bet £100 to win £187-115Bet $100 to win $1870.87Bet HK$100 to win HK$187-1.15Bet Rp100 to win Rp1870.8700Bet RM100 to win RM187
New York Jets To Win Seven Matches Or Over
Odds: 1.57Bet €100 to win €15757/100Bet £100 to win £157-175Bet $100 to win $1570.57Bet HK$100 to win HK$157-1.75Bet Rp100 to win Rp1570.5700Bet RM100 to win RM157
Pittsburgh Steelers To Win AFC North
Odds: 2.85Bet €100 to win €28537/20Bet £100 to win £285+185Bet $100 to win $2851.85Bet HK$100 to win HK$2851.85Bet Rp100 to win Rp285-0.5405Bet RM100 to win RM285
Le'Veon Bell
New York Jets
NFL
Pittsburgh Steelers
Sam Darnold