Seattle Seahawks at St. Louis Rams +12 Total: 42.5
Monday, Oct. 28st 8:30 EDT TV: ESPN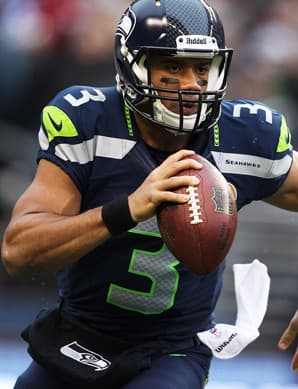 This game is another egg on the Monday Football Schedule, which I'm sure ESPN executives aren't happy about. Nevertheless, there is football being played, and that means the bookies and bettors are ready to go on everyone's favorite bail-out game.
It would be foolish for us to begin with the offense when talking about the Seahawks. The defense has been one of the most dominant in all of football, and for my money there is no squad in the league even close to this defense. Top 5 against the rush and pass and in scoring defense, they are the full package.
However, what makes Seattle's defense so effective is their offensive schemes. A grind it out run-game based offense, the Seahawks chew up the clock and keep their defense well rested. Still, they have some playmakers in the passing game starting with quarterback Russell Wilson.
Seattle improved to 6-1 on the season last week after winning 24-22 at Arizona last Thursday, in a game that Wilson threw for three touchdowns. Running back Marshawn Lynch is second in the NFL in yards and continues to be the offensive workhorse. It also looks as if wide receiver Percy Harvin will make his season debut Monday. Harvin has not played a game for the Seahawks yet after being acquired in the offseason and breaking his leg in training camp.
With franchise quarterback Sam Bradford on the shelf, the Rams will turn to career journeyman Kellen Clemens. Clemens will only be making his 13th career start against Seattle, despite being the league for 8 seasons. He has a dismal 62.2 passer rating in his career. It could be a long day for St. Louis' offense.
St. Louis fell to 3-4 after a loss against the Rams last Sunday and there were few bright spots. Perhaps one of them was rookie running back Zac Stacy who has 210 yards on 49 carries in his first three starts.
St. Louis' defense has not been good either, and a lot of that has to do with injury. They are average against the pass, but that is likely because opponents have had such an easy time running on them. The Rams defenders have given up the 3rd most rushing yards per game.
The Line
This game opened at St. Louis +6 at many books and has moved drastically to +11 or higher at some sportsbooks. The public will no doubt be looking to be bailed by Seattle this week if the weekend goes awry. The total has moved much off the opening number of 42.
The Play
This game seems like a no play to me in a lot of ways, but I will have to give a slight edge to Seattle. Despite Clemens' two years as a backup, I can't truly believe he will be able to do much against this defense. The Rams offense looked out of sync even with Bradford at the helm this season. It is impossible for me to expect much from St. Louis' offense.
Throw in a bad defense, that is susceptible to run and it is a recipe for a beat-down for the Seahawks. I know it's a divisional game, and there is terrific value in getting a line that has gone from +6 to +12, but I just can't pull the trigger. I have to go with the Seahawks in this one.
The under may have some value because of the slow pace of each of these offenses, but Seattle's running game may just bulldoze through St. Louis' front all game. Also, turning the ball over can lead to quick points, something that the Rams may doing a lot. For me, there's on one play in this game and that is with Seattle minus the points.
Take the Hawks -12 on the road with Bovada.lv.