New York Giants at Chicago Bears -8.5 Total: 47.5
Thursday, October 10th, 2013 TV: NFL Network 8:25 EDT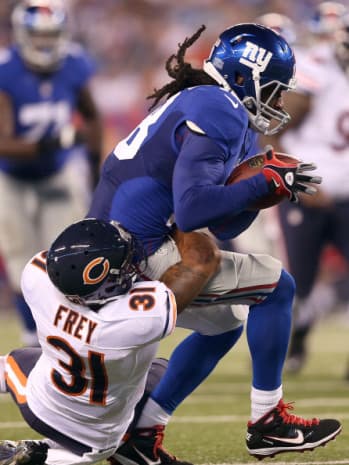 Like many Thursday Night Football games, this game isn't likely to be hotly anticipated by national audiences – but hey, it's still NFL football. I will be betting on the game, and so will millions of others.
The Giants head to Soldier Field looking to avoid their second worst start in franchise history since 1987 when they started the season with a 0-5 record. The G-Men are now a far cry from dreaming about a Super Bowl appearance at MetLife Stadium and are desperate just to get win number one. Historically, the Giants have had success at Soldier Field and but their latest matchup was in 2007.
New York has been defensively challenged all year long, and that isn't likely to change this week. They lead the NFL in points allowed giving up over 36 points per contest. The defense has been woeful, but the offense is not far behind. Eli Manning leads the league interceptions with 12 despite throwing 10 touchdowns, the two-time Super Bowl winning MVP has also been sacked 15 times this year.
Eli threw three picks in a 36-21 loss to the Eagles last week. All three came after the Giants cut their deficit to just two points after losing by 12 points at the end of halftime. Turnovers have become a massive problem for New York, and the team that has not yet been able to put together a decent game on both sides of the ball.
Their rushing game has also been abysmal, something that has not helped a struggling quarterback in Eli Manning. In their loss Philadelphia last Sunday, they lost starting running back David Wilson to a neck injury. The Giants will go with newly re-signed Da'Rel Scott and Brandon Jacobs, both of which are inferior options.
Chicago started off the season 3-0 but have since dropped back-to-back games against Detroit and New Orleans. The Bears did their best to compete with the Saints last week, and quarterback Jay Cutler threw for a season high 358 yards, but Chicago still ultimately fell to the Saints, 26-18. Sophomore wideout Alshon Jeffrey set a team-record for receiving yards, going off for 218 yards and a score.
Jeffrey was limited in practice this week but should be a full-go on Thursday. Tight end Martellus Bennett was hurt in last week's game but should also be ready to go in this contest. Finally, Bears defensive end Nat Collins was injured in the loss to the Saints and was diagnosed with a torn ACL. Collins was already filling in for Henry Melton who also suffered a torn ACL in Week 3. This is terrible timing for a defense that is struggling by Chicago's normal standards and already lacks depth.
The Line
Most books opened this game at -7.5, but those to post late lines were closer to -8.5 or even -9 as their opening numbers. The total has moved from a 46 opener to 47 or 47.5 at most shops.
The Play
While it is tempting to take the Giants in this spot, their roster has been decimated with injury, and they lack continuity on both sides of the ball. Eli Manning should not be absolved of his poor play despite his solid track record and is a critical part of why this team is losing. It's impossible for the defense to play well when they are on the field all game and turnovers are a significant reason why this is happening. Also, the worst running game in the NFL doesn't help.
The reason for the high total in this game is the Giants' atrocious defense and the Bears' subpar (at least so far) defensive unit. While Chicago isn't playing well at the moment, they should have a field day against the Giants offense that is devoid of playmakers other than Victor Cruz. Likewise, if there is a time New York's defense to finally wake up, it would seem that this would be a terrific spot. They are facing a struggling offense and a sack-prone quarterback in Jay Cutler. If they can even get decent pressure on Cutler, they will be able to throw off his timing and help their struggling secondary.
Both of these teams have had trouble scoring the ball, and despite how bad these two defenses look on paper, I think they will play better than most expect. The under has excellent value in this game.
I like the Under 47.5 with TopBet.