San Francisco 49ers at St. Louis Rams +3 Total: 42
Thursday, September 24, 2013 TV: NFL Network 8:30 EDT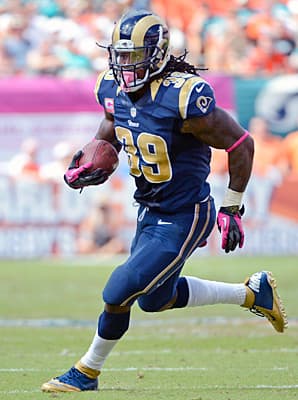 Thursday Night Football features two NFC West franchises which both had high hopes coming into the season immediately humbled by 1-2 starts. Making the game all the more important, their two other division mates, the Seattle Seahawks and Kansas City Chiefs are both 3-0. Whichever team loses this game will not only be dealt a third loss but will find themselves in quite the hole in this tough division.
After making the Super Bowl last season, it's clear that San Francisco's start to the year has not gone as planned. The Niners pulled out a victory against the Packers in Week 1, but have failed to win a game since, losing their past two games.
Last week, they were beaten soundly at Indianapolis, 27-7 as their offense failed to move the ball for the second consecutive week. San Francisco's defense should also be of concern to bettors. This unit is not playing anywhere near the level that it has for the past few seasons. Once a feared defense, this team is regularly being gashed for big plays. Their run defense has been especially poor. Colts rushers ran for 179 yards on the Niners defensive front in Week 4.
St. Louis entered the season with modest expectations but have not looked good in limited action. They, like the 49ers were dominated in Week 3. The Rams headed to Dallas and had a hard time doing anything well against the Cowboys. Losing in a 31-7 rout, St. Louis gained only 232 yards of offense and gave up nearly 400. Their rush defense was also terrible as Cowboys back DeMarco Murray rushed for 175 yards and a touchdown. Sam Bradford and the offense were stagnant all game, and it still looks like this young roster may experience more growing pains.
The Line
The game has stayed on Rams +3 at most books, but some may have it moved to +3.5. I'd recommend waiting to bet closer to game time if you like St. Louis. The total opened at 43 and has come down a full point to 42 and at many shops its listed 41.5.
The Play
Both of these teams are desperate to get a win, and there's no doubt it is a close matchup.
It's clear Colin Kaepernick is a talented and dynamic player in this league but even he will admit he has looked extremely poor so far. The Colts defense is terrible, and the Niners could barely move the ball against them. Furthermore, tight end Vernon Davis is may be out this week with injury.
This worries me, especially with Aldon Smith in rehab and injuries to Patrick Willis. The Niners defense has not been the same this year, and though the unit and Kaepernick alike will have a chip on their shoulder coming into Thursday's game – I don't think it will be enough.
The Rams are especially attractive at home, something that can make the difference for a young team. The +3 number is wonderful in this spot, and I'm willing to chalk up last week as a good team just having a bad game.
Based on SF's recent performances, Bradford and the Rams offense should have no trouble putting up 20 or so points – and that may be enough. The Niners offense has not moved the ball well, and Kaepernick has been running for his life all year. This won't get any better when he faces tough defensive ends Chris Long and Robert Quinn. The pressure may force him into some bad decisions.
I like the live-dog Rams +3 at home with Topbet.eu