Kansas City Chiefs at Philadelphia Eagles -3 Total: 50.5
Thursday, Sept 19th 2013 TV: NFL Network 8:25 EDT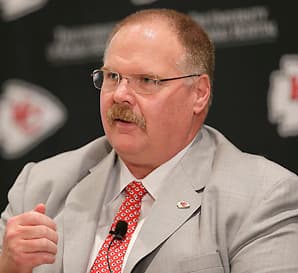 In what has the be one of the most anticipated games on the schedule this season, the Chiefs head to Lincoln Financial Field to take on the Eagles. Not only do both teams look impressive, despite the Philadelphia's loss last week, it will be former long time Eagles head coach Andy Reid's first time back in Philadelphia facing his former team.
Reid was let go by the Eagles last season after coaching there since 1999. While both coaches are essentially saying that this is "just another game", we all know this isn't just another game on the schedule, especially for Andy Reid. Emotions will be running high in this one and players from both sides will want to win one for their new head coaches.
Kansas City has started of the Reid era tremendously, winning their first two games. In Week 1, they dominated the Jacksonville Jaguars in Florida by a final score of 28-2. Last week, the Chiefs held off the Cowboys for 17-16 victory at Arrowhead. Efficiency on offense and limiting turnovers have key for the KC so far, as well as a strong defense.
They have only given up 18 points through two games, albeit one was against the Jaguars, but this number is still impressive. Alex Smith has been terrific in two games, throwing for almost 400 yards, four touchdowns and no interceptions. Smith hit receiver Dwayne Bowe for what ended up as the game winning touchdown in Sunday's win against Dallas.
Kansas City is relatively healthy coming into the game. Tackle Branden Albert sprained his shoulder in Sunday's win but is expected to play Thursday. Cornerback Dunta Robinson was in a car accident and missed last week's game due to personal reasons. He will make his return against Philly, as well.
Chip Kelly's offense is still the talk of the league, despite their 33-30 loss at home against the San Diego Chargers. Vick and company poured it on during the game, but San Diego quarterback Phillip Rivers outgunned the Eagles offense, throwing four touchdowns. Even though they gained over 500 yards of offense, including 428 yards passing by Michael Vick, the Philly defense could not stop the Chargers on offense.
The Eagles are healthy on both offense and defense and have not been bitten by the injury bug yet. However, this may become a problem eventually due to the Eagles frenetic pace on offense.
The Line
The Eagles opened as field-goal favorites in this game and are still listed at -3 at most books, but some have moved the line to -3.5 but mostly with increased juice on the KC side. The total started out at 49.5 and has moved at least a point at most books. Books have the game at 50.5 or 51.5.
The Play
I think I have to give the edge to Kansas City in this game rather than the Eagles, especially with them getting 3 points. No one wants to win more for Andy Reid than his players, and I'm not sure that Chip Kelly's squad is as motivated to get the win. Of course, they don't want to fall to 1-2, but I just get the feeling this game means more to Andy Reid and his players. Also, from a matchup perspective, Philly could be in trouble.
The Chiefs run as boring of an offense as possible, relying on short passes and a strong running game to control the clock. The Eagles defense is not particularly palatable, and if KC can control the clock and keep the Eagles offense off the field they will have a recipe for success. Kansas City is not exciting, but their gameplan will neutralize the Eagles' best asset, their offense.
Furthermore, the Eagles defense can be exploited as shown by Phillip Rivers and previously Robert Griffin III of the Washington Redskins. Also, let's keep in mind that even though the Eagles have scored 30+ points in their past two games and amassed tons of yards, they faced a terrible Washington defense and another pathetic Chargers squad last week. Kansas City has an excellent pass rush and will be a true test for this high-powered Eagles offense.
For my money, Kansas City has faced a much tougher schedule than Philadelphia and has the ability to limit Chip Kelly's offense if they can execute their gameplan. It shouldn't be too difficult against the poor defensive unit of the Eagles. Everyone is enamored with this team due to the powerful offense but let's remember whom they have played and that they lost against a San Diego team that has been projected to be one of the worse teams in the AFC.
Andy Reid knows his former players possibly better than current Eagle coach Chip Kelly. He will scheme up a gameplan that is sure to have the Eagles reeling if done correctly. Reid just has to rely on his players to execute, smoething they have been able to do so far in the first two games.
I like the Chiefs +3 on the road with Bovada.lv