San Diego Chargers at Denver Broncos -10.5 Total: 56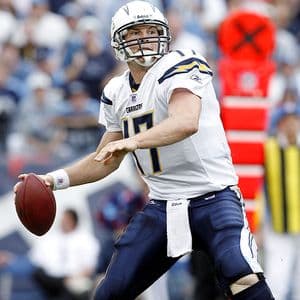 This has to be the biggest marquee matchup that the NFL Network has had all season. While Thursday Night Football this year has been a seemingly endless string of dud matchups, this game should provide some fireworks and is important for both teams. Denver looks to pad their lead for home field advantage throughout the playoffs while San Diego is desperate to stay in the AFC Wild-Card mix.
This game will be the second-leg of the divisional series between these two teams with the first being played on Nov. 10th. The game was at San Diego and was a 28-20 win for Manning and the Broncos. Manning threw four touchdowns and no interceptions in the win while throwing for over 340 yards.
Last week, San Diego took care of the Giants at home in much needed victory. Quarterback Phillip Rivers threw three touchdown passes in the 37-14 win, moving the Chargers to 6-7 on the season.
Rivers and the San Diego offense have been a force this season. They are ranked fourth overall in total offense and Rivers may be having the best season of his long career. Ryan Mathews has finally gotten it going on the ground, as well. He is coming off his fourth straight 100 yard rushing game or more.
Defensively, they have had some issues. While they have been capable of shutting down certain opponents this season, it has been tough sledding for the most part. San Diego is ranked 28th in pass defense and in the bottom third against the rush. It is an appetizing matchup for Manning and the Broncos.
Like San Diego, Denver has an impressive offense and a defense that has had some issues. However, few teams in NFL history have an offense even nearly as potent the Broncos'. Much of the talk leading into Sunday's contest at Tennessee was centered on Peyton Manning's issues in cold weather games.
Manning responded to his critics with 397 yard, four touchdown line in the 51-28 victory against the Titans. Eric Decker led the Broncos in receiving with 117 and a touchdown. Demaryius Thomas and Julius Thomas also each added a TD. Running back Knowshon Moreno and Montee Ball both had productive outings, each scoring a touchdown of their own, as well.
On defense, the Broncos continue to give up gargantuan numbers to opposing offenses each week. That is partly because of the pace of Denver's offense and that opponents are forced to throw more from behind, but it is not fair to let them off the hook that easy. They have been porous against the pass for much of the year, and have not looked good overall, despite getting many players back from injury.
One notable injury note is on wide receiver Wes Welker, who will miss Thursday's game due to getting his second concussion in the past month in Sunday's win. Tight end Jacob Tamme moved into the slot role in Peyton's offense after Welker went down and is expected to resume that role on Thursday.
The Line
Action is close to being split on this game but will likely get closer to 60 percent of bets coming in on Denver as we get close to game time. The spread opened at Broncos -10 and has moved to -10.5 across the board. The total has been bet up several points since opening at 54. The number is at 57 at some spots and will likely to continue to rise until kickoff.
The Play
It is tough to not want to take the Broncos every week after they covered a rather large number (-13) last week against the Titans, despite being down 14 points in the second quarter. It is even more impressive considering Tennessee's strong secondary. However, this is a new week, and a divisional game that San Diego must win.
Other than the Broncos' two losses, the Chargers played them closer than most teams in their 28-20 loss back in November. The stakes are even higher now, but even if San Diego plays their best game, do they have a chance of beating the Broncos? Probably not, but they should keep it close.
It would behoove San Diego to keep plugging away with the running game, an area where they have had plenty of success in recent weeks. This will keep Manning off the field and run down the clock. If the Chargers can get the lead early, they could set themselves up to cover the 10.5 by leading late or a chance to get a backdoor cover once Peyton responds.
The under is also an interesting play in this one. Both teams will run a lot more than most think, and the Chargers run defense has been better in recent weeks. Also, we can't forget that Welker will miss this matchup, a receiver that has been Manning's go-to guy for much of the season. While Denver appeared to not miss a beat with Tamme in the slot last week – his loss should not be taken lightly.
I could see a case for making a play on both the side and the total in this one. I am not buying that this game will turn into the shootout that so many other Denver games have this season.
Pick: San Diego +10.5 and Under 56 with Bovada.lv