Thanksgiving Day is upon us once again, and with this day of great thanks, turkey and family bonding there is plenty of NFL football, as well. There are some notable games on the docket for Thursday. Happy Thanksgiving and happy betting!
Green Bay Packers at Detroit Lions -6.5 Total: 50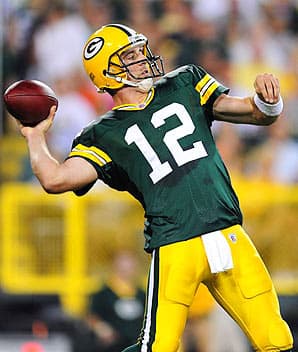 After Aaron Rodgers' injury three weeks ago, and a few losses by the Bears and Lions, the NFC North has become a wide open division. The Packers travel to Ford Field to take on the Lions in a critical turkey day matchup.
The latest update on Rodgers' injury is that he will almost certainly not play in the Thanksgiving contest. Rookie Scott Tolzien has started the past two games, but it looks as if former Packer Matt Flynn will start Thursday's game. He has impressed in practice this week and during the tie against Minnesota and is in line to make his starting debut for Green Bay.
Flynn led the team back last week from a 16-point deficit as the Packers tied the game and forced overtime with the Vikings at 26-26, a game that ended in a tie. McCarthy benched Tolzien and put Flynn in late in the 3rd quarter. The win put Green Bay at 5-5-1 on the year, but they have gone 0-3-1 since Rodgers' injury.
Offensively, things have dropped off without Rodgers. Their offense was averaging over 30 points per game but has averaged just 18 points the past three weeks without the former league MVP. Still, the Packers skill players have played decently with backup signal callers. Running back Jordy Nelson and Eddie Lacy have been valuable weapons in this offense.
On defense, the Packers have been average for much of the year but have dropped off in recent weeks. Their poor field position has been a problem with their pedestrian offense, which has led to more points for their opponents. Until last week's 26-26 tie in overtime, the Packers have given up more 27 points or more in their last four games.
The Lions welcome the Packers with a 6-5 record, and while they are currently first in the NFC North, it is too close for comfort. If Green Bay should win this game, they would vault into first place ahead of Detroit and Chicago.
Detroit has lost back-to-back games. One at Pittsburgh's in Week 11 and last week's home loss against the Tampa Bay Buccaneers. The Lions turnovers issues have crept up again and were the main reason for the 24-21 loss to Tampa. Matthew Stafford has been wildly inaccurate as of late. He threw four interceptions in the loss. Stafford has never beaten the Packers in his career, amassing a 0-6 record.
Detroit is a mixed bag defensively, ranking bottom five in the league against the pass but are a top five run defense. Almost every Lions game ends up in the 40+ point range, so they are often throwing the ball to keep up with opposing offenses due to their porous defense. Overall, this unit is has a lot left to desire.
The Line
This game opened at Lions -5.5 and has moved to -6.5 at most sportsbooks. The total opened at 49.5 and has moved to 50 or 50.5.
The Play
Detroit is probably my favorite play this week for a number of reasons. Firstly, the Packers are coming off a tough, emotional outing against the Vikings which went to overtime. And while Green Bay is getting a small upgrade at quarterback with Matt Flynn over Tolzien, do not kid yourself Flynn is not a starting caliber quarterback.
The Lions pass defense has been atrocious this year, but they do have a solid pass rush, led by Ndamukong Suh. I have no doubts this team gets to Flynn early and often and forces him into mistakes. The Packers will try establish Eddie Lacy early-on, but the Lions excellent rush defense should do a decent job on him.
Finally, Detroit is as about as talented as any team offensively but have been prone to miscues. They outgained the Buccaneers 2 to 1 in yards last week but turned the ball over five times. Tampa's defense is a ball hawking squad that forces turnovers, something the Packers are not. I think Detroit wins big at home in a bounce back performance this week.
Take the Lions -6.5 with TopBet.
Oakland Raiders at Dallas Cowboys -9.5 Total: 47
The Raiders head to Dallas for the only inter-conference game scheduled today. Oakland has struggled heavily on the road, and this will be another tough game for the young team.
The Raiders started off the season better than most thought, but have trailed off lately losing three out of their last five games. They have been even worse on the road where they are 1-4 this season.
Last week, they managed to lead against the Titans for much on Sunday's contest but allowed an 80-yard drive from Ryan Fitzpatrick, which culminated in a Kendall Wright touchdown to hand Oakland a 23-19 defeat. The Raiders have made a move at quarterback to Matt McGloin, who has stolen the starting job after three starts. McGloin has thrown four touchdowns and one interception in game action this season. Previous starter, Terrelle Pryor was healthy enough to play last week, as he is this week, but will continue to serve as a backup.
Oakland defense has been criminally terrible against the pass but quietly decent against the run. They held Chris Johnson to just 73 yards on 20 carries this past Sunday.
Injury wise, the Raiders are relatively healthy defensively and will also get running back Darren McFadden back this week. He is still listed as questionable but is expected to play. However, he will not be the starter. Rashad Jennings will continue to get the nod. He leads the NFL in yards from scrimmage over the past month. Wide receiver Denarius Moore is also questionable to play.
Dallas is 6-5 on the year and back on top of the NFC East thanks to last week's win against the rival New York Giants. Coming off a bye, the Cowboys dominated the first half of play before blowing a 15-point lead and then winning on a field goal as time expired, 24-21.
The game was a nice road win for Dallas, a place they have had a hard time getting wins. It has been a different story at home. The Cowboys are averaging 34.6 points at home this season while going 4-1.
On the flip side, Dallas defense is possibly the worst in the league. They rank 31st in opposing passing yards and 30th against the run. They allowed Andre Brown and Brandon Jacobs to amass over 200 yards rushing last week's win.
On the injury front, both Dez Bryant and Miles Austin are probable but have practiced in full this week. Linebacker Sean Lee will not make his return this week, although some thought he might be active.
The Line
Dallas opened as -10.5 favorites last week, but that line has gone down to -9.5 across the board. The total has also gone up slightly, moving from an opening number of 45.5 to 46.5.
The Play
I love the Raiders plus the points in this one, especially with Sean Lee still out for the Cowboys. While McGloin is nothing remarkable, he looks to be leaps and bounds more accurate than Terrelle Pryor. Oakland should rely on their running game heavily and will have success against Dallas' miserable front seven. This should keep the game close throughout.
While there is a danger of a blowout via the Cowboys high-octane offense, they have put up some duds this year from an offensive perspective. After all, they are still a 6-5 team and have had some poor outings this season.
Take Oakland +10.5 with Bovada.
Pittsburgh Steelers at Baltimore Ravens -3 Total: 40
The Steelers and the Ravens meet on what is the biggest rivalry game this Thursday. With the AFC North crown likely out of reach for both of these teams, they are both focused on the AFC's final Wild-Card spot. Pittsburgh and Baltimore both sport identical records at 5-6. The Steelers won the first leg of the season series at Heinz Field, 19-16.
Pittsburgh has won their last three games, including a 27-11 victory at Cleveland and are playing their best football of the year. Ben Roethlisberger threw for two touchdowns in the win, and the Steelers defense had one of their best games of the season. They sacked Jason Campbell and Brandon Weeden a combined five times, forced a fumble and sealed the game on an interception late.
The Steelers defense has lost a step this season but has turned it on much better as of late. They held the Browns to just 55 yards rushing in last week's win an area where they have previously struggled. Their pass defense has been excellent overall, despite Josh Gordon's massive game last week.
The Ravens are also coming off a win that was dominated by defense. Baltimore won 19-3 against the New York Jets last week exerting their will over the Jets' offense. The Ravens defense roughed up Geno Smith, allowing him to complete just over 40 percent of his passes while throwing two interceptions.
Baltimore's defense lost a lot of key players via free agency but is still a strong defensive unit, especially against the run. Their pass defense has been susceptible to big plays downfield, something that has been their main weakness defensively.
The Line
The line opened at Baltimore -1 and has moved to -3 across the board. The total has stayed around the opener of 40 with some books listing the game at 40.5.
The Play
These AFC North games are always tough to predict because they always seem to come down to a final drive or end up being decided by seven points or fewer. However, I do think the Steelers have an edge in this one.
The Steelers no-huddle offense has been working to perfection and has rolled over several talented defenses in the past few weeks. They should have no issues putting up 20 points even against the Ravens above average unit. The same can't be said for Joe Flacco and company.
Flacco mouthed off during the week about the use of the wildcat formation in last week's win, saying "I think it makes you look like a high school offense." That is the pot calling the kettle black for Flacco who has had a miserable season. It is not as if the Ravens have been lighting up the scoreboard either, they are averaging just 18 points in their past six weeks of action.
These teams are closely matched talent wise, but Pittsburgh is playing much better football as of late.
Take the Steelers +3 on the road with BetOnline.