New Orleans Saints at Atlanta Falcons +9.5 Total: 53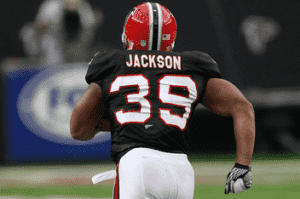 At the beginning of the season, the NFL thought they would have a premier divisional showdown in Week 12 for fans to enjoy. The enticing preseason NFC South showdown has now been reduced to a game with huge blowout potential. The Falcons are playing some of the worst football in the league as they welcome the Saints to the Georgia Dome.
The Falcons, who were just quarter away from the NFC Championship last year, are a team that has imploded. They have had plenty of injuries on both sides of the ball, but Atlanta could have never envisioned their year dropping off so rapidly.
The worst part is how badly they have been beaten in their recent contests. They have won just two games and sport a 2-8 record, but they seem to get blown out almost every week. Their 41-28 loss at Tampa Bay, a team that also sports a 2-8 record thanks to that victory was not as close the scoreline indicated. The Buccaneers were up 38-13 through three quarters, and the rest of the points were scored during "garbage time."
The Falcons offense has been around the league average, but they have virtually no running game. Steven Jackson has not been what they expected after signing him in the offseason. He has battled injuries all year long and has not been effective even when healthy. The defense has been among the worst in the league, allowing just over 29 points and 381.9 yards per contest.
On the other end of the spectrum, the Saints are on the top of the NFC South with an 8-2 record and look to be on their way to be a top seed in this year's playoffs. They are second only to Denver in points scored and yardage, averaging 28.8 points and 419.1 yards per game respectively.
Quarterback Drew Brees is putting together another Pro-Bowl season, but the real improvement for New Orleans has been their defense. While they are still relatively poor against the run, they are ranked 12th in the league against the pass and have made enormous strides this year with mostly the same roster as last season.
The Line
This one opened at Atlanta +7 very briefly before massive action on the Saints. The number is at +9.5 at minimum across the board, and I would not be shocked to see it move to +10 or more come Thursday evening. The total has moved to 53 and 53.5 from the opening number of 52.
The Play
On paper, this looks like an absolute beating at the hands of the Saints, but the line movement and massive public action on the Saints make me think there is some value with Atlanta.
They are actually much healthier than they have been all year, which is sad considering most of the roster is still bothered by nagging injuries. Roddy White looked great last week and will be ready to go this week at near full strength. Harry Douglas has also been a massive surprise and has emerged as a legit threat, instead of a third wide out or pure slot receiver. Neither should have a tough time getting open against New Orleans secondary, which still is not elite.
When you keep kicking the dog it will eventually bite back, and I think that is what will happen with Atlanta this week. They have been a national joke this season and officially hit rock bottom in last week's loss. They have nothing to play for now and will be throwing caution into the wind. This is a proud veteran franchise, and they are not going to lie down and get embarrassed in primetime.
Take the home-dog Falcons +9.5