Thursday, November 7th, 2013 TV: NFL Network 8:25 EDT
Washington Redskins at Minnesota Vikings +2.5 Total: 50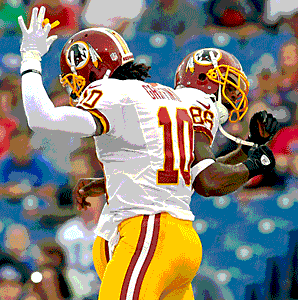 The Redskins may have gotten a reprieve on their season with an overtime win last Sunday, but they can't afford to drop another game as they head to Minnesota on Thursday Night. No stranger to late season heroics, Washington won the final seven games last season to win the division and head to the playoffs.
Inconsistency has been a theme for the Redskins all year as they started the season 0-4 before getting their first win on Sept. 29th at Oakland. Their overtime victory against over San Diego, a 30-24 this past Sunday helps keep them close to Dallas and Philadelphia in NFC East.
Robert Griffin did not throw a touchdown in the victory but did perform well in the game, something that will obviously be key for Washington. He was 23 for 32 for 291 yards and finished 12 of 17 on third down. Alfred Morris and the rushing attack was the difference in this matchup. He ran for 121 rushing yards and 24 carries and the Redskins totaled over 500 yards of offense.
For the Vikings, it has been a season of close games and what-ifs that have resulted in a 1-7 record. Minnesota, again, blew a late lead in a 27-22 loss to the Cowboys last week. Though they were up 23-20 late in the game with the ball on the Cowboys 41, they ran the ball just once on the drive and were forced to punt. The defense then gave up a late touchdown to Dallas.
Defense has been a problem for Vikings, who have given up 31.5 points per game and have yet to hold a single opponent to under 21 points all year.
The revolving door of quarterbacks looks to be settling down for the Vikings as coach Leslie Frazier appears to be sticking with Christian Ponder, after experiments with Josh Freeman and Matt Cassel. Running back Adrian Peterson had his best game this year in the loss to Dallas. The reigning NFL MVP rushed for a season high 140 yards and a touchdown in the loss against Dallas.
On an injury note, the Vikings lost tight end Kyle Rudolph for at least a month after he broke his left foot after catching a Christian Ponder touchdown pass.
The Line
This game has moved slightly on the total, but the point spread has remained the same. The total opened at 48.5 and has move to 50 at most shops. The game opened at Minnesota +2.5 and is still at the number across the board.
The Play
Both of these franchises are in a bit of disarray, but Minnesota's problems seem considerably worse. Their play calling is suspect and to be honest this team looks like it is giving up. They regularly play prevent defense the entire game and strangely don't have Adrian Peterson involved enough. Peterson is an elite talent and not running at least once on the final drive on the game against the Cowboys was ridiculous.
Washington has their own set of problems, but they are finally coming into their own. RG3 looks better and better each week, and Alfred Morris is running through people in his sophomore year. They have an emerging threat in Jordan Reed at tight end and the reliable Pierre Garcon at receiver. Sure, the defense is below average, but they are beginning to force turnovers and improving slowly.
Most of all, this is a must-win game for Washington as they are already on the brink of being forced out of the playoffs.
Lay the points with the Redskins -2.5 on the road with www.TopBet.eu