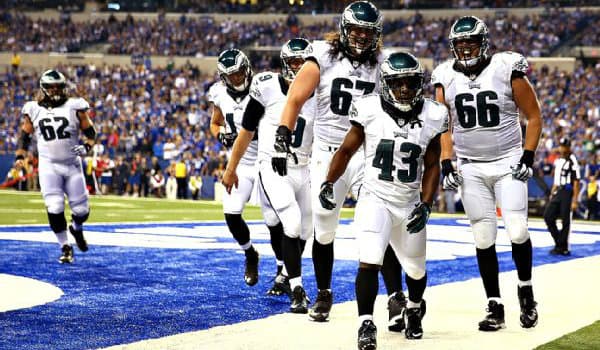 Last week the Bengals cost me both of my teasers on TNF (0-2). I'm now +6.4U overall this season and need a good week, as we're already on the backstretch of the regular season at this point.
There are a number of very low point spreads this week, which isn't necessarily ideal when betting on teasers. Bet on NFL teasers at the BetOnline Sportsbook and receive up to $1000 as a cash bonus.
NFL Week 11 Teaser Predictions
Philadelphia Eagles +12 vs. Green Bay Packers
Both the Eagles (7-2) and Packers (6-3) won in blowout fashion in W10 and now meet at Lambeau. Last year Philly went into GB and won SU (27-13). They may not win, but this game will stay within 10 points.
The biggest mismatch in this game is the Eagles run offense (114.8 RYPG – 13th) against the Packers run defense (142.6 RYPG – 30th). McCoy and Sproles should both put up big numbers on the ground.
Foles is still out and Sanchez will be in at QB for Philly, but they should just run the football. Rodgers is going to put up yards, but the Eagles have only been allowing teams to score 22.0 PPG (12th).
We have a huge total in this game, but I don't expect a massive amount of points. Chip Kelly will run the football and keep Rodgers off the field if possible. I think this game ends within a FG.
Atlanta Falcons +7.5 vs. Carolina Panthers
The NFC South is still wide open, as the Saints lead the division with a 4-5 record. Atlanta (3-6) won last week and is back in the hunt. Carolina (3-6-1) has now lost four games in a row.
Carolina is a small favorite due to playing at home, but Atlanta is the better team. Atlanta scores 24.3 PPG (13th) and allows 26.4 PPG (24th) while Carolina scores 19.8 PPG (25th) and allows 28.1 PPG (29th).
Atlanta ranks 7th in passing yards (272.4 PYPG) and will be able to expose the weak Carolina secondary (254.4 PYPG – 23rd). Julio Jones and Roddy White need to show up to play in this road game.
Cam Newton had 3 INT's and 1 lost fumble against the Eagles last week. Newton can't do everything on his own and this Carolina team lacks enough talent. Atlanta is bad on the road, but they'll win.
Seattle Seahawks +7 vs. Kansas City Chiefs
The Seahawks (6-3) have allowed 30, 30 and 28 points in their three losses this season. Kansas City (6-3) averages 24.1 PPG (14th), 195.6 PYPG (30th) and 135.8 RYPG (5th) this season on offense.
There only hope is that Jamaal Charles can carve up some yards on the ground. However, Seattle is only allowing 21.2 PPG (10th), 79.8 RYPG (4th) and 227.2 PYPG (8th) defensively thus far.
Seattle won't be giving up much room on the ground and the Chiefs don't have the passing attack to threaten the Seahawks. This game is at Arrowhead, so it'll be very close, but +7 is a lot of points.
Marshawn Lynch should have another big game this week as well. The Chiefs allow 115.6 RYPG (20th) and Lynch will be handed the football often, as the Chiefs have the best pass defense.
My Bets:
Eagles +12 & Falcons +7.5 (Bet 1.1U to Win 1U)
Eagles +12, Falcons +7.5 & Seahawks +7 (Bet 1U to Win 1.6U)
This looks like a great week to tease underdogs up and get more points on the spread. There are a lot of low spreads and teasing them up is the best bet. I expect these three games to all be close.