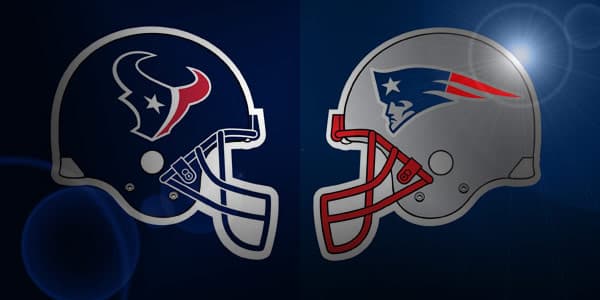 NFL Playoffs AFC Divisional Round, January 13th, 2013
Houston Texans at New England Patriots -9.5 OvUn 47.5 4:30 EST
The Houston Texans were poised to take the first round bye and perhaps have home field advantage throughout the playoffs, and then they lost three of their final four games.
However, Houston played great in their Wild Card matchup last week. Righting the ship after their recent losing streak, Houston dominated time of possession against Cincinnati winning 19-13.
The performance, especially of the Texans defense was more dominant than the scoreline indicates. Held to a mere 198 total yards, Cincinnati would have had even less of a chance if the Texans offense could have converted more in the red zone.
Dalton was inaccurate, and A.J. Green was blanketed by Jonathan Joseph. Adrian Foster controlled the game on the ground gaining 140 on 32 carries and a touchdown. However, things will not be so easy this week against New England.
Tom Brady and the Patriots offense have not slowed down this season and are loaded with weapons. Brady threw 34 touchdowns this season and led the AFC in passing yards with 4,827. New England has won 9 out of their last 10 games, with their only loss coming to San Francisco on December 16th.
This included a 41-14 rout of Houston on Monday Night Football on Dec. 10th, a game where Brady threw for 298 yards and four touchdowns. Schaub threw for just 232 yards, and an interception in that contest and Foster was held to just 44 yards on 12 carries.
The Texans are all systems go for Sunday and are mostly fully healthy. For the Pats, Brandon Lloyd is slightly banged up but close to 100 percent. Tight end Rob Gronkowski may be on a snap count Sunday, depending on the health of his forearm.
The Line
The number opened at New England -9.5, and those are still the odds at most betting shops. The total opened at 48 and is now at 47.5 across the board.
The Play
This spread is exceptionally high, but bettors seem to still be backing New England for the most part. Do the Patriots have the weapons to blow out the Texans? Of course, they do. However, we don't see it playing out that way.
Houston knows they need to score and will be more aggressive on offense. Foster will be given plenty of chances, and we think he will perform well even against a tough Pats rush defense, but the Texans will quickly air it out if they get behind in this one. They have seen Tom Brady hurt them too many times.
Houston should be able to score on the Patriots, despite their 5th ranked run defense the Patriots can be exploited through the air. This game hinges a lot on Matt Schaub, and though he has not played well in recent weeks, this is by far the biggest game of his career. We think Schaub has a solid game this Sunday, and much of our recommendation for Houston comes because we think he can at least keep pace with Tom Brady.
The Patriots do not always blow opponents out as the media would lead you on to believe. Yes, Belichick and Brady are perhaps the best coach and quarterback combo in history. But, the media hype is too much. This game could very well come down to the wire, and 9.5 points are just too much to lay.
We like Houston on the road. Texans +9.5

Who do you think will win this years Superbowl? Make your pick now at www.topbet.eu