The Houston Texans have somehow managed to right their shape and are eyeing their fifth win of the campaign against Miami Dolphins at NRG Stadium.
Houston had a horrendous start to the campaign, losing their opening three matches. However, the club have rallied, reeling off four wins on the spin to haul themselves to the top of the AFC South.
The performances have not been pretty, but Bill O'Brien's men have been effective enough to get back to form. Houston missed the playoffs last season due to Deshaun Watson's torn ACL. Watson has had issues since his return with lingering injury problems.
Houston's defense has come to life with JJ Watt leading the charge. He looks back to his best and it could be enough to galvanise the rest of the unit for a surge towards the playoffs.
Miami have come back down to earth after their bright start to the term. After winning their opening three games of the season, the Dolphins have lost three out of their four matches. Their overtime triumph over the Chicago Bears could have given them life, only to suffer a defeat at the hands of the Detroit Lions on home soil.
Starting quarterback Ryan Tannehill will be sidelined once again, leaving the team in the hands of Brock Osweiler against his former team.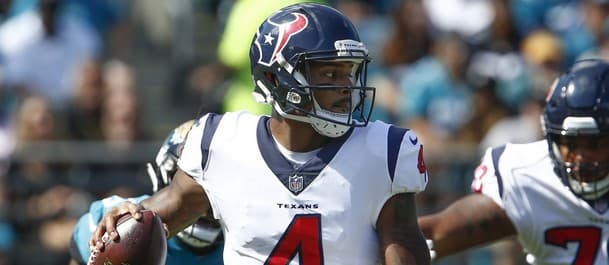 Houston Texans
O'Brien was under pressure after his side's start to the campaign where they dropped the opening three games of the campaign. Matches against the New England Patriots and the Tennessee Titans were difficult games, although the latter could have been swayed in their direction. The biggest warning sign was their loss at the hands of the New York Giants – the result has been the Giants' only win to date this term. Relief came in the form of an overtime win over the Indianapolis Colts where the Texans almost threw the game away.
The decision from Frank Reich to go for it on fourth down in his own half allowed Ka'imi Fairbairn to kick a game-winning field goal. He then added another match-winner against the Dallas Cowboys before the Texans endured a struggle against the Buffalo Bills. Only a pick-six of Nathan Peterman by Johnathan Joseph allowed them to creep over the line. Their clash against the Jaguars was more straightforward as Houston dominated on defense from start-to-finish, securing the vital division victory on the road.
It has not been pretty by the Texans and part of the reason has been the form of Watson. He has taken a beating behind his offensive line in the opening seven matches. The 23-year-old was already recovering from his torn ACL from last term, but chest issues even prevented him from flying to Jacksonville, forcing him into a 12-hour bus journey. Watson has toughed it out and is getting support from DeAndre Hopkins, which has been just enough to help the Texans get by on offense.
Fortunately for Houston their defense has started to find their form. Watt has led the way with seven sacks on the term, while Jadeveon Clowney is not far behind on 4.5. There is talent at all three levels of the unit, with Zach Cunningham and Bernardrick McKinney forming a solid combination in the middle of the defense. The secondary has been improving every week as Tyrann Mathieu is beginning to become more of a factor alongside Joseph, Kareem Jackson and Justin Reid.
Miami Dolphins
The Dolphins have come off the rails since their bright opening month of the campaign. Adam Gase's men had a huge opportunity to make a statement in the AFC East by beating the Patriots on the road, only to be crushed 38-7 at Gillette Stadium. Since then they've been at their best, although did have their moments in their overtime win over the Bears. On the downside, injuries have started to take their effect on the roster.
Tannehill has struggled with a shoulder problem and has missed the last two matches. His long-term future on the team could be in jeopardy should the 30-year-old continue to miss time. Miami cannot build around an injury-prone quarterback. Tannehill has been joined on the sidelines by Albert Wilson, who has been a key cog for the Dolphins this season.
Osweiler has been decent in his time on the field, but Gase will need some of his players to rise to the occasion more than others. DeVante Parker has been a bust since he was selected in the first round of the 2016 Draft. Parker's attitude has been in question, but his team need him more than ever in light of Wilson's injury. Kenny Stills, Jakeem Grant and Danny Amendola are good players, although they cannot be expected to carry the offense. Kenyan Drake also needs to come to the fore in the running game to ease the pressure on Osweiler to throw downfield.
The defense is also struggling outside of Xavien Howard and Reshad Jones. Miami's defensive line has not been able to apply pressure on opposing quarterbacks or hold up against the run. Jordan Phillips was released by the club after dissenting against the coaching staff. Robert Quinn and Cameron Wake have not been able to threaten, with the latter enduring an injury problem. William Hayes has already been ruled out for the season, putting pressure on the remaining pass-rushers to find a solution on the field.
Betting Options
The home team on a short week always has the advantage, and considering the problems the Dolphins are experiencing with injuries, Houston should be heavy favourites. O'Brien's men are just that – therefore there's no great value to take them for the win, but considering that it would be an upset for Miami to get the win take the Texans at odds of 1.29Bet €100 to win €12929/100Bet £100 to win £129-345Bet $100 to win $1290.29Bet HK$100 to win HK$129-3.45Bet Rp100 to win Rp1290.2900Bet RM100 to win RM129 with TopBet. Back the Dolphins to be plucky on the +5.5 spread at odds of 2.30Bet €100 to win €23013/10Bet £100 to win £230+130Bet $100 to win $2301.30Bet HK$100 to win HK$2301.30Bet Rp100 to win Rp230-0.7692Bet RM100 to win RM230 with 888Sport. Neither side are overly prolific therefore take the under on 44 total points to be scored at 1.91Bet €100 to win €19191/100Bet £100 to win £191-110Bet $100 to win $1910.91Bet HK$100 to win HK$191-1.10Bet Rp100 to win Rp1910.9100Bet RM100 to win RM191 with BetOnline.
Hopkins has been Watson's key man this term. He will likely draw Howard in a one-on-one battle therefore Will Fuller is the man to watch in the endzone for the Texans. Fuller has three touchdowns this term take him at odds of 2.15Bet €100 to win €21523/20Bet £100 to win £215+115Bet $100 to win $2151.15Bet HK$100 to win HK$2151.15Bet Rp100 to win Rp215-0.8696Bet RM100 to win RM215 with 888Sport to score anytime. On the other side Drake will have a lot of touches in the match, back him at 3.00Bet €100 to win €3002/1Bet £100 to win £300+200Bet $100 to win $3002.00Bet HK$100 to win HK$3002.00Bet Rp100 to win Rp300-0.5000Bet RM100 to win RM300 with 888Sport for a touchdown anytime.
Watson has not been prolific with his arm this term, throwing only 10 in his seven games. Back him for a three-strike performance at 2.15Bet €100 to win €21523/20Bet £100 to win £215+115Bet $100 to win $2151.15Bet HK$100 to win HK$2151.15Bet Rp100 to win Rp215-0.8696Bet RM100 to win RM215 , while Osweiler could be good for two at odds of 2.00Bet €100 to win €2001/1Bet £100 to win £200+100Bet $100 to win $2001.00Bet HK$100 to win HK$2001.00Bet Rp100 to win Rp2001.0000Bet RM100 to win RM200 with 888Sport. Hopkins' importance to the Texans should not be understated, their offense flows through him. Back the 28-year-old to record over 103 receiving yards at 1.85Bet €100 to win €18517/20Bet £100 to win £185-118Bet $100 to win $1850.85Bet HK$100 to win HK$185-1.18Bet Rp100 to win Rp1850.8500Bet RM100 to win RM185 and on the other side, take Amendola to record over 56 receiving yards at 1.85Bet €100 to win €18517/20Bet £100 to win £185-118Bet $100 to win $1850.85Bet HK$100 to win HK$185-1.18Bet Rp100 to win Rp1850.8500Bet RM100 to win RM185 with 888Sport.
Tips Summary
Houston Texans To Beat Miami Dolphins
Thursday 25th October 2018 20:20 ET (Friday 26th October 2018 01:20 BST)
Odds: 1.29Bet €100 to win €12929/100Bet £100 to win £129-345Bet $100 to win $1290.29Bet HK$100 to win HK$129-3.45Bet Rp100 to win Rp1290.2900Bet RM100 to win RM129
Miami Dolphins +5.5 Spread
Thursday 25th October 2018 20:20 ET (Friday 26th October 2018 01:20 BST)
Odds: 2.30Bet €100 to win €23013/10Bet £100 to win £230+130Bet $100 to win $2301.30Bet HK$100 to win HK$2301.30Bet Rp100 to win Rp230-0.7692Bet RM100 to win RM230
Under 44 Total Points To Be Scored
Thursday 25th October 2018 20:20 ET (Friday 26th October 2018 01:20 BST)
Odds: 1.91Bet €100 to win €19191/100Bet £100 to win £191-110Bet $100 to win $1910.91Bet HK$100 to win HK$191-1.10Bet Rp100 to win Rp1910.9100Bet RM100 to win RM191
Will Fuller To Score Touchdown Anytime
Thursday 25th October 2018 20:20 ET (Friday 26th October 2018 01:20 BST)
Odds: 2.15Bet €100 to win €21523/20Bet £100 to win £215+115Bet $100 to win $2151.15Bet HK$100 to win HK$2151.15Bet Rp100 to win Rp215-0.8696Bet RM100 to win RM215
Kenyan Drake To Score Touchdown Anytime
Thursday 25th October 2018 20:20 ET (Friday 26th October 2018 01:20 BST)
Odds: 3.00Bet €100 to win €3002/1Bet £100 to win £300+200Bet $100 to win $3002.00Bet HK$100 to win HK$3002.00Bet Rp100 to win Rp300-0.5000Bet RM100 to win RM300
Deshaun Watson To Throw Over 2.5 Touchdowns
Thursday 25th October 2018 20:20 ET (Friday 26th October 2018 01:20 BST)
Odds: 2.15Bet €100 to win €21523/20Bet £100 to win £215+115Bet $100 to win $2151.15Bet HK$100 to win HK$2151.15Bet Rp100 to win Rp215-0.8696Bet RM100 to win RM215
Brock Osweiler To Throw Over 1.5 Touchdowns
Thursday 25th October 2018 20:20 ET (Friday 26th October 2018 01:20 BST)
Odds: 2.00Bet €100 to win €2001/1Bet £100 to win £200+100Bet $100 to win $2001.00Bet HK$100 to win HK$2001.00Bet Rp100 to win Rp2001.0000Bet RM100 to win RM200
DeAndre Hopkins To Record Over 103 Receiving Yards
Thursday 25th October 2018 20:20 ET (Friday 26th October 2018 01:20 BST)
Odds: 1.85Bet €100 to win €18517/20Bet £100 to win £185-118Bet $100 to win $1850.85Bet HK$100 to win HK$185-1.18Bet Rp100 to win Rp1850.8500Bet RM100 to win RM185
Danny Amendola To Record Over 56 Receiving Yards
Thursday 25th October 2018 20:20 ET (Friday 26th October 2018 01:20 BST)
Odds: 1.85Bet €100 to win €18517/20Bet £100 to win £185-118Bet $100 to win $1850.85Bet HK$100 to win HK$185-1.18Bet Rp100 to win Rp1850.8500Bet RM100 to win RM185
Brock Osweiler
Deshaun Watson
Houston Texans
Miami Dolphins
NFL