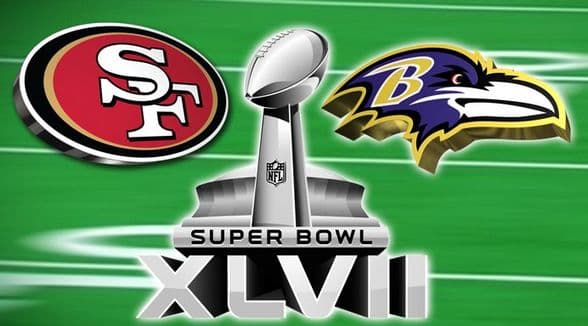 NFL Super Bowl XLVII Betting Preview
Baltimore Ravens at San Francisco 49ers -3.5 OvUn 47.5 Kickoff: Sunday February 3rd, 2013 6:30 EST
The big game is finally upon us. After a grueling NFL season and playoffs only two teams remain. Let's look at how each team got here.
Baltimore Ravens
The Ravens finished the season with a 10-6 record and came into the playoffs on a bit of a downward spiral. They barely hung on to win the AFC North and lost four out of their last five games. Despite their slump coming into the postseason, the Ravens began to play their best in January.
They dominated the Indianapolis Colts on wild card weekend, winning 24-9. Next week, they headed to Mile High to take on the Denver Broncos in perhaps one of the best playoff games in NFL history. Baltimore won the game, 38-35, in thrilling fashion, rallying late to force overtime and kicking a field goal to win it after picking off Peyton Manning.
Last week, the Ravens headed into Foxboro to face New England in the AFC Championship game. After a slow start, Baltimore dominated the game late on and held New England to just 13 points in a dominant 28-13 victory.
San Francisco 49ers
San Francisco finished with an 11-4-1 record and won the NFC West Title to secure a first round bye. Nine weeks ago, quarterback Alex Smith was out with a concussion and back up Colin Kaepernick made a start in his place. He was sensational in a Monday Night game against the Chicago Bears and coach Jim Harbaugh benched Smith a week later and started Kaepernick.
That decision has paid off immensely. Kaepernick is the hottest QB in the NFL right now and has played great in place of Alex Smith. Kaepernick is 7-2 as a starter and has thrown 13 touchdowns to go with just 4 interceptions. He has also rushed for 413 yards and five touchdowns.
The 49ers faced the Green Bay Packers in San Francisco in the Divisional Round. Again, riding Kaepernick's arms and legs the Niners pulled out a win in a score fest, winning 45-31. Kaepernick set an NFL rushing record in the game with 181 yards rushing, the most by any quarterback in the postseason.
In the NFC Championship game, San Francisco headed to Georgia to face the Atlanta Falcons. Trailing 17-0 at one point, the 49ers rallied back to win the game to win the game 28-24, holding Atlanta out of the end zone in the final minute of regulation.
The Line
As it stands now, the public loves the Ravens. San Francisco originally opened as a -5 favorite and has been moved to -3.5 across the board due to heavy action on Baltimore. The total has also come down from 49 points to 47.5.
Our Analysis
Finally, the big dance. If you are anything like us, we're already sick of hearing about this brother vs. brother coaching matchup.. Clearly, the Harbaugh brothers will not be the best of brothers to each other this week as the two will face off in the biggest game of their young NFL coaching careers. It is unbelievable how one interesting, but essentially meaningless coincidence can dominate headlines.
Now that we got that out of the way, we can focus on the game.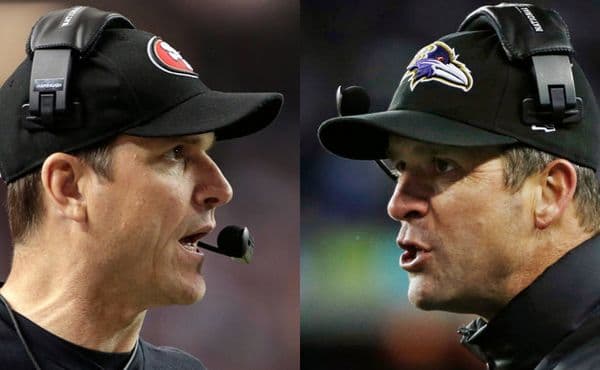 Time to stop talking about the coaches and start talking about this season's biggest game!
Offense
Both teams are not big play offenses and will grind it out as their preferred gameplan. Flacco and company have been deadly with the deep ball during this postseason and have proven they can rally through the air to win games – something that they rarely did during the regular season. Offensively, they are still quite young and have players that can bounce back quickly week to week. Ray Rice has been stifled for much of the postseason, but is still a threat to make a huge play in the running game regardless of how great of a defense he is facing.
The Niners are even more ground focused, but certainly have the ability to air it out, as well. The read-option will be an enormous factor in this game as Gore and Kaepernick will need to have it working to make an impact. Everyone knows this is coming, but stopping it is a different story as few teams have been able to handle the Niners running game and the trouble the pistol formation brings. Crabtree has been on fire as of late, and we doubt any Ravens cornerback can cover the speedster at wide out. The 49ers offense has been one of the most explosive offenses, especially late in the season.
Defense
Stats wise the Ravens have not had the most impressive season defensively, but have turned it on during the playoffs. Baltimore boasts one of the league's oldest defense units, but they have bounced back week to week in the playoffs exceptionally well. Their 25 takeaways are one of the highest numbers in the league. They forced Peyton Manning and Tom Brady to turn the ball over multiple times in their Divisional and Championship rounds.
The 49ers seem to have a top defense every year, and this year is no different. They are one of the best against the run and are ranked third overall in total defense. With a strong linebacking core led by Patrick Willis, the Niners defense is a force to be reckoned with. Aldon Smith was second in sacks in the league with 19.5 and will be a constant threat to Flacco. Their secondary is one of the best in the league and surrenders just over 200 yards per game to opposing signal callers.
Special Teams
Special teams are normally an afterthought for most analysts, but could be the difference that decides who wins this game. The Ravens' Jacoby Jones will return kicks for Baltimore and has three touchdown returns this season. Justin Tucker is a clear advantage at kicker, hitting 30 of his 33 kicks this season.
San Francisco will throw Ted Ginn Jr. out there for kicks and punt returns and though he has not hit a home run this season, he is as big of a threat as anyone in the return game. The 49ers could use more consistency in their kicking game as the normally reliable David Akers has hit just 29 of his 42 field goals and has been quite inaccurate coming into the postseason.
Odds Prediction
The Ravens have had a hell of run making it to the Super Bowl and are certainly as deserving as any team of this year's Super Bowl crown. Ray Lewis' final season will be a memorable one regardless of the outcome. We've gone against the Ravens twice in our picks previously – let's hope the third time is a charm.
If we look at the Ravens offense during the postseason, they have faced some subpar defenses and no one has been able to pressure Joe Flacco constantly. The Ravens' offensive line has played well, but will meet by far their toughest test in a Niners' defense that does not do anyone any favors. If Flacco faces pressure – and we think he will – this game will change dramatically. He does not evade the rush well and has had serious issues with turnovers in the past when linebackers are breaking through quickly. Denver did not get to Flacco as much as expected in the Divisional Round, but their all round play was terrible in that game. Baltimore will need to score to win and Flacco will be tested like he has not been tested this postseason.
They will need to score because in our mind Kaepernick and Gore are near locks for massive games. The Falcons spied Kaepernick all game and took away much of his running ability, but it still was not effective against stopping San Francisco. This team is so talented that their third ranked defense might not even be their best asset. With weapons all over the field, the aging Ravens defense will need to be at top strength to handle the San Francisco. We think Baltimore might be a little gassed out to handle Kaepernick, Gore, Crabtree and others. Also, though they've been stout against the run for much of the postseason, Baltimore gave up over 150 yards rushing to the below average Indianapolis Colts in the Wild Card round. San Francisco should have a field day if that is any indication.
Our Super Bowl XVLII pick is the San Francisco 49ers -3.5.
Bet on the Superbowl now at www.topbet.eu the number 1 NFL betting site.