NFL Playoff NFC Divisional Playoffs, January 13th, 2013
Seattle Seahawks at Atlanta Falcons -2.5 OvUn 46 1:00 EST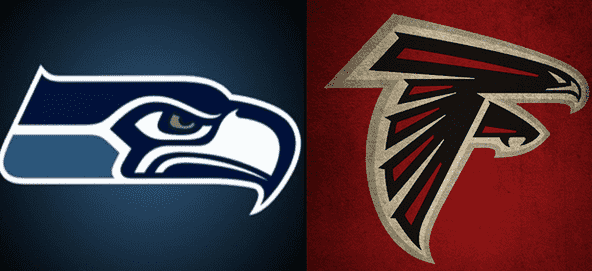 The matchup between the Seahwaks and Falcons has the closest line of any of this weeks four playoff games
The Seattle Seahawks head into the Divisional Round perhaps playing better than at any other time in the NFL. Ripping off six straight victories – many against talented teams like the San Francisco 49ers – Seattle erased a 14-0 deficit last week, to beat the higher seeded Washington Redskins 24-14.
Once known as a poor road team, Seattle has rallied off three straight road wins to close out the season and start the playoffs.
The offense in the win was led again by two familiar faces, quarterback Russell Wilson and Marshawn Lynch. Wilson, who is in talks for the Rookie of the Year, was his usual effective self, throwing for 187 yards and a touchdown, while rushing for 67 yards, as well. The young signal caller has thrown just two picks to go with 17 touchdowns in his final nine games. His 116.9 passer rating since November is also the league's best.
Lynch tied a franchise playoff record with 132 carries against Washington and has averaged 6.9 yards per carry and topped 100 yards in each of his last five games. His success could cause problems for Atlanta's run defense, which is ranked near the bottom of the league and consistently has had trouble tackling opposing rushers.
Seattle has the league's top defense in points allowed, at 15.7 but will be without their top pass rusher, defensive lineman Chris Clemons. He suffered a torn ACL in the win against Washington. Rookie Bruce Irvin will replace him in the starting lineup.
The Seahawks were also dealt a blow in the kicking game. Steven Hauschka injured his calf last week and has been put on injured reserve, ending his season. Seattle has signed veteran Ryan Longwell to kick against the Falcons this week.
Atlanta looks for this postseason to prove they are more than just a regular season team. Despite their top seeding, many wonder if they can win in the playoffs. Mike Smith's tenure as head coach has been a success, but the Falcons have lost five straight playoff games.
Matt Ryan and the Falcons offense have had their best season in a number of years. Ryan was tied for the league lead in completion percentage at 68.6 and recorded career highs in yards, 4,719 and touchdowns, 32. With a trio of aerial threats, Roddy White, Julio Jones and Tony Gonzalez, Atlanta is one of the most explosive offenses in the league.
Atlanta's defense has also been impressive. They are tied for 5th in the league in takeaways and are a top five defense against the pass.
Atlanta is mostly healthy, with Dunta Robinson coming back quickly from a concussion two weeks ago. Roddy White has practiced in full and is close to 100 percent despite a nagging knee injury.
The Line
The line opened at Atlanta -2.5 and has not moved off this number at most online sportsbooks. The oddsmakers have shown respect to Seattle based on the low number, but it is deserved because of their play as of late. The total has also not moved from its opening number and stands at 46.
The Play
Seattle has not looked like the team that scored 90 points in two weeks, but they have still been effective in their recent performances and their road worries are long gone. The field during last week's game at Fedex was terrible and despite that, Lynch rumbled for 132 yards. We have to remember this game is being played in a dome, and Seattle put up 50 points in a dome less than a few weeks ago.
Although, Atlanta's offense is one of the better ones in the league, they lack any type of run game. No one seems to be able to run on the Seahawks regardless. Seattle's cornerback tandem are also the best in the league and can match up with Julio Jones and Roddy White perhaps better than any other team in the league.
Seattle's rush offense is a nightmare matchup for Atlanta that ranked 24th against the run in the regular season. It also keeps Matt Ryan off the field as we expect Seattle to have no problem gaining yards on the ground. Yes, Atlanta's secondary is one of the better in the league, but that isn't Seattle's bread and butter. Lynch and Wilson perform best in this power running offense, and that is the Achilles heel of this Falcons defense.
Seattle has peaked at the right time and is so familiar to many Wild Card Super Bowl winners over the past few years. We realize the bookies are giving them credit with this low number, but we think they have even better than most suggest. This team is a force to be reckoned with.
We like Seattle, on the road, plus the points. Seahawks +2.5
To bet on these games or any other US sport, check out the top 2 US sports betting sites – www.gtbets.eu and www.topbet.eu