NFL Playoffs NFC Championship, January 20, 2013 San Francisco 49ers at Atlanta Falcons +4 OvUn 51.5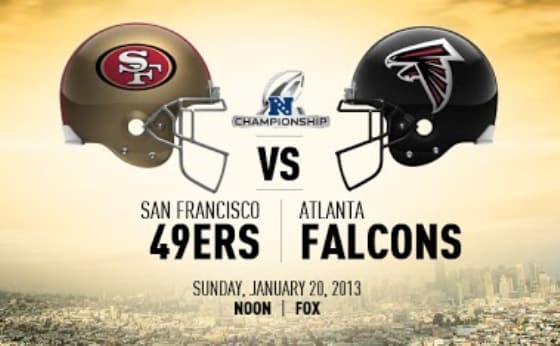 For the second straight year, the San Francisco 49ers are back in the NFC championship game.
This year, they have a different look on offense. Instead of Alex Smith under center as he was last year, Colin Kaepernick has taken over the starter after an injury to Alex Smith six weeks ago.
Kaepernick has been excellent since taking over as the starter, going 6-2 and boasting a 98.7 passer rating. He also broke a rushing record for a quarterback in the postseason running for 181 yards and two touchdowns in the victory. He also threw for 263 yards and two passing touchdowns. The 49ers pulled away from the Green Bay Packers last week in the divisional playoffs, winning 45-31.
The Niners have relied on a strong running game and top ranked defense to power them to victories, but Michael Crabtree has emerged an aerial threat for San Francisco. He caught two touchdowns and had 119 yards against the Packers and continues to impress with his ability to break tackles after catching the ball.
If history is any indicator, the Falcons may have a hard time containing Kaepernick and the 49ers offense. When facing mobile quarterbacks similar to Kaepernick they have struggled. Cam Newton gashed them in two games this season, throwing for 502 yards and rushing for 202 in two games. Russell Wilson threw for 385 yards and ran for 60 yards in last week's lost to Atlanta.
Atlanta heads into the NFC championship game after winning their first playoff game under Mike Smith and quarterback Matt Ryan.
In the divisional playoffs last week, the Falcons dominated much of the game against the Seahawks but blew a 20-0 lead late in the game. The Seahawks rallied late, scoring with 30 seconds left on the clock to go up 28-27. However, they left enough time for Atlanta to get down the field and kick a game winning field goal to win the game 30-28.
Atlanta's normally suspect run game was a large reason for their win against the Seahawks. Jacquizz Rodgers and Michael Turner ran for a combined 167 yards, Atlanta's highest rushing total of the season.
Another solid day running the football would open up the field for Matt Ryan and receiving threats Julio Jones and Roddy White. However, they will be a tall order facing a 49ers rushing defense that ranked fourth in the NFL last season, giving up just over 94 yards per game.
Line man John Abraham injured his ankle in the win against Seattle and has been limited in practice this week. He may take on more of a situational pass rushing role as Cliff Matthews will receive more snaps on the defensive line.
The Line
The game opened with Atlanta as +3 underdogs at home. Even with this generous line, the books have taken heavy action on San Francisco and the line has moved to +4 at most online sportsbooks. The total opened at 47.5 and has moved to 48.5 across the board.
The Play
Both of these teams are talented and ultimately this one comes down to matchups. The 49ers offense is a nightmare for the Falcons. Atlanta boasts an impressive cover secondary but an undersized front seven, against perhaps the best rushing offense in the league.
Kaepernick and Gore should have a field day against the defensive front on the Falcons, which was 2nd in the league for yards allowed after first contact. Assante Samuel should limit Crabtree, but has also shown his inability to make critical tackles. If Gore and Kaepernick break off the big runs they are capable of this could be a terribly long day for the Falcons.
San Francisco's pistol offensive set blew up Green Bay's defensive game plan last week, and some bettors might say the Falcons will know it is coming and will be prepared to stop it. We do think they know what is coming, but we do not think they will be able to stop it.
Kaepernick has started a total of eight games now and has been in the league for two seasons. He is a not a rookie signal caller and clearly understands the game of football. If pressed into throwing downfield, he can still get the job done for the 49ers.
Atlanta has not been impressive in the 2nd half of the season and barely beat Seattle last week to advance.
We like San Francisco on the road, minus the points. 49ers -4