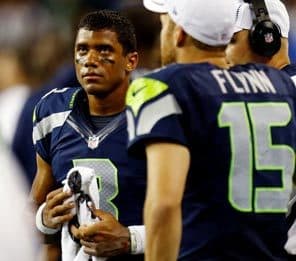 There is no doubt that if you watch a lot of TV that is devoted to pro football, you have been hearing that the Seattle Seahawks may just be the best team in all of pro football. This is reflected to some extent in the NFL betting futures at sites like BetOnline, where Seattle is currently +400 to win the Super Bowl, making them the second favorite (behind Denver). When you can routinely blow away opponents, the way they have made a habit of doing at home, you're going to get the kind of attention one of those highly-rated college teams get, which is no coincidence, since Pete Carroll came to his job from USC, where running up scores was not uncommon.
The Seahawks visit Houston this weekend to play the Texans, and they are listed as 2.5-point favorites in the pro football lines at BetOnline. You may be figuring the elusiveness and smarts of quarterback Russell Wilson into your handicapping. There is no doubt that the guy looks like an All-Pro when he's in friendly environs. But does that translate when he's traveling?
Not really.
If you look at the numbers from Wilson, they literally transform him into a rather ordinary quarterback when he is playing on the road.
Let's go through some examples of this. When playing at Century Link Field, Wilson's touchdown-to-interception ratio has been brilliant in his brief career. He's thrown 22 TD passes and had just four picked off. And his QB rating is 119.9. To give you some perspective on that, it would have been the highest passer rating for any quarterback in the league last year.
When he has played on the road, Wilson has a so-so ratio of ten TD's to eight interceptions.
At home his average yards per attempt is 9.1, compared with 7.4 on the road. This reflects much more in the way of efficiency, certainly, because in his nine career road starts he has thrown for a higher completion rate (65.3) than he does at home (62.7) and for more yards (214.9 per game, compared to 184.8). He has obviously thrown it a lot more, and a reason for that could be that the Seahawks established the running game more at home. For instance, Marshawn Lynch averaged about thirteen more yards per game at Century Link than he did away from it.
But that doesn't really explain all of it.
To give you some further perspective, the 87.2 would have put him in the middle of the pack of NFL quarterbacks. It wasn't awful company, to be perfectly honest, because with that number he was right there with Joe Flacco and Eli Manning, but they made more mistakes than he did.
One thing that is rather unusual is that Wilson has shown a greater propensity to being sacked when he is playing at home. And the difference is somewhat glaring. While he has suffered 17 sacks against 262 attempts as a visiting player (making it a frequency of about 5.9% for a sack to occur), he's been sacked 24 times at home, while attempting 204 passes. That means he has been sacked 10.5% of the time he's dropped back, a number that is very high.
So the conclusion one could come to is that if you're analyzing Seattle's games in NFL betting, and you want to spotlight whether Wilson's "weaknesses" are going to be exploited, it would be useful to look at the circumstances and also whether the opposing team had a strength (i.e., a very strong pass rush) that would take advantage of those weaknesses.
Is it true that Greg Schiano has tied his entire future to Mike Glennon? That may be a bit dramatic to say, but the fact is, the rookie quarterback who will make his first NFL start against Arizona on Sunday was the focal point of some controversy around the Tampa Bay camp, and Schiano would certainly be under a certain amount of pressure to demonstrate that the controversy was worth it.
He'd have to show that spending a third-round draft choice on a quarterback when a "QB of the future" was supposed to already be in place, then intimating that Glennon was going to be able to compete for the starting job against Freeman was not needlessly disruptive. By all accounts it rankled Freeman, who was also stripped of his position as a team captain, always a demoralizing thing for a quarterback. Reports are that Freeman was disgusted enough with Schiano that he has told friends and teammates that he wanted out of Tampa, the sooner the better.
You will get a ticket out of any NFL town when you complete just 45.7% of your passes, as Freeman has and you knew Schiano was going to pull the plug sooner or later. He picked the "sooner" option.
So Glennon, the 6'6″ guy out of North Carolina State, gets the start, and while some NFL bettors may figure this is just the manifestation of the message that may have been sent when the Bucs selected Glennon, it is still questionable as to how the teammates are going to respond. Sometimes these moves work and sometimes they don't. Glennon is unproven and can be erratic. There are bound to be some veterans who are unhappy about the overall instability. The rumor is that a lot of players are unhappy with Schiano for other reasons. In other words, he's in danger of losing control of the locker room. And that doesn't bode well going forward, because after all, there are only 16 games and a season can spiral out of control rather quickly. In the NFL odds that are posted at BetOnline, the Bucs are laying 2.5 points, and perhaps some pro football bettors will see some value with the underdog.
Are you one of them? Try your skill at betting with the pro football odds by opening up an account at BetOnline today!