Selecting a wide receiver in the first round of the NFL Draft has become an unsuccessful ploy for teams over the last three years.
The 2014 Draft was the last to produce top-level talent with Mike Evans and Odell Beckham Jr emerging from the selection process and starring for the Tampa Bay Buccaneers and New York Giants respectively.
However, since then there have been few standout players that have shone. As a result, teams could be shying away from selecting wideouts even though there is talent present in the 2018 Draft.
Alabama's Calvin Ridley shares traits with one of the few players to have produced from the 2015 Draft, Amari Cooper. Both played for the Crimson Tide and are physical players, he could be the one to watch in the selection process, although it's far from an exact science.
Calvin Ridley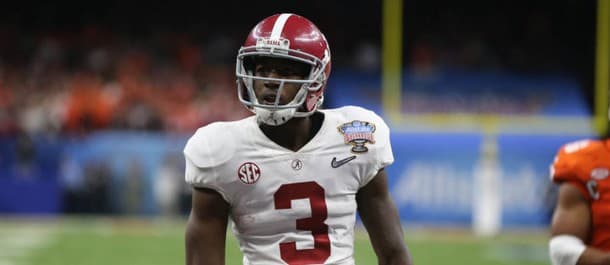 Ridley is the most polished receiver heading into the draft and has experience behind him. The 23-year-old built up three impressive seasons of production with the Crimson Tide, being an integral part of their BCS Championship wins in the 2015 and 2017 campaigns. As a true freshman he starred for the team surpassing the 1,000 yard mark, stepping into Cooper's shoes immediately. Ridley took a slight step back in his sophomore year, although he still notched seven touchdowns. In the 2017 season he was able to find his peak form, collating 967 receiving yards along with five touchdowns.
At 6ft 1in he has good size, while his route running has earned rave reviews from analysts. The 23-year-old does not have breakaway speed, but has the pace enough to keep defensive backs honest. He's worthy of a first-round pick, but should not crack the top-15. The Dallas Cowboys could in play with the 19th selection given the departure of Dez Bryant. However, his best spot could be in the mid-20s where the New England Patriots and Carolina Panthers both lurk. It's a position that provides value for a player that has all the tools to succeed. Back him to be the first wideout selected at odds of 1.50Bet €100 to win €1501/2Bet £100 to win £150-200Bet $100 to win $1500.50Bet HK$100 to win HK$150-2.00Bet Rp100 to win Rp1500.5000Bet RM100 to win RM150 with BetOnline.
DJ Moore
Moore had a steady development during his college career at Maryland. He made a minimal impact in his freshman season, catching only 25 passes for 347 yards. However, Moore gradually improved during his time with the Terrapins, using his speed to his advantage. In his senior season he broke through the 1,000-yard barrier, catching eight touchdowns in the process. Maryland had issues at the quarterback position throughout his time in the college game. Therefore his level of production was made all the more impressive.
Moore displayed reliability for his team with his solid route-running. His ability to get open quickly eased the pressure on his quarterback. Moore put forward a 4.43 second time in his 40-yard dash, which will keep defensive backs on their toes. It's enough to push out of him out of a solely slot receiver role, with comparisons made to San Francisco 49ers' Pierre Garcon. He could challenge Ridley to be the first wideout taken if the Panthers prefer him at 24, with the need for a speedster key to their offense. Back him at 3.00Bet €100 to win €3002/1Bet £100 to win £300+200Bet $100 to win $3002.00Bet HK$100 to win HK$3002.00Bet Rp100 to win Rp300-0.5000Bet RM100 to win RM300 with BetOnline to be the first receiver taken.
Courtland Sutton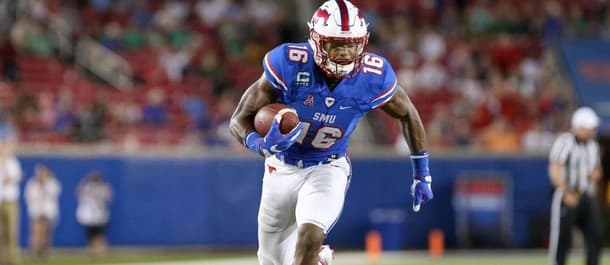 Sutton offers the deep threat that teams are desperate to have, boasting size and speed. When he arrived at Southern Methodist University, Sutton was a defensive back. However, after just one season, he was converted to a wideout and made an impact immediately in the 2015 campaign, recording 862 yards and eight touchdowns. His best season in the college game came in 2016 when he surpassed the 1,200-yard mark and notched 12 touchdowns.
His presence in the endzone was a common theme throughout his time at SMU. Sutton had 31 strikes to his name by the time he left the college ranks, which will appeal to a lot of the NFL outfits. Once again the Cowboys and the Panthers will be ones to watch. Bryant has a similar size and speed to Sutton, and may look to the wideout to replace the Dallas legend. At odds of 7.00Bet €100 to win €7006/1Bet £100 to win £700+600Bet $100 to win $7006.00Bet HK$100 to win HK$7006.00Bet Rp100 to win Rp700-0.1667Bet RM100 to win RM700 he could provide value at BetOnline as his height and physical presence is unmatched in the receiver class.
James Washington
Based on production alone Washington could be the best receiver in the class. Compared to his colleagues he produced three-straight years of production over 1,000 yards. Washington is a big play wideout with his ability to break down the field, capitalising on zone coverage in the Big 12. The level of competition could be the factor that pushes him down the selection process, with the division lacking quality cornerbacks that challenged him.
The NFL will be unforgiving and recent receivers that have been selected high that do not have polished route-running skills have struggled. Speed and his catching ability could bail him out if he is paired with a quality quarterback. Therefore a team like the Pittsburgh Steelers may come to the fore as a potential replacement for Martavis Bryant. However, he appears too many question marks to be taken in the first round.
Christian Kirk
Kirk delivered from day one at Texas A&M, reeling off a 1,000-yard season in his freshman year. The 21-year-old's dependability makes him a very intriguing player in the Draft that could surprise people by being selected earlier than predicted. He developed precise route-running skills during his three-year college career and has the quickness to beat press coverage that he will see a lot of during his time in the NFL. Kirk has an extra string to his bow, playing as a punt and kick returned, providing value on special teams.
His production and skill could see one of the sides late in the first round take the plunge. The Patriots are the team that stands out, having traded away Brandin Cooks and losing Danny Amendola to free agency. Julian Edelman returns off a torn ACL, but will be 32 at the start of the next term. Kirk could be his long-term replacement therefore it's not out of the question that he could go 31st or even higher at 23.
Tips Summary
Calvin Ridley To Be First Wide Receiver Selected 2018 Draft
Thursday 26th April 2018 20:00 ET (Friday 27th April 01:00 BST)
Odds: 1.50Bet €100 to win €1501/2Bet £100 to win £150-200Bet $100 to win $1500.50Bet HK$100 to win HK$150-2.00Bet Rp100 to win Rp1500.5000Bet RM100 to win RM150
DJ Moore To Be First Wide Receiver Selected 2018 Draft
Thursday 26th April 2018 20:00 ET (Friday 27th April 01:00 BST)
Odds: 3.00Bet €100 to win €3002/1Bet £100 to win £300+200Bet $100 to win $3002.00Bet HK$100 to win HK$3002.00Bet Rp100 to win Rp300-0.5000Bet RM100 to win RM300
Courtland Sutton To Be First Wide Receiver Selected 2018 Draft
Thursday 26th April 2018 20:00 ET (Friday 27th April 01:00 BST)
Odds: 7.00Bet €100 to win €7006/1Bet £100 to win £700+600Bet $100 to win $7006.00Bet HK$100 to win HK$7006.00Bet Rp100 to win Rp700-0.1667Bet RM100 to win RM700
Calvin Ridley
Christian Kirk
Courtland Sutton
DJ Moore
James Washington