The Washington Redskins have been a middling team in the NFL under the tenure of Jay Gruden, although their terms are trending in a negative direction.
Gruden inherited a disillusioned roster in the 2014 campaign, with the club limping to a 4-12 season in his first year. However, after installing Kirk Cousins as the Redskins' quarterback, they made a significant improvement in 2015 to win the NFC East with a nine-win term.
Washington were beaten in the first round of the post-season by the Green Bay Packers and have not returned in the two years since. The Redskins have suffered gradual declines in their win column, winning eight in 2016 and seven last term.
The Redskins' front office had a strange relationship with Cousins due to their disagreement over his contract value. After two seasons of playing under the franchise tag, he was allowed to hit free agency as the club traded to acquire Alex Smith from the Kansas City Chiefs.
Kendall Fuller and Su'a Cravens left the club in trade deals, with the former being part of the Smith deal. Paul Richardson was added to the receiving corps, while Adrian Peterson was a late signing following an injury to Derrius Guice.
Given the competition in the NFC East, it will be a difficult challenge for the Redskins to make a return to the playoffs.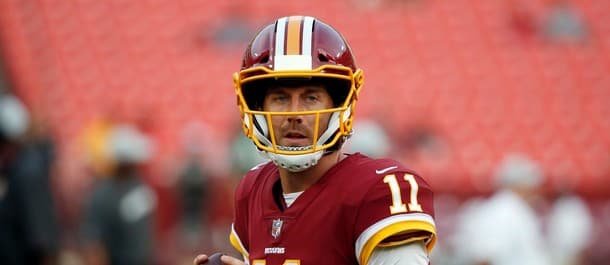 Offense
The Redskins made a major change at the quarterback position during the off-season. They made their intentions known before the start of the new league year that they were moving on from Cousins. The 29-year-old's play on the field was above average, but the relationship between him and the front office broke down. Smith comes into the team, with plenty of question marks about his quality.
Smith has been a steady operator in the NFL during his career, but he has lacked the ability to take his team further. It was the case with the San Francisco 49ers where he was edged out by Colin Kaepernick and again at Kansas City where Patrick Mahomes has replaced him. Smith will bring a short accurate passing game to the Redskins. However, he cannot carry the fortunes of the team on his shoulders.
Washington's running game took a hit during pre-season with the loss of Guice. He suffered a torn ACL, ruling him out of the campaign. The club used a second-round pick on the running back and it will be huge disappointment to see him out of action.
Peterson comes on to the roster on the downslope of his illustrious career. The 33-year-old should be a first-ballot Hall of Famer, but he was not effective on the New Orleans Saints and the Arizona Cardinals last term. Chris Thompson is a star on the rise on third down. He missed time due to injury last term, but with Smith he could be a dangerous player for Gruden's men.
The receiving corps could be a weakness. Jamison Crowder and Jordan Reed are proven options, while Vernon Davis is the steady veteran of the group. However, outside of them there are players that lack familiarity in the offense or have underachieved in the past, none more so than Josh Doctson. The wideout has failed to fire since being selected in the first round in 2016 and could be on his final chance.
Defense
Washington have cause to be slightly more optimistic about their defense. Jonathan Allen was sidelined for the majority of his rookie term. However, he came into the NFL with a stellar reputation and has the potential to be a force on the defensive line.
The Redskins have now paired him with his former team-mate at the Alabama Crimson Tide after drafting Da'Ron Payne in the first round of the 2018 Draft. Payne was a nightmare to contend with for offensive lineman during his college days, finding penetration with ease. The Redskins could have a dominant defensive line to combat the run should their former Alabama players rise to their potential.
Ryan Kerrigan returns as an elite pass-rusher in the linebacking corps. He has been outstanding in his seven years in the NFL. Kerrigan has played every game since being drafted in the first round in 2011. He had led the Redskins in sacks last season with 13, providing constant pressure on opposing quarterbacks off the edge.
Preston Smith on the opposite side of the line has become a solid performer, notching eight sacks in 2017. He forms a formidable tandem with Kerrigan, while Ryan Anderson will help keep a fresh rotation entering his second season.
Outside of Josh Norman, the secondary is young and unproven in the NFL. Bashaud Breeland was allowed to leave the Redskins, although he remains unsigned due to an injury. Fabian Moreau and Adonis Alexander are names worth monitoring in the slots alongside Norman at cornerback.
Norman is an elite player, although he has issues with some receivers. Washington need him to have a Pro Bowl season as the options around him are inexperienced to say the least. It could well be a tough ride for the Redskins in the deep half of the field.
Betting Options
The Redskins are trending in the wrong direction under Jay Gruden. Don't expect them to bottom out, but the NFC East contains the reigning Super Bowl champions therefore don't expect them to challenge for the division crown. There's not enough strength on their roster to challenge for a Wildcard Round place given the strength of the NFC Conference.
Take Washington to miss the posts-season at odds of 1.14Bet €100 to win €1147/50Bet £100 to win £114-714Bet $100 to win $1140.14Bet HK$100 to win HK$114-7.14Bet Rp100 to win Rp1140.1400Bet RM100 to win RM114 and to win under 6.5 matches at 2.10Bet €100 to win €21011/10Bet £100 to win £210+110Bet $100 to win $2101.10Bet HK$100 to win HK$2101.10Bet Rp100 to win Rp210-0.9091Bet RM100 to win RM210 with 888Sport. Consider the value for them to win the NFC East, but only because of the 10.00Bet €100 to win €10009/1Bet £100 to win £1000+900Bet $100 to win $10009.00Bet HK$100 to win HK$10009.00Bet Rp100 to win Rp1000-0.1111Bet RM100 to win RM1000 price with TopBet, but the safe bet is for them to finish 4th in the division at odds of 2.00Bet €100 to win €2001/1Bet £100 to win £200+100Bet $100 to win $2001.00Bet HK$100 to win HK$2001.00Bet Rp100 to win Rp2001.0000Bet RM100 to win RM200 with BetOnline.
Payne could be one to watch in his rookie season in the middle of the line. He was excellent for Alabama in his last competitive game, starring in the CFB National Championship Game. Back him at odds of 34.00Bet €100 to win €340033/1Bet £100 to win £3400+3300Bet $100 to win $340033.00Bet HK$100 to win HK$340033.00Bet Rp100 to win Rp3400-0.0303Bet RM100 to win RM3400 to win the defensive rookie of the year award at TopBet. Smith will not come into contention for the most passing yards, having passed for over 4,000 yards only one time in his career. Take the under on 4,149 yards at –135.00Bet €100 to win €13500134/1Bet £100 to win £13500+13400Bet $100 to win $13500134.00Bet HK$100 to win HK$13500134.00Bet Rp100 to win Rp13500-0.0075Bet RM100 to win RM13500 , under 24 touchdowns at 1.80Bet €100 to win €1804/5Bet £100 to win £180-125Bet $100 to win $1800.80Bet HK$100 to win HK$180-1.25Bet Rp100 to win Rp1800.8000Bet RM100 to win RM180 and under nine interceptions at odds of 1.87Bet €100 to win €18787/100Bet £100 to win £187-115Bet $100 to win $1870.87Bet HK$100 to win HK$187-1.15Bet Rp100 to win Rp1870.8700Bet RM100 to win RM187 at BetOnline.
Gruden could come into contention to be the first coach fired should his side struggle. Back him at odds of 17.00Bet €100 to win €170016/1Bet £100 to win £1700+1600Bet $100 to win $170016.00Bet HK$100 to win HK$170016.00Bet Rp100 to win Rp1700-0.0625Bet RM100 to win RM1700 with BetOnline.
Tips Summary
Washington Redskins To Miss Playoffs
Odds: 1.14Bet €100 to win €1147/50Bet £100 to win £114-714Bet $100 to win $1140.14Bet HK$100 to win HK$114-7.14Bet Rp100 to win Rp1140.1400Bet RM100 to win RM114
Washington Redskins To Win Under 6.5 Matches
Odds: 2.10Bet €100 to win €21011/10Bet £100 to win £210+110Bet $100 to win $2101.10Bet HK$100 to win HK$2101.10Bet Rp100 to win Rp210-0.9091Bet RM100 to win RM210
Washington Redskins To Finish 4th NFC East
Odds: 2.00Bet €100 to win €2001/1Bet £100 to win £200+100Bet $100 to win $2001.00Bet HK$100 to win HK$2001.00Bet Rp100 to win Rp2001.0000Bet RM100 to win RM200
Da'Ron Payne To Win Defensive Rookie Of The Year Award
Odds: 34.00Bet €100 to win €340033/1Bet £100 to win £3400+3300Bet $100 to win $340033.00Bet HK$100 to win HK$340033.00Bet Rp100 to win Rp3400-0.0303Bet RM100 to win RM3400
Alex Smith To Pass Under 4,149 Passing Yards
Odds: 1.74Bet €100 to win €17437/50Bet £100 to win £174-135Bet $100 to win $1740.74Bet HK$100 to win HK$174-1.35Bet Rp100 to win Rp1740.7400Bet RM100 to win RM174
Alex Smith To Throw Under 24 Touchdowns
Odds: 1.80Bet €100 to win €1804/5Bet £100 to win £180-125Bet $100 to win $1800.80Bet HK$100 to win HK$180-1.25Bet Rp100 to win Rp1800.8000Bet RM100 to win RM180
Alex Smith To Throw Under Nine Interceptions
Odds: 1.87Bet €100 to win €18787/100Bet £100 to win £187-115Bet $100 to win $1870.87Bet HK$100 to win HK$187-1.15Bet Rp100 to win Rp1870.8700Bet RM100 to win RM187
Jay Gruden To Be First NFL Head Coach Fired
Odds: 17.00Bet €100 to win €170016/1Bet £100 to win £1700+1600Bet $100 to win $170016.00Bet HK$100 to win HK$170016.00Bet Rp100 to win Rp1700-0.0625Bet RM100 to win RM1700
Alex Smith
Jay Gruden
NFL
Redskins
Washington Redskins