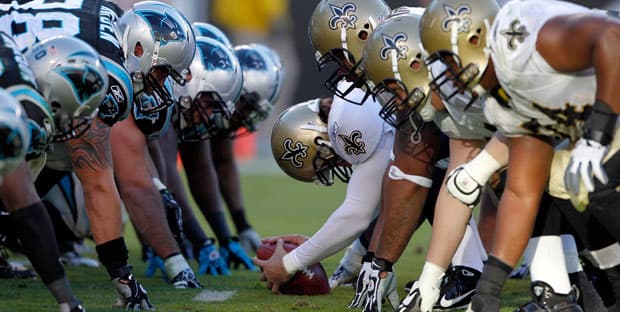 Carolina Panthers at New Orleans Saints -3 Total: 46
Sunday, December 8th, 2013 TV: NBC 8:30 EDT
This NFC South showdown is no doubt the NFL's game of the week as Cam Newton and Drew Brees face off under the bright lights. Both teams have identical records of 9-3 and have yet to meet this season. Two weeks from now they will meet again at Carolina, so this game is massive in determining the NFC South.
Few teams have played more dominant football than the Panthers this season. Cam Newton has been one of the best quarterbacks in this league this year, but Carolina's defense has kept them in just about every game. The unit was again dominant last week in a 27-6 defeat of the Tampa Bay Buccaneers.
Offensively, Carolina is a run-first unit and will get DeAngelo Williams back this week from injury after he sat out last week. Newton has been doing the job with his legs just fine as well and judging by Russell Wilson's game last week against the Saints – he could be for a big day, as well.
As I mentioned above there are few holes in the Panthers defense. They are number one in the league in scoring defense with just over 13 points per game and 2nd in yardage allowed. They are even a top ten unit against the pass, a key matchup against Brees and the Saints.
Drew Brees rarely has back-to-back lousy games, making this a perfect game for a bounce-back performance despite facing Carolina. Last week, New Orleans was thoroughly dominated last Monday Night at Seattle, 34-7.
Brees had his worst performance of the season, throwing for a season-low 147 yards and a lone touchdown. Pro-Bowl tight end Jimmy Graham caught the lone touchdown in the first half and did little else, along with the rest of the Saints offense. Despite the loss, New Orleans remains one of the best offense teams in the league, especially at the Superdome where they are undefeated this season.
Kudos to the Saints for improving their defense this year, but the unit looks like it returned to its poor form in last week's loss to Seattle. While their pass defense has been much better, their rush defense remains a critical issue. They are ceding more than 4.5 yards per carry to opposing rushers.
The Line
This line moved from Saints -3 to 3.5 at a few books during the week but now nearly every sportsbook online is offering Saints -3. The total also still stands on the opening number of 46.
The Play
No matter whom you are betting on, this one should be a heck of a game to watch. New Orleans looked pathetic last week but will now come home to their home fans and most importantly the dome. A true high-flying attack at home, the Saints will turn this game into a shootout whether Carolina likes it or not.
Though, the Panthers should be able to match them, their less talked about matchup against this defense is an excellent one. Newton is a better rusher than Wilson, and he had a field day last week.
Still, the Saints at home are just too tough, especially coming off a loss. I have the ultimate respect for Sean Payton as a coach and he always seems to come up big when it truly matters. If Carolina wins one of these games, I think it will likely be two weeks from now. New Orleans giving a field goal at home is too appetizing to pass up.
Pick: Saints -3 at www.bovada.lv the leading NFL sportsbook