The Carolina Panthers are in boom-or-bust territory for the 2018 season as the club aim to bounce back from their playoff defeat to the New Orleans Saints.
The Panthers have endured an off-season of change, beginning with the departure of owner Jerry Richardson. David Tepper took control of the team for $2.2 billion and will be aiming to secure the first Super Bowl crown in the franchise's history.
Carolina also have two new coordinators operating under head coach Ron Rivera. Norv Turner will man the offense, while Eric Washington has taken over the defensive coordinator position. They replace Mike Shula and Steve Wilks respectively, with the latter leaving to become the head coach of the Arizona Cardinals.
The roster has been improved from last term, especially on offense. Carolina failed to surround Cam Newton with enough talent in the last campaign, but significant moves have been made, including the selection of DJ Moore in the first round of the 2018 Draft.
The defense remains loaded with quality and they should be one of the leading units in the NFL. Thomas Davis is the leader of the team and upped his contract for one final crack at the Super Bowl. If everything falls right for the Panthers they have more than a chance to reach the showdown in Atlanta.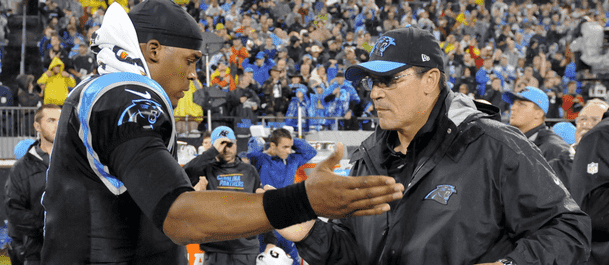 Offense
Newton has struggled to find his form since his MVP season in 2015. The 29-year-old was magnificent three years ago, producing brilliant performances throwing and running the football. He threw 35 touchdowns to just 10 interceptions, along with a further 10 strikes on the ground. Newton was tormented by the Denver Broncos defense in Super Bowl 50 and has not been the same since. In 2016 he endured a slump, while the quarterback was limited by his passing options last term.
Newton still managed to guide his team into the playoffs before duelling it out with Drew Brees in the Wildcard Round. He almost drove the Panthers to victory, only to be thwarted by the Saints' defense. Newton has more talent around him this term and should have the burden of the entire offense lifted from his shoulders.
CJ Anderson was underrated during his time at the Broncos. He was part of the team that defeated the Panthers in Super Bowl 50. The 28-year-old will provide an upgrade over Jonathan Stewart in the running game, boasting the ability to run through the tackles and catch out of the backfield. Anderson still has the pace and durability to trouble defenses through the term. CJ McCaffrey will be looking for a breakout season following his steady performances in his rookie campaign. After being selected eighth-overall in the 2017 Draft, the 22-year-old has to become an all-purpose back.
The additions of Moore along with Torrey Smith will bolster the receiving corps. Both have the talent to stretch the field and provide Newton with quality to improve the offenses' efficiency alongside Devin Funchess and Greg Olsen. One cause for concern are injuries on the offensive line that could threaten the protection of Newton in the pocket. Daryl Richardson and Matt Kalil are both facing spells on the sidelines, which could be a huge blow for the Panthers' hopes.
Defense
The Panthers have boasted one of the strongest defenses in the NFL since Rivera arrived as head coach in 2011. Washington has the challenge of maintaining their excellence and he has talent at all three levels of his defense. It starts in the trenches with Kawann Short.
The defensive tackle has developed into one of the leading players at his position in the NFL. He's dominant against the run and can push the pocket as part of the pass-rush, notching 7.5 sacks last term. Short will be partnered alongside Vernon Butler and Dontari Poe following the depature of Star Lotuelei.
Even at the age of 38 Julius Peppers will be an important figure for the Panthers' defense. Peppers had 11 sacks on the term and provides a strong presence on the edge against the run. Mario Addison, Daeshon Hall and Marquis Haynes will offer a rotation on the pass-rush, keeping players fresh until the latter stages of the term.
Luke Kuechly is the outstanding linebacker in the NFL. The 27-year-old overcame injury worries last season to excel once again at the heart of the defense. He was voted to the Pro Bowl and was named a first-team All-Pro after recording 125 tackles, 1.5 sacks and three interceptions. With Shaq Thompson and Davis, the Panthers have enjoyed great strength in their linebacking corps.
In the secondary James Bradberry is developing into an elite player. He should lock down one side of the field at cornerback. However, the Panthers were frustrated in their attempt to sign Bashaud Breeland, who suffered a freak injury before his move was finalised. Carolina need Rashaan Gaulden to hit the ground running at safety as the club have struggled at the position since Kurt Coleman's decline in form.
Betting Options
The Panthers are an interesting team to monitor in the 2018 season. They're a strong unit with playoff calibre, and if the pieces fall into place for them they could make a run towards the Super Bowl. Newton holds the key as if he recaptures his form of three years ago then the Panthers can put 30 points per game with relative ease.
He has the tools on offense now and it could allow Rivera's men at odds 4.00Bet €100 to win €4003/1Bet £100 to win £400+300Bet $100 to win $4003.00Bet HK$100 to win HK$4003.00Bet Rp100 to win Rp400-0.3333Bet RM100 to win RM400 to win the NFC South with BetOnline. For sheer value their odds of 26.00Bet €100 to win €260025/1Bet £100 to win £2600+2500Bet $100 to win $260025.00Bet HK$100 to win HK$260025.00Bet Rp100 to win Rp2600-0.0400Bet RM100 to win RM2600 with TopBet are excellent for the club to claim the NFC Championship along with the Super Bowl at 51.00Bet €100 to win €510050/1Bet £100 to win £5100+5000Bet $100 to win $510050.00Bet HK$100 to win HK$510050.00Bet Rp100 to win Rp5100-0.0200Bet RM100 to win RM5100 . They should reach the playoffs once again at a minimum at odds of 2.25Bet €100 to win €2255/4Bet £100 to win £225+125Bet $100 to win $2251.25Bet HK$100 to win HK$2251.25Bet Rp100 to win Rp225-0.8000Bet RM100 to win RM225 and to win over nine matches at 1.90Bet €100 to win €1909/10Bet £100 to win £190-111Bet $100 to win $1900.90Bet HK$100 to win HK$190-1.11Bet Rp100 to win Rp1900.9000Bet RM100 to win RM190 at 888Sport.
Moore has the talent to be an outside contender for offensive player of the year. Should he form a connection with Newton it could be a worth a punt at 38.94Bet €100 to win €38941897/50Bet £100 to win £3894+3794Bet $100 to win $389437.94Bet HK$100 to win HK$389437.94Bet Rp100 to win Rp3894-0.0264Bet RM100 to win RM3894 with Bookmaker. Kuechly is always a contender for defensive player of the year due to his brilliance on the field. Take him at odds of 21.00Bet €100 to win €210020/1Bet £100 to win £2100+2000Bet $100 to win $210020.00Bet HK$100 to win HK$210020.00Bet Rp100 to win Rp2100-0.0500Bet RM100 to win RM2100 with BetOnline to win the award. Odds of 26.00Bet €100 to win €260025/1Bet £100 to win £2600+2500Bet $100 to win $260025.00Bet HK$100 to win HK$260025.00Bet Rp100 to win Rp2600-0.0400Bet RM100 to win RM2600 with TopBet are intriguing for Newton to be named MVP, he's capable and has history, the quarterback just needs to find his peak form once again.
Newton is now renowned for throwing downfield, but take him at odds of 1.83Bet €100 to win €18383/100Bet £100 to win £183-120Bet $100 to win $1830.83Bet HK$100 to win HK$183-1.20Bet Rp100 to win Rp1830.8300Bet RM100 to win RM183 with BetOnline to throw for over 3,500 yards along with over 23 touchdowns at 1.80Bet €100 to win €1804/5Bet £100 to win £180-125Bet $100 to win $1800.80Bet HK$100 to win HK$180-1.25Bet Rp100 to win Rp1800.8000Bet RM100 to win RM180 . McCaffrey is in line for a more important role this term, take him at odds of 2.02Bet €100 to win €20251/50Bet £100 to win £202+102Bet $100 to win $2021.02Bet HK$100 to win HK$2021.02Bet Rp100 to win Rp202-0.9804Bet RM100 to win RM202 to record over 626 rushing yards with Bookmaker and over eight touchdowns at 1.80Bet €100 to win €1804/5Bet £100 to win £180-125Bet $100 to win $1800.80Bet HK$100 to win HK$180-1.25Bet Rp100 to win Rp1800.8000Bet RM100 to win RM180 with BetOnline.
Tips Summary
Carolina Panthers To Win NFC South
Odds: 4.00Bet €100 to win €4003/1Bet £100 to win £400+300Bet $100 to win $4003.00Bet HK$100 to win HK$4003.00Bet Rp100 to win Rp400-0.3333Bet RM100 to win RM400
Carolina Panthers To Win NFC Championship
Odds: 26.00Bet €100 to win €260025/1Bet £100 to win £2600+2500Bet $100 to win $260025.00Bet HK$100 to win HK$260025.00Bet Rp100 to win Rp2600-0.0400Bet RM100 to win RM2600
Carolina Panthers To Win Super Bowl
Odds: 51.00Bet €100 to win €510050/1Bet £100 to win £5100+5000Bet $100 to win $510050.00Bet HK$100 to win HK$510050.00Bet Rp100 to win Rp5100-0.0200Bet RM100 to win RM5100
Carolina Panthers To Reach The Playoffs
Odds: 2.25Bet €100 to win €2255/4Bet £100 to win £225+125Bet $100 to win $2251.25Bet HK$100 to win HK$2251.25Bet Rp100 to win Rp225-0.8000Bet RM100 to win RM225
Carolina Panthers To Win Over Nine Matches
Odds: 1.90Bet €100 to win €1909/10Bet £100 to win £190-111Bet $100 to win $1900.90Bet HK$100 to win HK$190-1.11Bet Rp100 to win Rp1900.9000Bet RM100 to win RM190
DJ Moore To Be Offensive Player Of The Year
Odds: 38.94Bet €100 to win €38941897/50Bet £100 to win £3894+3794Bet $100 to win $389437.94Bet HK$100 to win HK$389437.94Bet Rp100 to win Rp3894-0.0264Bet RM100 to win RM3894
Luke Kuechly To Be Defensive Player Of The Year
Odds: 21.00Bet €100 to win €210020/1Bet £100 to win £2100+2000Bet $100 to win $210020.00Bet HK$100 to win HK$210020.00Bet Rp100 to win Rp2100-0.0500Bet RM100 to win RM2100
Cam Newton To Be NFL MVP
Odds: 26.00Bet €100 to win €260025/1Bet £100 to win £2600+2500Bet $100 to win $260025.00Bet HK$100 to win HK$260025.00Bet Rp100 to win Rp2600-0.0400Bet RM100 to win RM2600
Cam Newton To Throw Over 3,500 Passing Yards
Odds: 1.83Bet €100 to win €18383/100Bet £100 to win £183-120Bet $100 to win $1830.83Bet HK$100 to win HK$183-1.20Bet Rp100 to win Rp1830.8300Bet RM100 to win RM183
Cam Newton To Throw Over 23 Touchdowns
Odds: 1.80Bet €100 to win €1804/5Bet £100 to win £180-125Bet $100 to win $1800.80Bet HK$100 to win HK$180-1.25Bet Rp100 to win Rp1800.8000Bet RM100 to win RM180
Christian McCaffrey To Rush For Over 626 Yards
Odds: 2.02Bet €100 to win €20251/50Bet £100 to win £202+102Bet $100 to win $2021.02Bet HK$100 to win HK$2021.02Bet Rp100 to win Rp202-0.9804Bet RM100 to win RM202
Christian McCaffrey To Record Over Eight Touchdowns
Odds: 1.80Bet €100 to win €1804/5Bet £100 to win £180-125Bet $100 to win $1800.80Bet HK$100 to win HK$180-1.25Bet Rp100 to win Rp1800.8000Bet RM100 to win RM180
Cam Newton
Carolina Panthers
NFL
Panthers
Ron Rivera