NFL Playoff NFC Divisional Playoffs, January 12th, 2013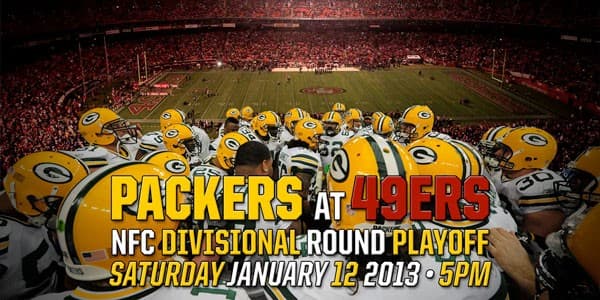 Green Bay Packers at San Francisco 49ers -3 OvUn 45 8:00 EST
Aaron Rodgers returns to his home state and faces the team he grew up rooting for as a child this Saturday as the Packers head to San Francisco to take on the 49ers.
Green Bay took care of a Christian Ponder-less Minnesota Vikings last week. He was ruled out shortly before game time, and back up Joe Webb started in his place. The Packers dominated the game, and the game was out of reach by the start of the 4th quarter. Green Bay ultimately won 24-10.
The Pack are not as well rested as they would have hoped, but will continue to benefit from the return of linebacker Clay Matthews and cornerback Charles Woodson. Both suffered injuries for extended periods this season and both seem to be healthy and ready to contribute.
Green Bay's offensive attack was more than effective this year, but Rodgers was sacked more than any other QB in the league and the most times in his career. Although the 49ers are ranked middle of the road in sacks, they have Aldon Smith, the NFL leader in sacks with 19.5.
Jordy Nelson is questionable with a hamstring injury, but should be back in the mix Sunday. Although, his role may be limited. Tight end Jermichael Finley is also probable to play despite injury. James Starks may also return to action and give new starting running back Dujuan Harris breathers in the running game.
As Rodgers rooted for the Niners as a kid, strangely Colin Kaepernick, who grew up in Milwaukee, was a Packers fan as a child. Kaepernick won the starting quarterback job off Alex Smith just five weeks ago. Smith was out with injury, and Kaepernick performed well in a win against Chicago and coach Harbaugh promoted him to the starting lineup.
'Kap' as he is called by media and teammates, has had his ups and downs as a starter but overall has impressed. His cannon arm and breakaway running ability are a recipe for disaster for a Green Bay defense that has had a lot trouble defending the run. Running back Frank Gore headlines a SF rushing attack that was 5th in the league this season.
Mario Manningham will be out for the rest of the season, forcing Crabtree into in a more forefront role. Randy Moss will likely see extended targets, as well. San Francisco has also signed veteran kicker Billy Cundiff to compete with David Akers who has missed 7 of his last 18 field goals. It is unclear who will be the starter.
The 49ers won their season opening game against the Packers, 30-22. The game was not close, and Green Bay scored two touchdowns in the final five minutes.
The Line
There has not been much movement on this matchup. The line stands at San Francisco -3 and likely will not move off the 3 unless tremendous action comes in. The total opened at 45 and is mostly at the number with some books at 44.5.
The Play
This should be a fun one for fans to watch, but is also an interesting game for us to dissect at SportsBettingOnline.
This game should have its fair share of points, but we see one distinct advantage for the 49ers. The Packers inability to stop the run. They racked up 170 total yards on the ground in their previous meeting against Green Bay, and a clock control power running offense is exactly the recipe to neutralize Aaron Rodgers.
On top of that, the Packers faced a shell of a Minnesota team last week, which still got pressure on Rodgers. San Francisco boasts a bevy of talented pass rushers and a top five NFL defense. Rodgers' poor offensive line, subpar running game and banged up receivers could be in deep trouble in this matchup.
If San Francisco plays this game correctly on offense, they should be able to keep Rodgers off the field for large stretches of this game. That is how you beat the Packers. We cannot see Green Bay's defense doing enough to stop Kapernick and the Niner offense.
We like SF, at home. 49ers -3
Wanna bet on NFL? You can do so by following this link to the leading site for betting the playoffs online. Go to www.topbet.eu now