San Diego Chargers at Cincinnati Bengals -7 Total: 47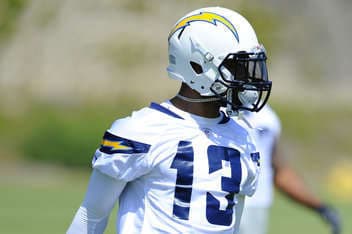 The Chargers head to Cincinnati to take on the Bengals in a game that has the potential to be the most lopsided this weekend. This upcoming meeting is not the first time these two teams have met this season. They lost 17-10 in San Diego on Dec. 1st. It was a predominantly a run focused effort for Cincinnati as they rushed for 164 yards in the win.
San Diego barely got into the playoffs last week after struggling to beat the Kansas City Chiefs' mostly 2nd team last week at home. After the Chiefs missed a field goal to win the game in regulation, the Chargers finally prevailed 27-24 by kicking a field goal of their own which earned them the last Wild Card spot in the AFC.
While San Diego's offense has put up points in bunches, their defensive efforts leave a lot to be desired. While their secondary is about average, they grade out as a bottom five rush defense. I would expect the Bengals to go to the ground game early and often in this one matchup.
The Bengals finished the season in strong fashion, defeating their division rivals, the Baltimore Ravens 34-17 at Paul Brown Stadium. AFC North Champions, Cincinnati, have been a balanced team but have relied on their defense to keep them in most ballgames this year. Despite several injuries to key starters, they have been one of the strongest units in the league and will be a tough test for San Diego's powerful offense.
Rivers should have a tough time finding open targets downfield, despite the emergence of Keenan Allen as a true no. 1 wide out. The Ryan Mathews and Danny Woodhead combination may find even rougher sledding. The Bengals have not allowed an opposing rusher over 65 yards in their past five games.
The Line
This one has moved off and on the key -7 touchdown number. Some books currently still have the game at –7.5 or -6.5 in favor of Cincinnati, but most have settled on -7. The total has moved upward since its opener of 46 and is now at 46.5 and 47.
The Play
The Bengals expectation for this year's playoffs is sky high, and most of the pressure has to be on signal caller, Andy Dalton. I am not sure how far they make in this postseason, but both units have a mouth watering matchup in this one.
Anyone who watched the Chargers play last week knows their defense is terrible. KC's backups drove down the field with ease, both passing and throwing the ball at will. Dalton has as strong platoon of skill players around him, which should be more than enough to put up 21+ points in this contest.
Cincinnati is 8-0 at home this season, and it is mostly due to their defense tremendously clamping down on opponents. The Chargers offense has had a resurgence this year, but they lack any true second option behind Keenan Allen in the receiving corps and while Ryan Mathews has had a breakout season, if they fall behind early he will be quickly fazed out of the game.
The Chargers have not faced many top defenses this season. In fact, this Bengals unit may have been their toughest test in the regular season. They scored just 10 points in that game, and I do not think they will fare much better on Sunday afternoon.
Pick: Bengals -7 with Bovada.lv
San Francisco 49ers at Green Bay +3 Total: 45.5
The Niners head to Lambeau Field to take on the Packers in a game that will be a rematch of last year's Wild Card game. While San Francisco had their playoff spot locked up several weeks ago, the Packers won a thrilling game at Soldier Field last Sunday in Aaron Rodgers' return from injury.
The 49ers finished up their season with a last minute win at Arizona last week, 23-20. They finished second in the NFC West with an 11-5 record. Green Bay ended up sneaking into the playoffs with last week's win, finishing the season with a meager 8-7-1 record.
It is worth noting this game will be around freezing or below at kickoff. I do not think affects one team too heavily nor gives an advantage to the Packers. San Francisco has played in their fair share of poor weather games and should not have issues.
Rodgers return from injury was not with hiccups. Though, he turned it on in the second half to power Green Bay to victory. However, the Bears' defense is not the much-better 49ers unit and he still showed signs of rust. Rodgers will not have to have a perfect game against San Francisco to put the Packers in a position to win, but he will have to play a lot better than he did last week.
On defense, the Packers have been an albatross in recent weeks. Linebacker Clay Mathews will still be sidelined in this one, keeping a strong run stopper and pass rusher off the field that they desperately need. Green Bay has been terrible all-around defensively but have truly struggled against the run. They have given up 100+ yards rushing in five out of the last six weeks.
San Francisco and quarterback Colin Kaepernick seem to be peaking at the right time offensively. Kaepernick's play has improved tremendously in the final weeks of the season, and it is hard to forget his breakout game last January in this same situation. The Niners manhandled Green Bay's defense back in Week 1, as well. The game was Kaepernick's best output of the season; he threw for a whopping 400+ yards and three touchdowns in the 24-28 victory.
The 49ers defense has not been the elite unit it was last season, but will be a tough test for Rodgers and all-purpose back Eddie Lacy. He was the offense's workhorse while Rodgers has been out but will find it hard to gain yardage in this matchup.
The Line
Green Bay opened as +2.5 underdogs, but that has moved to +3 at most shops. The total has been the most noticeable move on this game. It opened at 48.5 and has moved to 46 and 45.5 after reports of the frigid weather expected on game day.
The Play
While I do love San Francisco in this one, I think the over is a much better play. The frigid weather does not bother me as much as many others, and I think these teams are ready to explode offensively.
I do worry about Rodgers' general rustiness, but I think this Packers' team is a near lock for 20 some points. San Francisco should easily be able to put up 30, as well. The weather will not slow these teams down as much as everyone is suggesting. Considering it a blessing the total has dropped several points and pounce.
Pick: Over 45.5 with Bovada.lv