Green Bay Packers at Minnesota Vikings +9.5 Total: 47
Sunday, October 27th, 2013 TV: NBC 8:30 EDT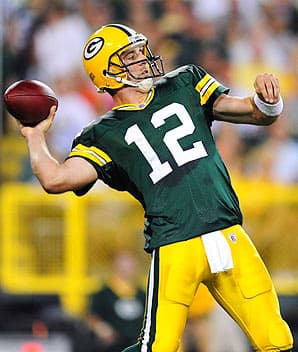 The Packers head to Minneapolis in an NFC North divisional affair against the lowly Vikings. While these two teams have been closely matched in previous years, Minnesota has struggled in 2013 making this game, at least on paper, look like an easy one for Green Bay.
The Packers have faced a myriad of injuries in recent weeks with the season long loss of Randall Cobb and other key offensive contributors, but the best quarterback in the game hasn't missed a beat. Even with plug-in receivers Jarrett Boykin and Andrew Quarless, Aaron Rodgers keeps getting it done.
Rodgers threw for three touchdowns in 31-13 win at Cleveland last week, but the Packers have also started to rely on the run. Rookie running Eddie Lacy has been a crucial part of their offense and is a legit every down back.
The Packers will again be without linebackers Clay Matthews, Nick Perry, and Brad Jones. Which will weaken a rush defense that has been outstanding this season. While much worse against the pass, the unit has been solid overall.
Offensively, the injuries got worse last week, along with wide receiver James Jones availability being in question. Jermichael Finley is now out with a neck injury, putting more pressure on an already depleted offense.
There have been few bright spots for Minnesota, and last week's game against the Giants was one of the worst I've seen in professional football in a long time. Now sitting at 1-5, the Vikings put together a miserable game on Monday Night, full of misreads and inaccurate throws, courtesy of newly signed quarterback Josh Freeman. Freeman was just 20 of 53 for 190 yards and an interception in the 23-7 road loss.
Defensively, it doesn't get any better. The Vikings are giving up nearly 30 points per game and are ranked 29th in the NFL in total defense. Terrible against the pass and run, with a turnover prone offense – even the worst offense units seem to be able to get it going against Minnesota's defense ala the New York Giants.
Christian Ponder will start for Josh Freeman this week due to a concussion, and while Ponder has been rather terrible over this season, and to be frank, in his career – I think it's an upgrade. Running back Adrian Peterson, who had one of his worst games of the season last week has been limited this week with a hamstring injury.
The Line
This game opened at Minnesota +6.5 but quickly moved after heavy betting on the Packers from both sharps and the public. It is now listed at +9.5 at the vast majority of shops. The total has gone up slightly from the opening number of 46.5 and is trending upward. Most books have the game at 47 or 47.5.
The Play
This game looks to be shaping up as a blowout, and I'm buying it, as well. The Vikings, even with Ponder, have shown little promise, and I have serious doubts about the health of Adrian Peterson. Whispers from beat writers around Minneapolis suspect his injuries may be much worse than a sore hamstring that hobbled him in last week's game and in this week's practice. His low number of touches over the past few weeks is alarming. Leslie Frazier isn't an idiot, so I think there is some sort of underlying injury we aren't hearing about.
Without a healthy Peterson, the Vikings stand little chance in this game and will be picked apart by Aaron Rodger and brutalized by Eddie Lacy between the tackles. In addition, I could make a case for the under in a game that projects to be somewhat high scoring. I still think the Packers run away with this one, but we have to remember that their offense is still short handed. They could still struggle, and I can't see the Vikings putting up too many points.
Take the Pack -9.5 on the road while betting with Bovada.lv.