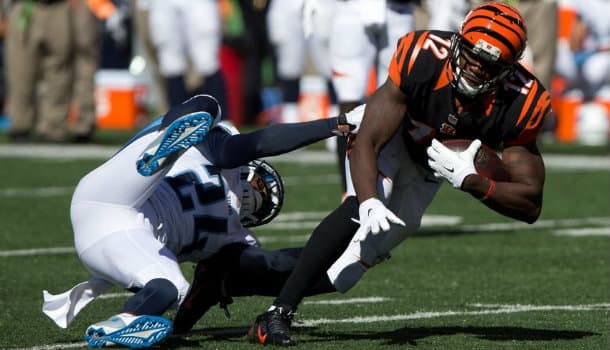 I ended up having a poor outing last week, as I went 0-3 for a loss of three units (-1.2U). I'm now down a bit more than a unit on the season on underdogs. Let's see if I can't bounce back in week 7 action.
ML Underdog Picks for NFL Week 7
Cincinnati Bengals +155 vs. Indianapolis Colts (Best Odds: BetOnline)
Most of the early action has been on the Colts to cover and win SU on the money line at home. Cincy had a tough tie last week against the Panthers, as they should have won on a last second FG in overtime.
What's there to say about the Colts? This team has won four games in a row, Luck has been playing better than he ever has and the run game has slowly been coming around (115.3 RYPG – 16th).
The Bengals offense didn't skip a beat without Green in the line-up last week. Sanu stepped up as the #1 WR and he had 120 receiving yards. Bernard rushed for 137 yards and Dalton threw for 323 yards.
Indy's defense is average in just about every statistical category. The defense allows 22.7 PPG (16th) and the Bengals will score points. Cincy isn't a great road team, but Indy isn't the toughest place to play.
Don't forget this Cincy team beat the Ravens in Baltimore in W1. The Bengals defense will want to try and bounce back after a poor outing last week and I expect them to get pressure on Luck all game long.
This is a defense with a ton of talent, but they haven't really showed it much this season. Everyone is high on Luck and the Colts right now and the Bengals are a good enough to bring them back to reality.
These two teams don't play each other that often, but the Bengals beat the Colts 42-28 last year at home as a –7 point favorite. Indy will want revenge, but Cincy is looking to avenge last week's tie as well.
New Orleans Saints +125 vs. Detroit Lions (Best Odds: TopBet)
Detroit (4-2) beat Minnesota 17-3 last week and the offense is clearly missing Calvin Johnson. Tate is a good WR, but when the secondary can focus on Tate he's no longer as effective downfield.
Bush and Bell are both expected to suit up for the Lions, but both are banged up. The Saints run defense is their strong point. They're giving up 112.0 RYPG (16th) although they tightened up last week.
New Orleans (2-4) is in desperate need of a road win against Detroit this week. Detroit ranks 1st in points allowed (13.7 PPG) and 1st in yards allowed (270.7 YPG), but their schedule hasn't been too tough.
They shutdown the Packers offense at home, but other than that they haven't faced an offense like the Saints. Brees has to make sure he gets rid of the football quick though, as the Lions pass rush is good.
This is a chance for the Saints defense to step up. The Bills and the Vikings have been able to hold the Lions to under 20 points the last two weeks and if the Saints do that they'll win this game SU.
The Saints have also been running the football better, as they now rank 8th (133.0 RYPG). If they can run the football and keep the Lions offense on the bench that'll only increase their chances to win.
I'm only on the two games above, as I really don't see any other underdogs that I like to win SU. This is another tough week and I'm sure they'll be some big surprises, but it's hard to pinpoint which games.