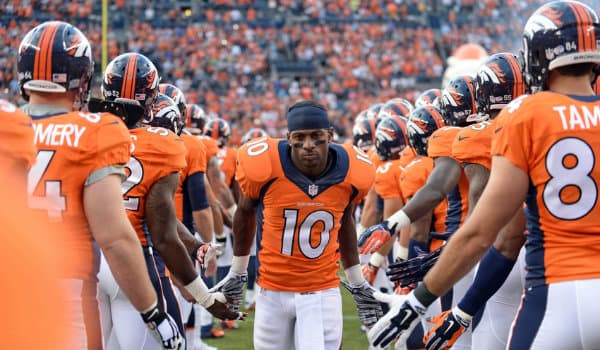 I ended up going 1-1 on my teasers in week 5 and broke even, so my overall profit is still +3.8U. Detroit was my lone loss on my 4-team teaser. That game proved why FG kickers are important in the NFL.
This week I'm betting on two 6.5 point teasers, as I want Denver at –2.5 points.
I always bet on my teasers at BetOnline. If you don't have an account at BetOnline you can use the bonus code "OCT50" to receive a 50% bonus on your first deposit for up to $1000 this month only.
Best NFL Teams to Tease in Week 6
Denver Broncos –2.5 vs. New York Jets
Denver (3-1) is 0-1 on the road with a loss to the Seahawks. On Sunday they play the Jets (1-4) who have now lost four games in a row including a 31-0 trouncing by the Chargers last week in SD.
Peyton Manning and the Broncos offense are averaging 317.0 PYPG (3rd) and 29.0 PPG (4th). Manning has too many weapons in the pass game for the Jets secondary to keep everyone contained.
The Jets have the worst passing offense (184.0 PYPG), but they rank 6th in rushing (139.2 RYPG). Denver is a great run stopping team (88.2 RYPG – 7th) and the Jets will struggle to score in double digits.
San Diego Chargers –0.5 vs. Oakland Raiders
San Diego (4-1) is normally a team that's a slow starter, but this year they've come out strong. Oakland (0-4) had a bye to prepare for this game, but that's not going to help them in a divisional match-up.
The Chargers are 4-1 in the last five H2H meetings. Oakland is the lowest scoring team in the NFL (12.8 PPG). The entire team is in rebuild mode and Rivers won't allow his team to lose against Oakland.
Cincinnati Bengals –0.5 vs. Carolina Panthers
The Bengals (3-1) were embarrassed by the Patriots on Sunday night on the road. Cincy is one of the best teams at home in the NFL and after watching Carolina (3-2) last week I'm convinced they're bad.
Carolina looked terrible on offense most of the game against Chicago despite winning. Carolina is turning the football over way too much and the defense is allowing too many yards (368.4 YPG – 20th).
Cincinnati is only allowing 19.0 PPG (6th). Their rush defense is giving up 140.0 RYPG (27th), but CAR is banged up at RB and won't be able to take exploit that weakness. Cincy will roll at home on Sunday.
Seattle Seahawks –1.5 vs. Dallas Cowboys
Seattle (3-1) looked great on offense in a win over the Redskins on MNF. Dallas (4-1) is having a great year although this is going to be a tough game, as Seattle is next to unstoppable when playing at home.
Dallas has had success this season because they rank 2nd in rushing (160.0 RYPG), but the Seahawks only allow 62.2 RYPG (1st). If Dallas can't get Murray going I expect Romo to struggle and Seattle wins.
Pittsburgh Steelers +8.5 vs. Cleveland Browns
Pittsburgh (3-2) is an average team that's going to have some head shaking losses this year, but Pittsburgh is 8-1 in the last nine H2H games against Cleveland (2-2) including four consecutive wins.
Cleveland won last week after a 2H comeback made possible by an injury to Jake Locker. The Browns are being shredded on defense (421.8 YPG – 31st) and the Steelers should win SU.
2014 NFL Week 6 Teaser Predictions
Broncos –2.5, Chargers –0.5 & Steelers +8.5 (Bet 1U to Win 1.5U)
Broncos –2.5, Chargers –0.5, Bengals –0.5, Seahawks –1.5 & Steelers +8.5 (Bet 1U to Win 3.75U)
I'd say the Seahawks worry me the most, as the Cowboys are playing great football, but other than that game I'm really confident in the rest. We just need the first one to win this week to make a profit.