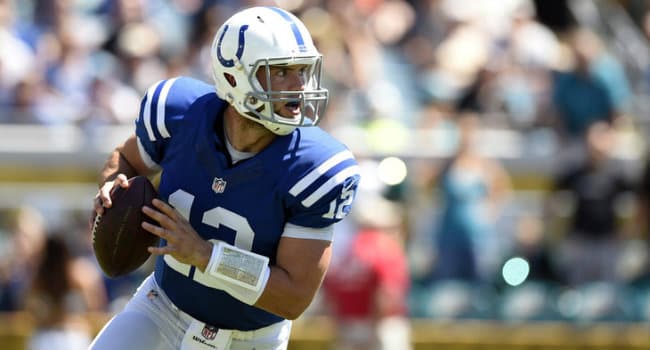 Both of my teaser bets hit last week for a profit of 3.6U (+6.5U Overall). Atlanta. Cincy and Indy all won easily as favorites and the Bears ended up winning on MNF as an underdog.
Bye weeks start now, which I dislike, as we now have less games to target on teasers. There are thirteen games on the schedule this week and a total of six teams won't be in action.
This is the last week to take advantage of the BetOnline NFL Kick-Off Bonus. Sign-up to BetOnline, which is where I bet on the teasers you're reading each week and claim a 50% bonus for up to $1000.
The bonus code is "NFL2014". Make sure you use the code before September 30th 2014.
Best Games to Tease in Week 4 NFL Action
This week I'm targeting four games on 6-point teasers at BetOnline.
Indianapolis Colts –1.5 vs. Tennessee Titans
The Colts (1-2) beat up on the Jaguars (44-17) on the road last week and now they head home to play the Titans (1-2) who are on a 2-game losing streak. I expected Tennessee to bounce back last week, but they lost to Cincy (33-7) in a blow out. Jake Locker and the Titans offense looked terrible.
Indy has a weak secondary that's allowing 276.3 PYPG (28th), but TEN won't be able to take advantage of that in this game. The Titans allow 134.3 RYPG (24th) and the Colts will be able to build an early lead and allow the run game to takeover. IND are 5-0 ATS in the last five H2H meetings against the Titans.
Pittsburgh Steelers –1 vs. Tampa Bay Buccaneers
Pittsburgh (2-1) was impressive in a win over the Panthers (37-19) on Sunday night. Tampa Bay (0-3) was absolutely dominated on Thursday night by the Falcons (56-14). The Buccaneers have been horrible this season. They're giving up 31.7 PPG (31st) while only scoring 15.0 PPG (29th).
Tampa Bay is allowing 125.3 RYPG (21st) and the Steelers are averaging 163.3 RYPG (1st) on offense. Le'Veon Bell and LaGarette Blount have both been great this season. I don't expect Pittsburgh to score 30+ points again this week, but they should allow more than 10 points either. PIT will win at Heinz Field
Philadelphia Eagles +11.5 vs. San Francisco 49ers
The Eagles (3-0) took care of business against the Redskins (37-34) at home in week 3. They now head on the road to play the 49ers in a tough match-up, but I'll gladly take the points. SF is only scoring 20.7 PPG (19th) while allowing 22.7 PPG (17th). Their offense hasn't proven anything yet to me this season.
Everyone expected the Eagles to be the best rushing team (108.7 RYPG – 19th), but they've actually been much better through the air (310.3 PYPG – 2nd). San Francisco can be thrown on (226.3 PYPG – 15th) and the Eagles aren't afraid to air the football out. San Fran likely wins, but only by a FG.
Dallas Cowboys +9 vs. New Orleans Saints
I haven't been impressed at all with the Saints (1-2) this season. Everyone expected them to come out and dominate the Vikings at home, but they only ended up winning 20-9 and that was with a late TD. The Saints offense ranks in the T10 in points (26.0 PPG), passing (281.3 PYPG) and rushing (140.3 RYPG).
One problem for the Saints has been the secondary (278.3 PYPG – 29th). Demarco Murray is playing great this season and the Saints will have to stack the box to contain him and the Cowboys rushing game (156.7 RYPG – 3rd). You never know what Tony Romo will show up, but I like the Cowboys at home.
My Week 4 NFL Teaser Best Bets
Colts –1.5 & Steelers –1 (Bet 1.1U to Win 1U)
Colts –1.5, Steelers –1, Eagles +11.5 & Cowboys +9 (Bet 1U to Win 2.6U)