New England Patriots at Atlanta Falcons -2.5 Total: 49.5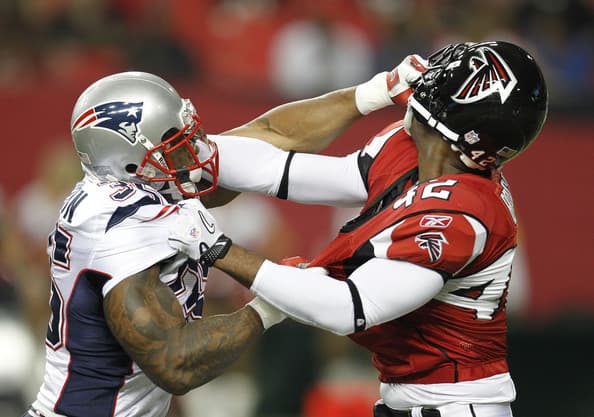 Sunday, September 29th, 2013 TV: NBC 8:30 EDT
New England heads to the Georgia Dome to take on the Falcons in a game that most expect to be high scoring – at least on paper. The Pats and Falcons alike haven't score nearly as many points as they did last season and both teams are looking for answers offensively.
Despite their offensive struggles, New England is 3-0 on the year after a road win at Buffalo and two home victories, including last week's 23-3 beating of Tampa Bay. Tom Brady threw two touchdown passes to rookie wide receiver Kenbrell Thompkins in the win. New England's defense held the Buccaneers to just three points and flustered Josh Freeman all afternoon. He apparently looked so miserable to Tampa's coaching staff that he lost his starting job a few days later.
It looks as if the Patriots will again be without key offensive weapons in wide receiver Danny Amendola and Rob Gronkowski. Much speculation on their injury status has been going on for many weeks, but both players have been ruled out Sunday.
While New England's offensive issues have still produced three wins because of their defense, the same cannot be said for Atlanta. At 1-2, the Falcons will be in serious trouble if they drop this game to New England at home.
After losing to New Orleans in the Big Easy in Week 1, they ripped off a win against St. Louis in Week 2 only to fall at Miami last week, 27-23. The Falcons scoring has dipped a few points from last season, but that is not their main concern. Defensively, they have been a nightmare and have a host of injuries.
Cornerback Assante Samuel is questionable to play this week. Running back Steven Jackson is still out with a sore hamstring, Jason Snelling and Jacquizz Rodgers will continue to split carries. Roddy White is questionable; he's played every week but has essentially just been used as a decoy. Finally, Julio Jones is also listed as questionable, but he will almost certainly play Sunday and will continue to be Atlanta's most productive offensive player.
The Line
This game opened at pk and after some early sharp action that moved to the line in Atlanta's favor – the action has been mostly split. Most books will are offering -2.5, but some have the line at -2. The total hasn't moved much off the opening number of 49.5 with most books within a half point of that number.
The Play
At this point in the season, it's crucial to weigh the strength of schedule when evaluating matchups. Atlanta's road has been relatively tough with games at New Orleans, against St. Louis and at Miami, a team that is clearly much improved from last season. New England's road has been much easier. They have faced two rookie quarterbacks, E.J. Manuel and Geno Smith and the Bucs' Josh Freeman who is now riding the bench.
Matt Ryan will be the toughest test by a large margin for the same Pats defense that gave up 21 points to Buffalo's offense in Week 1. While injuries are a problem for Atlanta, their offense should easily be able to put up 20+ points against the Pats.
The same can't be said for New England. The only decent defense that New England faced was the Jets and they held them to just 13 points. New England put up decent numbers against Buffalo and Tampa Bay, but these two teams are among the worst in every defensive category so far this year and were also terrible last season.
Tom Brady is the greatest quarterback of his generation, but he can't do it all alone. Without Gronk and Amendola, Julian Edelman has become the focus of this offense. No slight to Edelman, he's a talented player, but he should not be the focal point of an excellent offense. If Atlanta faced the same three teams that New England faced in the first three weeks, they would likely be undefeated, as well.
The Falcons need a win, it's primetime and they're at home. I'm laying the points.
I like the Falcons -2.5 at home with Bovada.lv.