Chicago Bears at Pittsburgh Steelers +2.5 Total: 40
Sunday, September 22th, 2013 TV: NBC 8:30 EDT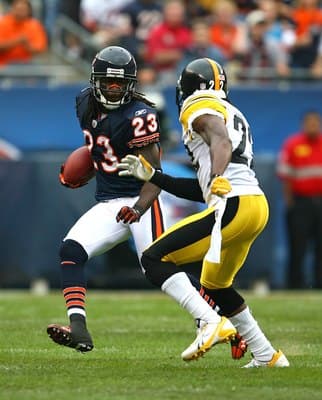 Sunday Night Football heads to the Steel City where the Pittsburgh Steelers are in unfamiliar territory for their franchise, starting off the season with a 0-2 record. It won't get easier for Pittsburgh with the undefeated Chicago Bears coming to town.
Chicago rallied in both of its victories so far this season and won in the final seconds at Soldier Field against the Minnesota Vikings. Quarterback Jay Cutler threw a touchdown pass to Martellus Bennett with just 10 seconds left to secure a 31-30 victory.
The Bears defense is a strong unit but has not been especially stout in their first two games, especially considering their opponents. The Christian Ponder led Vikings put up 30 points, although some of those points came off turnovers. They held the Bengals to 20 points in their first win of the season, but that is still close to 50 points given up in two games.
Chicago hasn't had much injury trouble so far this season. Martellus Bennett hurt his shoulder in last week's win but is expected to play Sunday Night. Likewise, Brandon Marshall who has nursed a back injury all season will also be available.
Pittsburgh's season has been a bitter disappointment so far, but the veteran team isn't phased about starting 0-2 and are focused heading into Sunday Night's matchup. Another loss will make it likely impossible for the Steelers to compete for a playoff spot, especially with a tougher schedule than last year ahead of them.
There were few positives in the Steelers 20-10 loss to Cincinnati on Monday Night Football. Despite stellar play by the defense, both in the loss to Cincy and the loss against the Tennessee Titans in Week 1, the offense has mustered a total of 19 points in two games.
They basically have no running game and a makeshift offensive line which has struggled mightily after the season ending injury to All-Pro center Maurkice Pouncey. Quarterback Ben Roethlisberger has some talented wide outs, but route running seems to be an issue, and it doesn't look like they're on the same page just yet.
The Steelers defense is still a top 5 unit in this league and will no doubt give the Bears fits on offense. Cutler will face the toughest pass rush he has faced all season, even though Pittsburgh just has two sacks on the year. The pressure is there, and the sacks and turnovers will come.
On the bright side, Pittsburgh tight end Heath Miller will likely make his return to the offense on Sunday Night. Miller will help tremendously in the passing game once he becomes fully healthy but is probably even more valuable as a run blocker. That may not be this week as most suggest he will be on a limited snap count.
The Line
The Bears opened at -1.5 favorites in this game, but that has moved to -2.5 at most books while some have put the number at -3. Heavy betting on Chicago throughout the week got the number moving quickly. The total opened at 40 and hasn't moved much, most sportsbooks have the number at 40 and 40.5.
The Play
While most of the betting universe is firmly against the Steelers in this one, I feel like there is some value to be had on the side of Pittsburgh. The Steelers offensive line has now had a few weeks to build some continuity, and while they haven't performed greatly in two games, they have avoided penalties for the most part. Improving offensively is much easier for a team rather than improving their defense, and the Steelers have no issues there.
Speaking of defense, most of the national media doesn't seem to realize how talented this defense actually is and neither does the public. Quarterback Jay Cutler is in for a rude awakening, and as we saw last week against Minnesota, Cutler still makes some poor decisions when he under duress. The Bears offensive line is much improved this season, but they won't be able to handle a tough Pittsburgh front seven and an above-average secondary.
Cornerback Ike Taylor limited A.J. Green to less than 50 yards last week and should be able to do something similar to Brandon Marshall. Pittsburgh has always been excellent against opposing tight ends and against opposing running games. Matt Forte is as talented as most other backs in the league, but if anyone can bottle him up, it's Pittsburgh.
The key will be the Steelers offense putting together a solid game, something which they have failed to do in their first two games. Big Ben is a proven winner and a two-time Super Bowl Champion, but he still needs help. Offensively coordinator Todd Haley needs to put a gameplan together that fits his personnel, and after two weeks of failed schemes, it will be up to him to bring the best out of this offense. I think he realizes the margin of error is now razor thin, and he needs to go to the air and put the ball in the hands of his best player, Roethlisberger.
Pittsburgh should be able to put up around 20 points against a Bears defense that has given up much more to seemingly worse offenses, like the Vikings' Christian Ponder led attack. In my opinion, this should be enough to win.
I like the Steelers +2.5 at home with Bovada.lv.