San Francisco 49ers at Seattle Seahawks -3 Total: 44.5
Sunday, September 15th, 2013 TV: NBA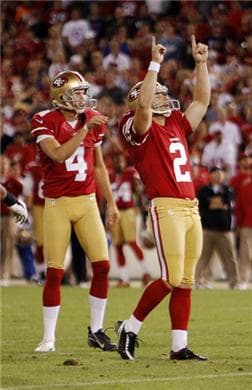 Week 2 of Sunday Night Football brings us perhaps the most hotly anticipated game of the week. In what could easily be an NFC Championship preview, the Niners head to CenturyLink Field to take on the Seahawks in a showdown of two of the NFC's best young quarterbacks as Kaepernick and Wilson take center stage.
San Francisco faced off against the Green Bay Packers last week, and the game quickly became a shootout. In his first season opener under center, quarterback Colin Kaepernick did not disappoint in game one. He threw for a career high 412 yards and three touchdowns, connecting with wide receiver Anquan Boldin for 13 catches and 203 yards receiving. Vernon Davis also has become a reliable target of Kaepernick, catching 6 balls for 98 yards and two touchdowns.
The 49ers defense was on its heels for most of the game, but that was to be expected when facing a former MVP quarterback like Aaron Rodgers. However, there were positives from the defensive side. Aldon Smith collected 1.5 sacks against Rodgers and rookie safety Eric Reed looked impressive in his debut, grabbing an interception and notching six tackles.
Seattle played one of the more mundane games this past week in a defensive matchup against the Carolina Panthers. Neither team could get much going all game, but the Seahawks scored late in the 4th quarter on a touchdown pass from Russell Wilson to Jermaine Kearse to beat the Panthers in Charlotte, 12-7.
It is worth noting that Seattle did outgain Carolina by a large margin in total yardage. They gained a total of 370 yards compared to the Panthers' 253 and limited their red zone opportunities. The Seahawks forced a key turnover late into the game off Panthers running back DeAngelo Williams, which effectively sealed the game for Seattle.
On the injury front, Seattle has multiple guys coming off injury or making their season debut this coming Sunday. Defensive lineman Cliff Avril will play his first game Sunday as long as there are no setbacks which makes an already impressive front seven even deeper. The same can be said for d-line mate Chris Clemens. Cornerback Brandon Brower is also on track to play this week after missing Week 1.
The Line
The game opened at Seattle -2.5 with action on this game being mostly split. Some sportsbooks have moved the game to -3 while others are keeping off the key number. For the most part, the total has not moved from the opener of 44.5 but seems to be moving upward.
The Play
This game is drawing a lot of hype, especially since there are reports of Seattle's crowd, infamously nicknamed "The 12th Man" gear up for a crowd record roar attempt. Seattle is already one of the most difficult places to play in the NFL, and this should make things even tougher on the 49ers.
If we remember back to last season, just in the midst of the NFL's new found infatuation with Kaepernick, San Francisco headed to Seattle and took a serious beating at the hands of the Seahawks, losing 42-13. The teams are unmistakably different in this matchup, but both defenses are remarkably similar.
San Francisco lost only one starter from last year's team, and Seattle brings back nearly everyone, as well. As we mentioned above, Brandon Browner, Cliff Avril and Chris Clemons all may start this week making this defense even tougher. San Francisco shredded the Packers defense last week, but they are facing a much tougher matchup in this game.
They also do not have Michael Crabtree or much depth behind Anquan Boldin and Vernon Davis in their receiving core. Boldin went off for 208 yards last week but is not likely to do that against what is likely the best secondary in the league. In my opinion, Boldin's effectiveness as a primary receiver in this offense is still under question, despite the massive game he put up against the Packers.
The Seahawks will likewise have a tougher time throwing the ball, but San Francisco's defense is much easier to attack via the air than from the ground. From a running standpoint, but teams will likely have a hard time moving the ball on the ground as both defenses boast strong fronts who take pride in their ability to stop the run.
These teams are remarkably closely matched, but I have to give the edge to Seattle because I think they will have an easier time moving the ball offensively. Kaepernick amazed bettors last week, but again, I think the country is riding a little too high on the 49ers hype-train. Russell Wilson is also a premier young quarterback in this league and won many crucial games last season, including a Wild-Card Playoff game.
Couple that with a high-intensity almost playoff like atmosphere at CenturyLink Field and I think Seattle gets it done Sunday Night.
I like the Seahawks -3 with Bovada.lv