Atlanta Falcons at San Francisco 49ers -14.5 Total: 46.5
Monday, December 23rd, 2013 TV: ESPN 8:30 EDT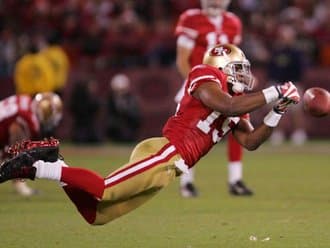 With Arizona breaking Seattle's 14-game winning streak on Sunday, the 49ers now have a shot at the NFC West title and can clinch a playoff berth with a win against Atlanta on Monday Night. It is isn't the game that ESPN executives hoped they would be hosting, nevertheless it does have playoff implications, which is all you can ask for at this time of the year.
San Francisco boasts one of the league's top defenses and are coming off a dominant 33-14 win at Tampa Bay last week to give them a 10-4 record. While the passing game has not been as strong as last year, the Colin Kaepernick and Frank Gore rushing combo has combined for nearly 1,500 yards rushing this season. Wide receiver Michael Crabtree is also finally healthy after missing most of the season with a torn MCL.
Atlanta's season was a season that never-was, in large part due to injury, but this Falcons team was clearly overrated, even after their NFC Championship performance just a year ago. There are few bright spots, but the play of Matt Ryan has still been strong despite a depleted receiving corps. Atlanta has won two out of their last three games including a 27-26 win against the lowly Washington Redskins last week to improve their record to 4-10.
The Line
This Monday Night bail-out game for bettors has a heavy favorite. San Francisco opened at -11.5 and has moved rapidly to -14.5 across the board. Nearly 80 percent of the bets within the past 48 hours have come in on the Niners. The total opened at 46, a number that still may be available for some bettors, but, for the most is listed at 46.5.
The Play
This is not a game I am high on either from a betting perspective or clearly, as a spectator but it's hard to ignore the value bettors may be getting with the Falcons due to the heavy line movement. This game could possibly move to -15 by game time and though the game means nothing to Atlanta, and their secondary is in shambles, they have played better in primetime this year.
They almost beat the division rival Saints at the Superdome a few weeks ago, and kept it close until the final drive. San Francisco is a much less inconsistent offensive team than many think and while they will clearly get the win tomorrow; it may be within single digits till the end. The backdoor cover potential is excellent in this game, especially with how well Matt Ryan has thrown the ball lately.
This is a veteran team with a lot of pride, despite their record and they will not be laying down for the 49ers.
Pick: Falcons +14.5 available at Bovada.lv