Dallas Cowboys at Chicago Bears +1.5 Total: 48
Monday, December 9th, 2013 TV: ESPN 8:30 EDT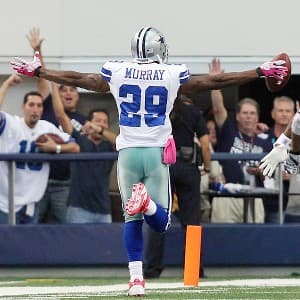 ESPN has been graced with two meaningful Monday Night Football games over the past two weeks, and this one should be another one with some fireworks.
Dallas has won back-to-back games and improved their record to 7-5 after a win on Thanksgiving Day against the Oakland Raiders. After trailing 21-7 to the Raiders at half, Dallas rallied back and ended up winning the game 31-24. Running back DeMarco Murray had three touchdowns in the win, giving him a career-high.
Murray could be in for another big day against a terrible Bears rushing defense. Dallas has been more conservative with their play calling in recent weeks as Jason Garrett is finally starting to realize he does not need Tony Romo to carry this team. Still, the passing attack is one of the league's best and Dez Bryant must always be accounted for by opposing defenses.
Defensively, it has been a struggle for Dallas as they rank last or second to last in many defensive categories. They are second to last in the league in rush defense and are surrendering over 294 yards per the air, ranking 31st in the league. However, their rush defense should be helped immensely by the return of linebacker Sean Lee. He is easily their best overall linebacker and is excellent in run support.
Chicago limps into this game after back-to-back losses the past two weeks. Their record fell to .500 at 6-6 after a wild overtime finish at Minnesota last Sunday. Both sides missed field goals at the end of regulation and in overtime before the Vikings finished the job in OT.
Like Dallas, the Bears offense has a outstanding plus matchup against the Cowboys this week. Josh McCown will once again start for the injured Cutler and has looked excellent in recent weeks with the starter's job. There is no better wide receiver tandem than Alshon Jeffery and Brandon Marshall. The former had a breakout game last week, catching 12 balls for 249 yards and two touchdowns against Minnesota. Running back Matt Forte should be heavily involved as well, but his value is diminished a little with the return of Sean Lee.
No team has defended the run more poorly than the Bears in the past 6+ weeks. They have been giving up massive games to opposing running backs. Within the past two weeks, the unit allowed almost 400 yards rushing. Their pass defense is not much better, and Josh McCown should have a solid day.
The Line
This game opened at pk and was there for much of the week but has moved to Chicago +1.5 or +1 as we creep closer to Monday. The total opened at 49.5 but has come down across the board and is listed at 48 at the vast majority of US sportsbooks.
The Play
There should be no lack of motivation from either team in this contest as both are fighting for their playoff lives, and the game is primetime. It may look like these teams may not care from a defensive perspective, but that is only because both sides are inept in that regard. For me, this game comes down to the Bears struggles against the run and Sean Lee's activation from injury.
Lee will be a difference maker in this game for Dallas, not only in the middle of field tackling but in coverage. Forte is an excellent dual threat RB, who is excellent at catching passes out of the backfield and in the flats. Lee has four interceptions on the season.
McCown has played well under the spotlight season, some say even better than incumbent starter Jay Cutler, but let's not forget this guy has mainly been a career backup. His chances as a starter were limited, and he had little success. Sure, the matchup is right, but McCown may not even be at the league average level at QB. The talent around him is excellent, but again, he has faced a cupcake schedule as far as defenses are concerned. I would not be shocked to see a hiccup on Monday Night.
Pick: Cowboys -1.5 with Bovada.lv