San Francisco 49ers at Washington Redskins +6 Total: 47 Monday, November 25th, 2013 TV: ESPN 8:30 EDT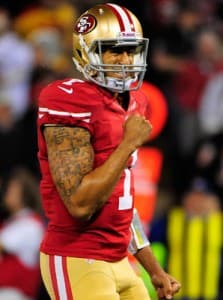 The Niners head to the Capitol to take on the struggling Redskins as they look to push towards the playoffs. While San Francisco is still in the thick of it in the NFC West, Washington is on the fringe of the conversation with a 3-7 record.
San Francisco and Colin Kaepernick have been solid this season with a record of 6-4 but have not had the campaign most expected after their Super Bowl appearance last season. While the Niners are still winning football games with their offense, there is no doubt Kaepernick has taken a step back with his development. He is completion percentage is last among starting quarterbacks, and he has thrown just 11 touchdowns.
A once dominant unit a year ago, San Francisco has become the classic "bend but don't break defense." They seem to limit opponents to average or slightly below average games but are not getting the turnovers and or playing the shut-down defense we have been used to seeing last season.
For the Redskins, it has been a tough year to say the least. If you have turned a TV this week, you have no doubt heard the rumors regarding Robert Griffin III and his place in the franchise, and perhaps the starting lineup. I don't think RG3 is close to losing his job, but he certainly has not been playing well lately. Washington lost to the Eagles last week, 24-16 in a game where Griffin threw an interception to seal the game for the Eagles.
While Griffin's play has not been up to par, the Redskins defense has not made anything easier. Ranked as the overall worst defense by most advanced stats, this unit has been absolutely horrible all year long.
The Redskins have relatively healthy defensively, (is that a good or bad thing?) but they will likely be without one key contributor on offense. Tight end Jordan Reed will likely miss this contest after suffering a concussion in last week's loss.
The Line
This game opened at Washington +4.5 and has moved after heavy action on San Francisco to Redskins +6. The total has gone up from a 45.5 opening number to 47.
The Play
San Francisco hasn't played their best this season, and though the matchup is excellent, they have not capitalized on similar "cupcake" type games. Kaepernick is not a sure bet to have a complete game even against Washington's horrible defense. This team has been wildly inconsistent on offense and has only dominated the worst of the worst in this league.
Also, their defense is a shell of what they had last year. The pressure is off for the Skins in this game as they are already likely out of the playoffs and that may be Washington's ticket in this game. Alfred Morris, who has run better than his spectucular rookie season, has rushed for over 80 yards his past three games and should have no trouble gaining yards on this defense. I love the Redskins as a home dog in primetime.
Take the Redskins +6 with Bovada.